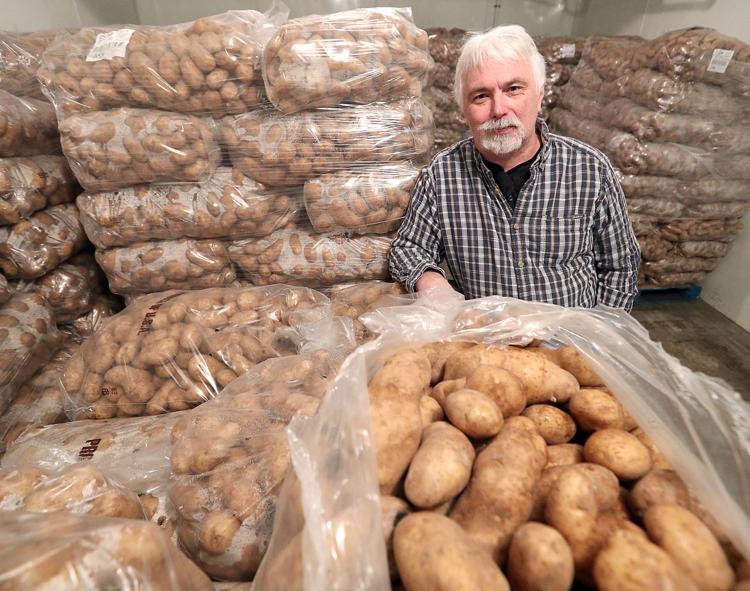 BLAIR — A half-century after Marshall Olson's parents started the business, production continues to increase at Countryside Lefse in Blair as the traditional Norwegian food item becomes more than a holiday season favorite.
Sales of lefse, which is made with potatoes and looks like a tortilla, still peak from October to December because many people buy it for the holiday season.
Sales used to drop off sharply after the holiday season, said Olson, who with his wife Amy owns the business that his parents, Ronald and Bernice Olson, started in 1967.
"The stores have done such a good job of making lefse available," Olson said. "They continue to display it year-round, and customers see it and pick it up." Lefse has become more of a year-round product in the past 20 years, he said.
Countryside Lefse uses more than 250,000 pounds of russet potatoes a year to make its lefse, up from 150,000 pounds about 15 years ago. The potatoes arrive at the lefse plant in 50-pound bags that are kept in a potato cooler.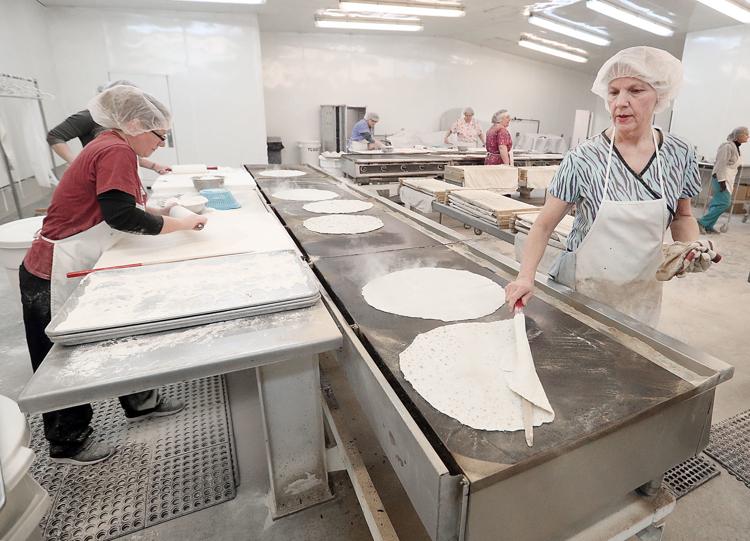 The potatoes go through a commercial-size potato peeler. Then they are cooked, drained, cooled, diced in a grinder and mixed with flour, water, nonfat dry milk, salt and soybean oil.
Biscuit-shaped balls of the mixture are kept in a cooler until it's time to roll each one into a tortilla-like circle and bake it on a griddle. After the lefse cools, it's cut into a triangular shape and packaged.
"The majority of commercial lefse that you see in stores is made with instant potatoes" by other companies, Olson said. But Countryside Lefse's product is made with fresh potatoes, which results in "better taste and better moisture," he said.
"Lefse can be too dry," Olson said. Countryside Lefse has always used russet potatoes because, he said, "It provides a good taste, and lefse made with russets seems to hold the moisture well."
Most of Countryside's Lefse's product goes to grocery stores in the La Crosse and Eau Claire areas, and to distributors who in turn supply grocery stores mostly in the Midwest. "We're in a lot of Twin Cities grocery stores," Olson said.
Countryside Lefse also sells to some Midwestern restaurants, such as Osseo-based Norske Nook. And lots of Countryside Lefse is served by food concessionaires and a church at the annual Nordic Fest celebration in Decorah, Iowa.
The Blair business has offered telephone sales to customers around the nation for many years, and online sales for the past several years. "People buy from us online because of word of mouth," Olson said. "They can go online and read reviews. People like the fact that we use real potatoes and that our lefse is hand-rolled."
Countryside Lefse's online customers include actor Kevin Sorbo, who starred as Hercules in the television series "Hercules: The Legendary Journeys" from 1995 to 1999.
The Blair company sells lefse under its own Countryside Lefse and Hungry Troll labels. It also makes lefse for a few other companies that is sold under their labels.
There are several lefse-making businesses in Minnesota, Olson said, but he knows of no others in Wisconsin. "There might be a small one somewhere" that he doesn't know about, he said. "There used to be a few small ones here and there" in Wisconsin.
Countryside Lefse employs more than 20 people throughout the year, and as many as 30 during the busy fall season.
Olson's parents started the business in 1967 in the basement of their Countryside Drive-in in Blair. "They needed to have a product in the off-season because it got so quiet in the fall" at the drive-in, he said.
The lefse business moved in the late 1960s to a former meat locker in downtown Blair. An electrical fire destroyed that building on Jan. 23, 2003.
After that, Countryside Lefse operated temporarily in the former Gopher Glove building in Independence until its new Blair plant opened in October 2003 at 1101 E. Broadway St. It's in an industrial park on the community's east side.
The plant is larger and has a better layout than the previous Blair location.
Olson said he and his wife decided to build the current plant after the fire because "I wasn't ready to retire."
Olson, who is 61, still isn't ready to retire. He plans to work at least until he is 70. And he is optimistic that at least one of the Olsons' four daughters will eventually take over Countryside Lefse.