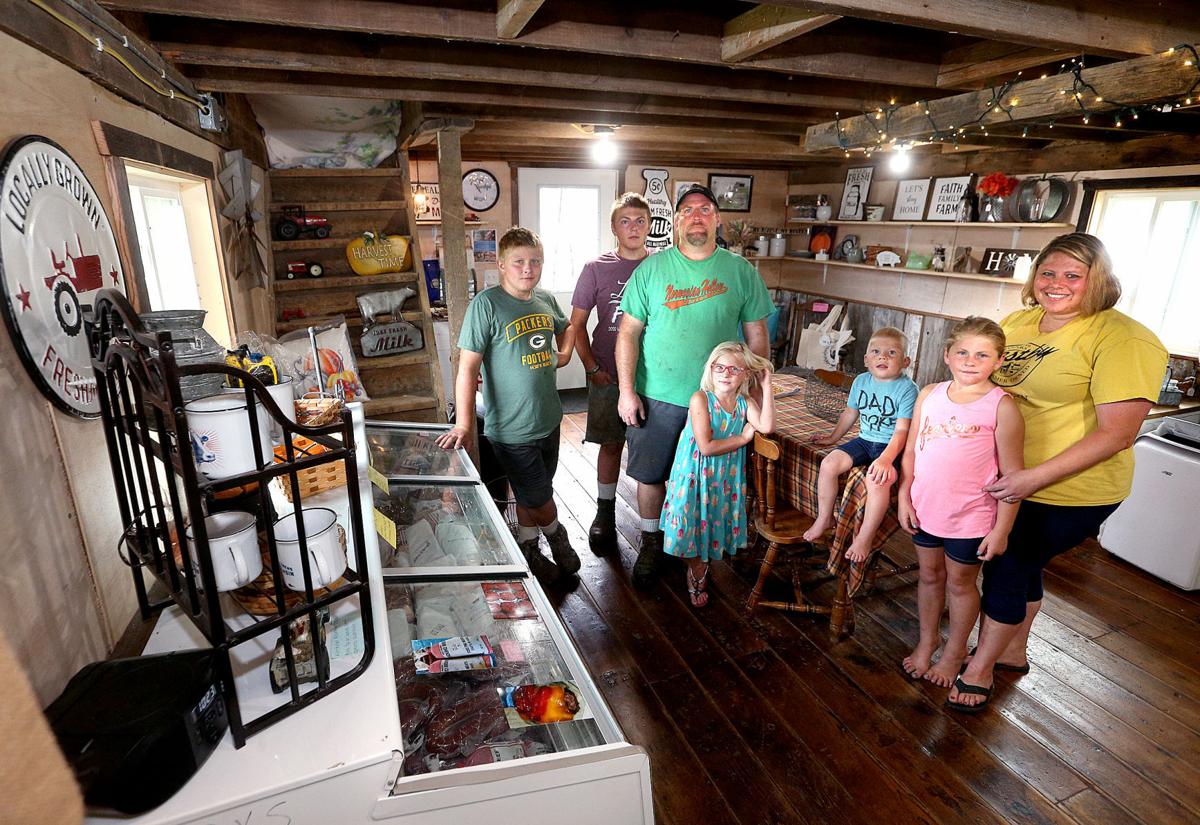 VIROQUA, Wis. – A visit they made 15 years ago to an Iowa on-farm store that made and sold ice cream led Rob and Gail Klinkner to open Klinkner Kountry Store in May on their rural Viroqua dairy farm.
They sell locally produced frozen meats, eggs, Westby Cooperative Creamery dairy products, local seasonal produce, locally made salads and country decor.
The Klinkners also plan to sell pumpkins at the store this fall, and to sell Christmas trees after Thanksgiving.
And their long-term goal – making and selling ice cream in their store – probably will be realized within five years, Gail said. "We'll probably have to add on" to the building to do that, she said, adding that the Klinkners will need to create a commercial kitchen to make ice cream.
"We're hoping to add hand-dipped ice cream, for things like cones and sundaes," Gail said.
The couple decided to open Klinkner Kountry Store in order to diversify their farm operation, which has 52 registered Jersey and Holstein cows. They are members of the Westby Cooperative Creamery, which buys their milk.
"It's like when years ago, everyone had a few hogs, a few cows, a few chickens," Rob said. "It's diversification. You can't have all of your eggs in one basket anymore."
Before opening the store last spring, Gail said, "We had been direct marketing some of our beef for a couple of years. It's been a long-term goal to have a store on the farm. We want to be able to tell our farm story, and invite people to see the animals and explain why we do what we do."
The Klinkners decided to create the store in a small granary on their farm that they'd been using only for storage. They remodeled it with the help of some of their children and Rob's father, Arnie Klinkner. The Klinkners have five children, Reagan, Garrison, Rubi, Ginger and Rylan.
The store's local frozen meats include beef raised on the Klinkner farm (the family soon will have its own pork and lamb for sale) as well as pork, eggs and produce provided by other area farmers. Meats for sale include steaks, roasts, hamburger, bratwurst, ring bologna and snack sticks.
Klinkner Kountry Store also sells deli salads – such as potato salad and macaroni salad – made by Lora Dolan-Aspenson of Viroqua. The Westby Cooperative Creamery products carried by the store include string cheese, cheese curds, cottage cheese, sour cream and various other kinds of cheese.
And on most Fridays, the store has doughnuts made by Hansen's Country Bakery near La Farge.
The farm store also sells Schwan's Ice Cream novelty items, soda pop and water. And it sells country decor, which Gail described as "miscellaneous decoration items that people might want for their homes."
A kitchen table with chairs is in the middle of the store.
"We really hope that people feel comfortable here," Gail said. "We want people to be able to come in, take their time, and choose the foods that they would like. And if they want to sit down at the Kitchen table and chat, kind of like in the good old days, we're happy to do that."
Many of the store's customers are regulars, and most customers live in the Viroqua, Westby or Readstown areas, Gail said. "We occasionally have some people (from elsewhere) who have seen the signs as they're driving by, and then stop here."
Klinkner's Kountry Store is open from 10 a.m. to 6 p.m. Friday and Saturday and from noon to 6 p.m. Sunday.
If someone stops at another time when the Klinkners are around, or calls ahead for an appointment for another time, the Klinkners will accommodate them. "We're dairy farmers, so somebody's here most of the time," Gail said.
Gail said the store will have limited hours during the winter.
Gail was raised on a dairy farm near Westby, and Rob grew up in Cashton although many of his relatives were farmers.
Rob said his grandparents were farmers, and his father did a lot of relief milking for dairy farmers. Rob began milking cows at about age 10 for a nearby farmer, before and after school. "I knew at a young age this what I wanted to do, milk cows," he said.
The Klinkners have been active in farm organizations over the years, and Gail is on the board of Dairy Farmers of Wisconsin, which promotes Wisconsin dairy products through the state's milk check-off program. She is the District 21 board member, representing Vernon and Crawford counties.
Gail also organizes the Little Britches Dairy Show at the Vernon County Fair.
The Klinkners also have been active in Vernon County Dairy Youth and in August hosted that organization's annual Day of Dairy workshop for youths.
The business news you need
With a weekly newsletter looking back at local history.