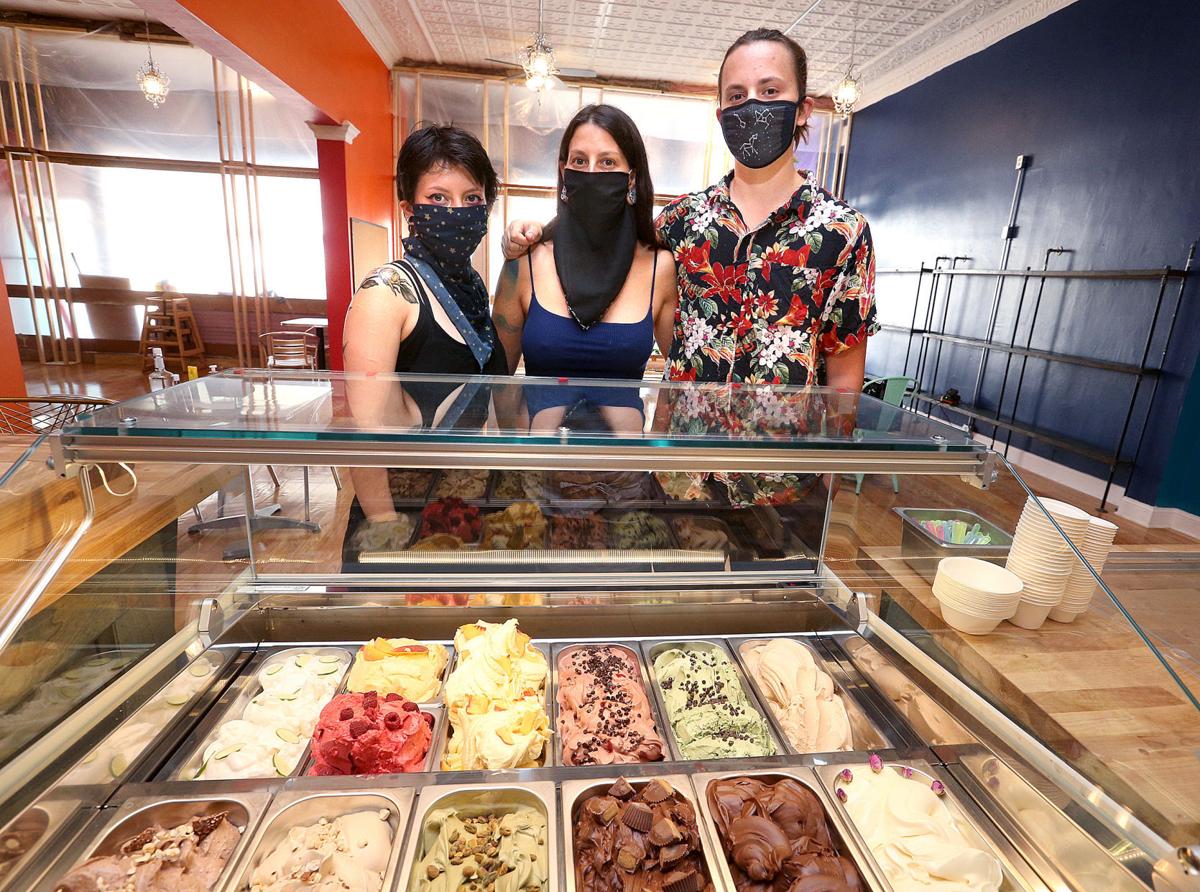 VIROQUA, Wis. — Two tasty businesses will make their official debut on Saturday in downtown Viroqua.
That's when an artisan bakery and a gelato cafe are to open in the former Dave's Pizza building at 113 S. Main St.
Amy Petrozzini, who bought and remodeled the building, will own and operate Magpie Gelato with the help of four of her children — Maggie, Oarin, Nanuka and Iyla. Besides gelato made in the cafe, the new business will sell a variety of coffee beverages and tea, as well as hot chocolate, milk shakes, smoothies, savory crepes and sweet crepes. And it will carry gift items, including creations by local artisans.
Gelato is made mostly with milk rather than cream and is churned slower, incorporating less air and leaving gelato more dense than ice cream.
Meanwhile, Matt Kronschnabel and Natalie Hinahara will own and operate Bard Bread & Pastry behind the gelato shop. Their bakery will sell a variety of naturally leavened breads as well as cookies and pastries. And their products will be made with sourdough starter.
The gelato cafe has had soft openings on a few recent weekends to prepare for Saturday's official opening. It has inside seating with social distancing, and staff members are wearing masks as precautions against coronavirus.
Magpie Gelato will have 12 flavors of gelato to start with. "I'm guessing we'll probably go down to six in winter," Petrozzini said. "We'll pretty much always have the standard vanilla, chocolate and maybe one nut variety like pistachio or hazelnut, and a variety of others. And we'll always have a sorbet as well." Some of the most popular gelato flavors at the soft openings have been mint chip, peaches and cream, and pistachio.
Petrozzini plans to eventually add to the menu gelato cakes made with gelato and sponge cake, and gelato pops, which she said are like Popsicles but made with gelato.
The cafe will use locally sourced ingredients, such as Organic Valley dairy products, as much as possible, Petrozzini said.
Petrozzini, whose family moved to Viroqua from the Chicago area about six years ago, said her family has always enjoyed finding gelato cafes during their travels.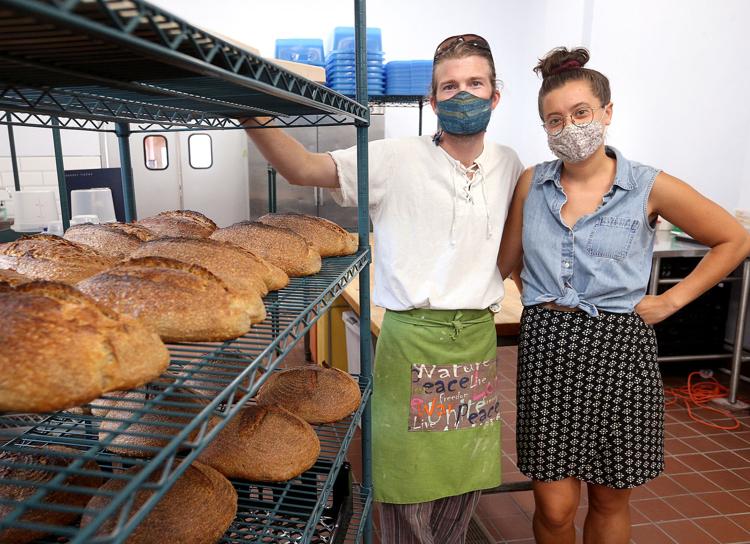 "I lived in Italy for a year when I was a teenager, and that's where I first discovered my love of gelato over ice cream," she said. Stopping at gelato shops while traveling "is something fun we can do together."
Petrozzini said she was interested in opening a gelato cafe because Viroqua didn't have one, she loves spending time with her children, and the cafe will be a place for people to go to.
The cafe's hours will be 10 a.m. to 8 p.m. Monday, Thursday, Friday and Saturday; and 9 a.m. to 2 p.m. and 5:30 to 8:30 p.m. Sunday. "We'll adjust them after we've been open a little bit," Petrozzini said.
She is glad to have the bakery as a tenant in her building.
Besides being a retail bakery, consumers will be able to subscribe to Bard Bread & Pastry, and it also will wholesale items to customers such as the Viroqua Food Co-op and the Wonderstate Coffee cafe in Viroqua, Kronschnabel said. The bakery's subscription service will allow its members to pick up their products at the bakery, at the local farmers market and future additional locations. Also, home delivery will be available in the Viroqua area for subscription members.
Because of the coronavirus pandemic, Kronschnabel for now is asking that customers use the bakery's curbside service, rather than enter the bakery. Information on its baked goods is available on the bakery's website and on its Facebook page.
"We plan to have retail hours from 4 to 7 p.m. Wednesday through Friday, and on Saturday we'll be at the farmers market," Kronschnabel said of the bakery. "When the farmers market season ends, we'll be open here (at the bakery) from 9:30 a.m. to 1 p.m. on Saturdays."
Kronschnabel said his passion for baking began in 2016 when a friend wanted to make some bread. He began a small subscription service in 2018 and decided he was ready to open a retail bakery. "It made sense to do this here because there's not really anything in Viroqua like what we're doing," he said.
Kronschnabel was raised in Mendota Heights, Minn., while Hinahara grew up in Middleton, Wis. They moved to the Viroqua area in January 2018, mainly to start an organic farm with a few friends.
Hinahara is a painter, printmaker and graphic designer. At the bakery, she focuses on marketing, customer relations and events, while Kronschnabel focuses on baking.
Kronschnabel said the bakery's naturally-leavened bread products are fermented anywhere from six to 18 hours after levain is added to the dough. This allows for a more nutritional and flavorful product with greater shelf stability.
Hinahara said using locally sourced ingredients as much as possible is important to her and Kronschnabel. "We buy our flour from Meadowlark Organics in Ridgeway," she said.
The business news you need
With a weekly newsletter looking back at local history.