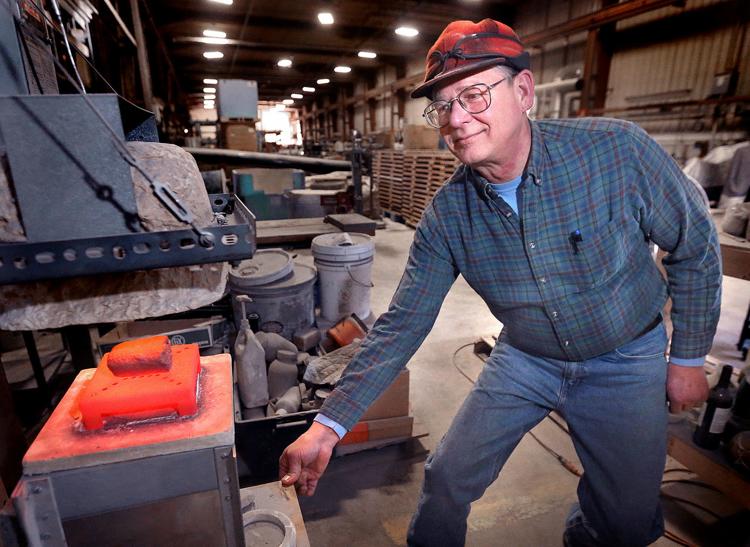 Chris Andersen, manager and part owner of AMV LLC which makes foamed recycled glass products, says doubling the size of its facility three years ago has allowed it to keep growing at a fast pace.
"It was the best move I've ever made," Andersen said of moving AMV in January 2017 from the Coulee Region Business Center at 1100 Kane St. — also known as the small business incubator — to about 10,000 square feet of leased space at 400 Car St., one of the buildings in the former PACAL Industries plant in La Crosse.
AMV outgrew its 5,000-square-foot space in the business center, which also is known as the small business incubator. AMV had started in 1998 in the business center. And it had moved the finishing and packaging part of its operation to part of the former LaCrosse Footwear factory complex a year before everything moved to the Car Street building.
With the completion of the move in January 2017, AMV's entire operation once again was under one roof.
The company's sales have increased by about 30 percent a year, almost every year since it began, Andersen said. The move to a former PACAL Industries building gave the company the room it needed to continue that growth.
AMV makes four product lines from recycled glass.
Fur-Zoff removes pet hair from fabric, carpets and automobile interiors. BurzOff brushes burs off clothing. Groomer's Stone is used to groom pets that shed, especially horses, cats and dogs. And Art.Rocks are lightweight "rocks" that taxidermists and artists use to create habitat or scenes.
Fur-Zoff is the company's biggest seller. The number of those sold each year is "in the low six figures," Andersen said.
BurzOff is AMV's second-biggest seller, Andersen said, adding that "We might have sold 25,000 of those" last year, he said.
AMV's biggest customer is a veterinary supply business in Kansas, but Duluth Trading Co. also is a major buyer.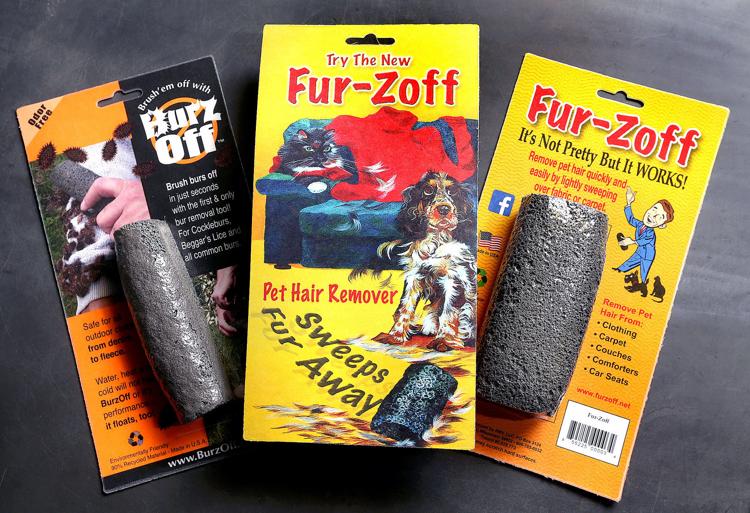 "The growth in Fur-Zoff sales has been phenomenal because of new customers, and old customers growing," Andersen said.
"We have customers all over the world," he said, adding that pet owners have become the company's largest market. "Consumer pet owner sales have exploded."
The auto detailing industry used to be the biggest market for AMV products, and remains its second-biggest market. "They're used to get pet hairs out of cars," Andersen said.
While retailers and distributors account for most sales of AMV products, the company also sells directly to consumers online. "But there's less and less of that," Andersen said.
Since the move to its current location, the number of AMV employees has grown to 10 from four. "And I could see adding four or five more by the end of the year" if qualified applicants can be found, Andersen said.
"One of the things that prevents us from growing faster is our ability to find appropriate employees" because of very low unemployment rates, he said.
AMV's five owners are Andersen, one of his brothers, their mother, and two friends.
Andersen, who is 62, plans to retire in the next several years and is grooming Assistant Manager Brianna Martin to eventually succeed him as manager.
Martin, who is 28, joined AMV in January 2017, the same month it finished moving into its current location.
"I was just fascinated by it," Martin said of joining AMV. "Chris was looking for someone with computer skills and approached me about working for AMV when we were both at the incubator." She does a lot of the company's computer-related work and record keeping.
AMV uses a process that Andersen developed in 1992, using recycled glass that it mostly buys from Hilltopper Refuse & Recycling Service.
Glass bottles and jars are crushed in a machine, before being fed into a grinder that turns the glass into a fine white powder. A binder, foaming agent and water are added to the powdered material. Then the mixture is extruded, dried and heated at 1,500 degrees Fahrenheit in a kiln. The final product is light, hard and looks like pumice.
Andersen enjoys inventing things.
He was raised in the Chicago area and received a bachelor's degree in chemistry in 1979 from DePauw University in Greencastle, Ind.
Before AMV started in 1998, Andersen was an entrepreneur and chemist elsewhere. His career included eight years in the research department of U.S. Gypsum. He later sold chemical preservative systems that kept fungus from eating cedar roofs on buildings.
The business news you need
With a weekly newsletter looking back at local history.