BLAIR — Sherry Kelly and her many relatives paid tribute to one of her grandmothers by holding the 13th annual Rita Tranberg Memorial Event in Blair yesterday.
Next Saturday, Kelly will pay tribute to her other grandmother, the late Lennice Simmons, when Kelly opens her new Lily of the Valley boutique, floral, home decor, crafts, gifts and wine shop. Sherry and her husband, Justin, who owns Kelly Electric, own the shop in a new 3,500-square-foot building near their home at W18870 Peterson Coulee Road near Blair. Sherry runs the new business.
Lennice's husband, Don Simmons, plans to sit outside and watch, as the new store opens. "He's proud that I'm doing this in Grandma's honor and in her memory," Sherry said last week.
Lily of the Valley was Lennice Simmons' favorite flowering plant; thus the shop's name. A shadow box on the shop's counter contains two photos of Don and Lennice, one taken at their 1947 wedding and the other soon before Lennice passed away in 2007. It also contains a glass vase from the Simmons home that often held lily of the valley flowers.
Both of Sherry's grandmothers died in 2007.
Rita Tranberg, who had 15 children, is remembered each year by more than 100 members of the Tranberg clan who sponsor the Rita Tranberg Memorial Event. Proceeds from the fundraiser, which Sherry organizes, go toward families with medical needs. It's usually a two-day event, but because of the coronavirus pandemic, this year's version was one day, with a drive-thru chicken or bratwurst meal and raffle.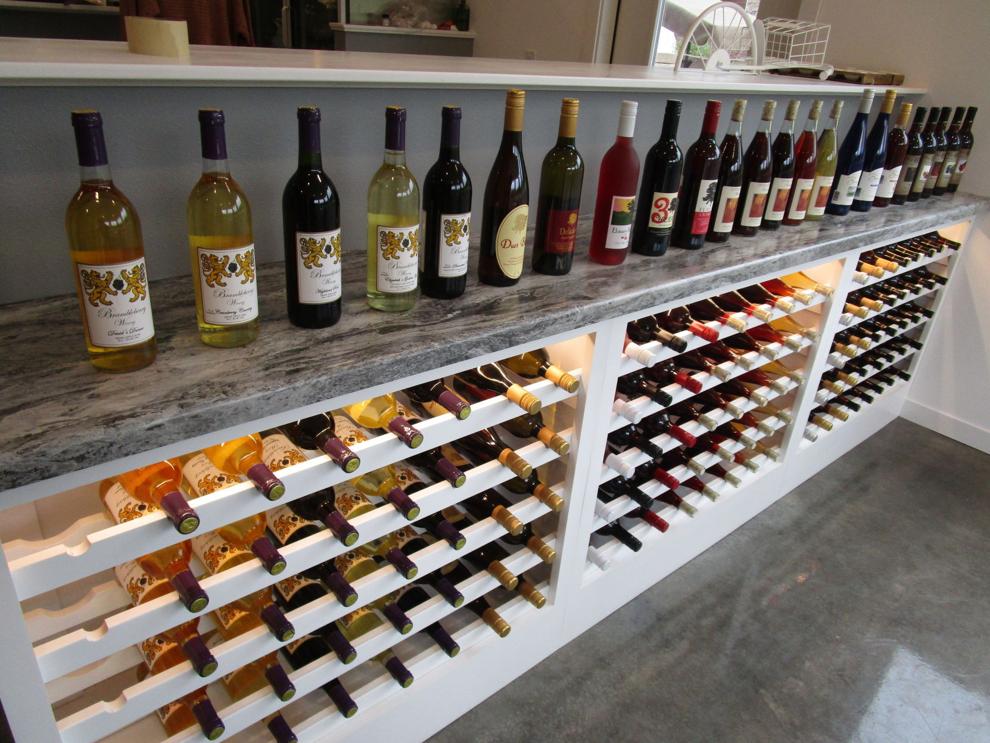 Kelly said her love of crafting came from Lennice. Lily of the Valley will sell some of Sherry's crafts, but much more.
"It's a full clothing boutique for women," Kelly said. "Everything from blue jeans to shirts to hats. And lots of jewelry" including some made by local artisans. "There's a little baby section and baptismal gifts. And there's a large sympathy area, with things like wind chimes and statues of angels."
The new business also is a full floral shop, making and selling fresh floral arrangements. The shop also has lots of craft items and decor, including seasonal merchandise. Anyone who visits this fall also will see mums, ornamental tall grasses, pumpkins, ornamental corn and straw bales for sale.
Lily of the Valley has a large selection of wines from area and Door County wineries, as well as pastries and other baked goods, and a coffee bar. An event room in the new building can be rented for such things as receptions and baby showers, and also will be used for "how to" classes. During the holiday season, the event room will be filled with Christmas decor.
Lily of the Valley also will sell Christmas trees this holiday season.
The Kellys built a pond for Lily of the Valley, which is in scenic Peterson Coulee. "I wanted to be able to have different activities," Sherry Kelly said of the pond. "Like music of the pond, yoga by the pond, small weddings." She hopes to offer ice skating on the pond this winter.
The Kellys plan to add to the business by planting apple trees, pumpkins and sunflowers next year. It will be a few years before they can offer you-pick and already-picked apples, but the sunflowers and pumpkins would be available next year. Customers might like to have their photo taken next to an array of sunflowers, Kelly said.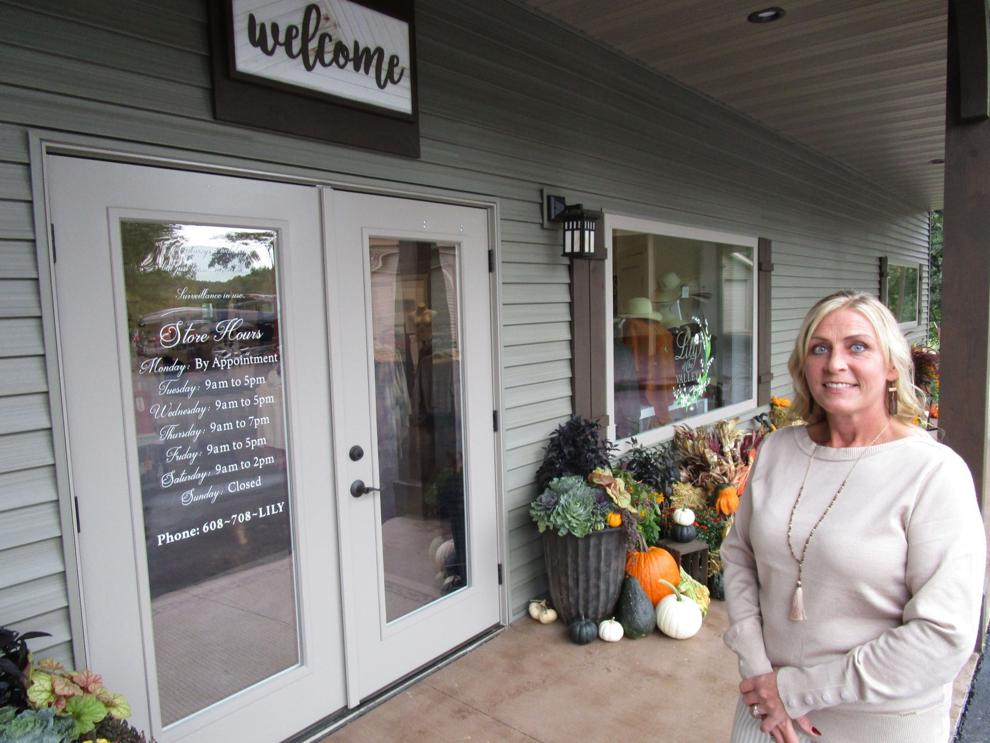 The couple's daughter, Paige, and son, Payton, have been a big help in starting the new business, Kelly said.
Her husband, Justin, did much of the work on the new building, she said, adding that "He has been everything" in starting Lily of the Valley.
The worldwide coronavirus pandemic struck before the Kellys could start construction in May. While she worried about the impact that coronavirus could have on new businesses such as the one they were planning, Kelly said, "He was my rock. He was the one who said 'Let's just keep your plans. We've got to build. We'll get started and see what happens.' "
Sherry Kelly operated an in-home daycare service for 10 years and for the past three years has been a part-time rural mail carrier. When she is busy delivering mail, one of the shop's two or three part-time employees will tend to the new business.
"I just felt kind of called to do this," Kelly said of Lily of the Valley. "People have said that I should open a store. But I had my hands in so many different things and in volunteering, and I didn't think there was ever enough time. Nor did I really want to sit in a storefront in a town. Being out here (in the new shop next to her family's home), I thought I could multi-task. And the setting couldn't be duplicated in a town."