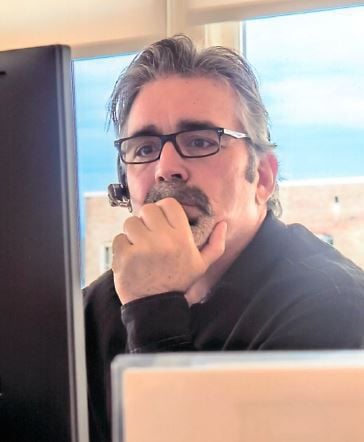 Authenticom, a La Crosse-based data integrator in the automotive industry, informed 55 employees that they will be laid off effective Feb. 2 because of the company's prolonged antitrust battle with two larger companies, founder and CEO Steve Cottrell said Wednesday.
"I consider these people as family," Cottrell said during a phone interview Wednesday in which his voice reflected obvious anguish over the decision, which he described as a "resizing mode."
"I deeply, personally regret this. We've done everything in our power to avoid this," Cottrell said of the action, which will leave Authenticom with 36 employees.
Authenticom Inc. gained substantial traction in its antitrust lawsuit against two companies …
Cottrell had remained steadfast in his resolve to keep Authenticom's roughly 110 employees on the payroll as the antitrust suit against CDK Global and Reynolds and Reynolds Co. winds its way through the court system.
Cottrell's announcement to the affected employees came two days after the Seventh Circuit Court of Appeals in Chicago dealt Authenticom a blow in its suit, which the company filed in federal court in Madison on May 1.
Preliminary injunction quashed
The appeals court set aside a district court's preliminary injunction barring CDK Global and Reynolds from interfering with Authenticom's business.
"Although we are disappointed with the Court of Appeals' ruling, we continue to remain confident in the ultimate success of our case and continue to work diligently through discovery in preparation for trial," Cottrell said in a letter addressed to "valued partners" Tuesday.
"The human side of the layoffs is sweeping," Cottrell lamented during the interview. "One employee has been with me for 15 years and has four small children. There are employees with pregnant spouses, and some who have just bought homes."
Authenticom, which tried to hold its number of layoffs to the dozen announced in August, set the Feb. 2 date to lay off the 55 to extend benefits for them, Cottrell said. They will receive help with job-placement efforts, resume writing and other assistance needed to secure new jobs, he said.
"These are the people who made this company, and made us a success," he said. "This is a tribute to what the larger team has done."
After the downsizing, Authenticom will be "well-positioned and viable" and able to pay bills that had piled up as CDK and Reynolds took actions that Cottrell said are intended to bankrupt the company he founded in 2002 in his son's bedroom.
"We have found significant opportunities outside of the automotive sector," he said.
"Change is on the horizon, and we are inspired by the way our industry has embraced both technological change and at the same time pushed back on the status quo of control of emerging technology by the privileged few," he said.
Authenticom, which is headquartered in the Doerflinger building in downtown La Crosse, is a third-party data integrator that links car dealers to software vendors such as CDK and Reynolds. Cottrell's suit alleges that CDK and Reynolds have colluded in an illegal plot to block Authenticom from access to their data, costing it millions of dollars and pushed it to the brink of insolvency.
CDK and Reynolds counter that their data is proprietary and insist that Authenticom should not be allowed to scrape the information.
You have free articles remaining.
Profits plunge nearly 80 percent
The companies' actions caused Authenticom's profits to plunge by 77.22 percent between the third quarter of 2015 and the first quarter of this year, according to Authenticom's suit filings.
They "have left Authenticom cash-flow insolvent, with insufficient earnings and resources to satisfy its outstanding debt obligations," the suit alleges.
Authenticom had been unable to pay an $11 million principal payment to a bank in April, as well as a tax-related obligation of about $1.17 million that same month, among other financial setbacks, the suit contends.
CDK and Reynolds are the two big dogs in the automotive data sector, in which Authenticom is the other major player. CDK is a publicly traded Delaware corporation with headquarters in Hoffman Estates, Ill. It provides DMS software and services to car dealerships throughout the country and has more than $2 billion in annual revenues. The private corporation of Reynolds and Reynolds is headquartered in Dayton, Ohio.
For its part, CDK issued a statement saying, in part, "We strongly believe that our policy of not allowing unauthorized intermediaries onto our systems is the best way to preserve the integrity of those systems and the security of our customers' data."
No court has "mandated unfettered access to the data and systems operated by another company," according to the statement. "We remain committed to protecting our property rights and those of third parties with data on our systems, and will continue to mount a vigorous defense against the meritless claims that have been made against us by Authenticom."
Obama lauded company for growth, wages
"So this business that began in Steve's son's old bedroom is now one of America's own fastest-growing private companies based in a historic building right here in downtown La Crosse," Obama said.
"Now, I guarantee you Steve worked hard, he put everything he had into it. He took enormous risks," the president said. "But he also is somebody who recognizes that he didn't do it by himself.
"He's proud of what he accomplished, but he also talks about how fortunate he's been to be part of a community like La Crosse," Obama said.
The president lauded Authenticom's practices of paying fair wages, with paid sick days, and treating employees like family.
In the letter to clients, Cottrell said, "We are ready to further our role as the data integrator of choice and the premier data services provider."
In addition, he wrote, Authenticom plans to launch new, simplified technology and a new website for its DealerVault product.
During the interview, Cottrell expressed gratitude for the support that Mayor Tim Kabat and U.S. Rep. Ron Kind, D-La Crosse, have offered his company amid the throes of the court actions.
Cottrell also voiced confidence in the company's ability to rebound, saying, "This is just a chapter in the book, but the book is not written.
"We are taking steps necessary to make this a 100-year company," he said.
From Tribune files: Openings and closings of La Crosse area businesses
Each week, Tribune business columnist Steve Cahalan reports on the latest openings and closings in the La Crosse area.