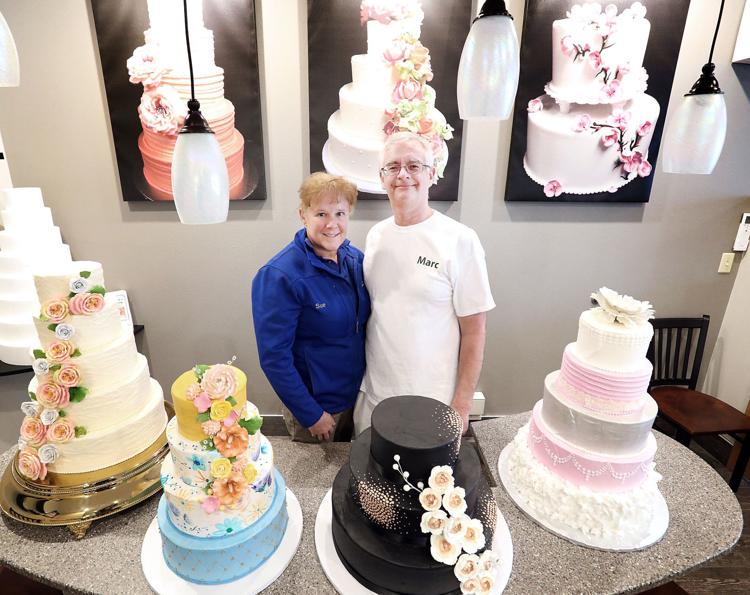 WEST SALEM —  While many family-owned bakeries have closed in the past few decades, sales continue to increase at Linda's Bakery in West Salem, which is celebrating its 46th anniversary.
The bakery's 11-day anniversary sale ends Thursday, and features a different 46-cent special each day.
Linda's Bakery has something on display that's new since last year's anniversary sale – the 2018 Bakery Operation of the Year trophy that owners Marc and Sue Anderson received from the Wisconsin Bakers Association.
At the association's annual awards event last March in Milwaukee, Linda's Bakery also won three best-of-show awards for its doughnut entries, along with honors for long johns, pies and a dessert table.
The bakery's best-of-show awards were for its Oreo creme bismarks, pumpkin doughnuts with cream cheese frosting, and caramel apple fritters. "We took eight products to the contest and won three best-of-shows, a silver and two bronzes," Marc said.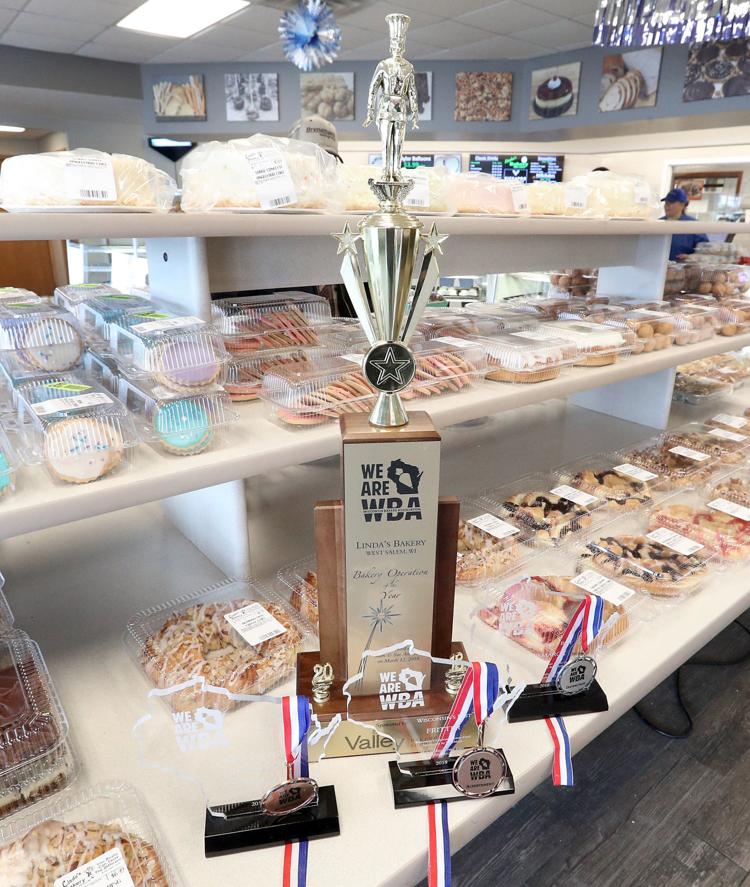 Sales have continued to increase each year at the bakery, Marc said, because of its reputation for making distinctive products from scratch, being willing to try making new items, and the quality of its workforce.
The Andersons have updated the bakery in the past couple years, with a major remodeling last January; an 800-square-foot addition that is used as a wedding consultation area, additional seating and for a cake display freezer; a new refrigerated desserts case; and new products such as beverages made with Kickapoo Coffee Roasters coffee from Viroqua, ready-to-eat salads from the Floating Gardens LLC aquaponics operation near Mindoro, shakes, smoothies and Vande Walle's Candies from Appleton, Wis.
The Andersons work full time at the 10,000-square-foot bakery and are among its approximately 70 employees. Their son, Bob, also works full time as the bakery's general manager. And daughter Laura works at the bakery part time. Laura is a junior majoring in business at the University of Wisconsin-La Crosse.
Marc, who is 58, said he has no immediate plans to retire but hopes some of the couple's four children take over the business someday. "I always tell Sue I'm never retiring, because I like my job too much," he said with a smile.
Marc has been an owner of the bakery since 1980.
The bakery is named after his sister, Linda Meeker, who bought the Salem Bakery in downtown West Salem from Harold Hetland in 1973.
In 1983, Meeker and Anderson moved Linda's Bakery to its current location – formerly occupied by Lakeview Foods – on Highway 16 in West Salem, because of the higher traffic counts on the highway and because they needed a larger facility.
Marc and Sue Anderson, who both began working at the bakery when they were in high school, purchased Meeker's share of the business in 2009.
Marc said he has seen some baking trends come and some go, but said they are not as pronounced in the Midwest, which seems "a little more steady." Bagels were a hot item several years ago, but aren't quite as popular today, he said.
Cupcakes and cupcake shops became a hot trend about 10 years ago and remain popular, he said.
About 15 years ago, Linda's Bakery began offering hot soup and refrigerated soup, and they remain popular, Marc said. The bakery began selling its olive nut spread year-round about 10 years ago, and it still is popular.
For the past seven years, the bakery also has sold its several varieties of fudge year-round, instead of only during holidays and special occasions.
Linda's Bakery has several varieties of bread, with eight-grain bread being the biggest seller.
The bakery also has a large selection of buns, dinner rolls, pies, cookies and assorted sweets.
Several area restaurants serve Linda's Bakery buns and breads, Marc said. "That's really started to pick up in the past couple years," he said. "The restaurants heard about it being a better-quality product."
Linda's Bakery has eight cake decorators and makes thousands of cakes a year. Cake baking peaks around spring graduation time. Linda's Bakery sometimes makes about 500 cakes each weekend at that time of year, because of graduations, weddings, Mother's Day, confirmation and first communions.