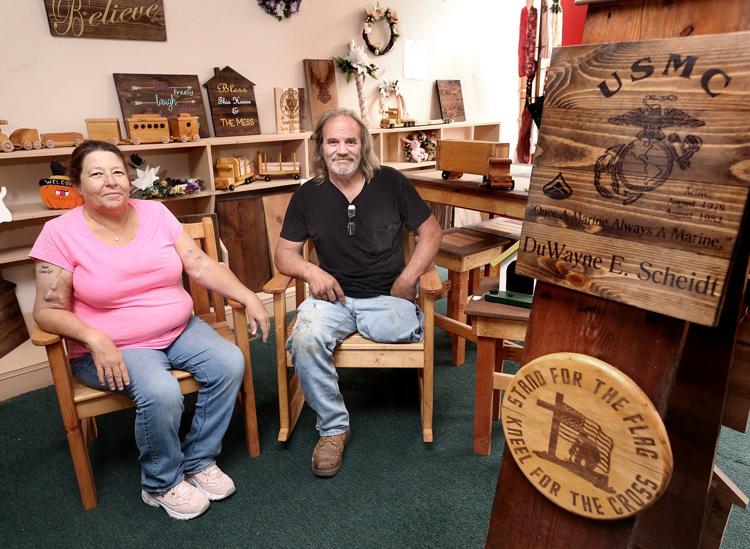 BANGOR — Chuck and Marcy LaBeause opened their Woodchuck Woods & Gifts last November as a holiday-season pop-up shop, at 1531 Commercial St. in downtown Bangor.
Business was good, so they decided to continue to operate it indefinitely. Now, they're getting ready for their second holiday season.
Chuck makes wood items such as custom furniture, toys, novelty signs, wild animal feeders and driveway markers. Marcy paints novelty signs and Christmas ornaments, and also makes wreaths, scarves and ceramic items.
Handmade products made by other area residents, such as jewelry, metal art, hand towels, handbags, soaps, lip balms and lotions, also are for sale at the Bangor shop.
Chuck, who is a Sparta native, and Marcy, who lived in Janesville for most of her life, moved from Janesville to Bangor in May 2018. Chuck had been selling some of his wood creations at a farmers market in Janesville.
Their store opened last November as part of an area pop-up program coordinated by the nonprofit Couleecap Inc. and other partner groups, whose goal is to create small businesses and fill vacant commercial spaces. The program allowed Woodchuck Woods & Gifts to operate for three months rent-free, as a state grant is used to pay the landlords.
"It's a good program to get into," Marcy said. "Those Couleecap people will do everything they can to help you" and gave the LaBeauses advice as they started their business.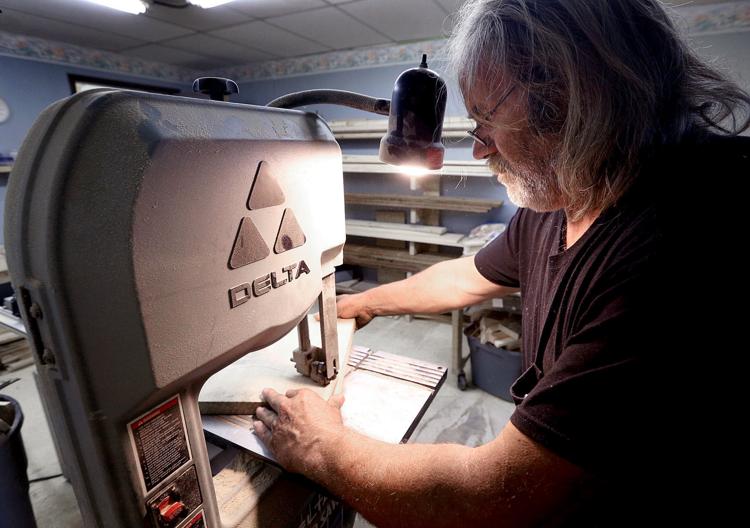 "If they didn't have an answer to one of our questions, they would put us in touch with someone who knew the answer, or they would find the answer for us," Chuck said.
You have free articles remaining.
Chuck said he wanted to open the Bangor store "to keep busy."
After serving in the Army for 10 years, Chuck worked as a truck driver and as a mechanic. He has always loved working with wood.
"My great-grandpa taught me how to use a circular saw when I was about 7," Chuck said.
He gets around the shop in either his wheelchair or on crutches, as one of his legs was amputated about 12 years ago as the result of an operation that didn't go well.
"My mother taught me how to paint ceramics when I was about 7," Marcy said, explaining how she became involved in making crafts. "And I started teaching the different techniques of painting ceramics when I was 18."
Their granddaughter, McKenzie, a junior at Bangor High School, will begin helping Chuck and Marcy at the shop this fall.
"We've had a lot of repeat business," Marcy said of the shop's first year.
"Most of our customers have been from around here," Chuck added.
Chuck and Marcy have begun taking orders for custom-made items that customers want in time for the upcoming holiday season. "The earlier (that customers order custom-made items for Christmas) the better," Chuck said.
"I'm not in this to make a lot of money," Chuck said, pointing to a wooden bistro set comprised of a table and four stools, that he has made and priced at $210. "I just want people to be able to get something that's nice, that they can afford."
Chuck said he enjoys visiting with people who come to him with ideas about furniture or other items they'd like to have made from wood. "And I love the look on their faces when it comes out better than they had expected," he said.