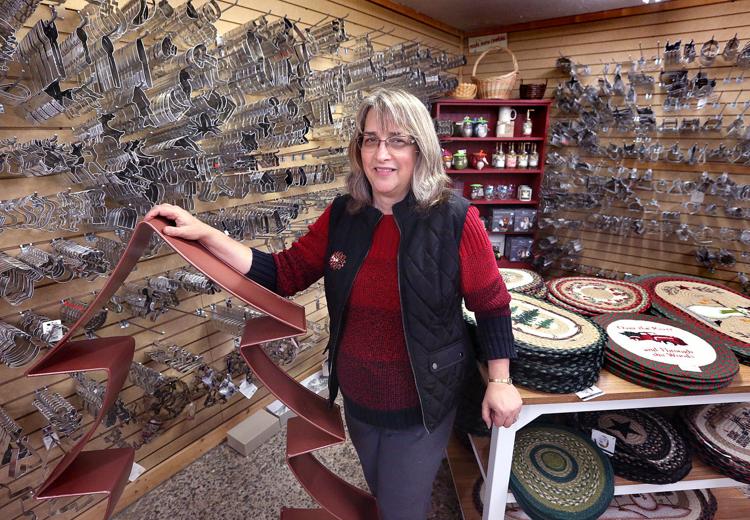 GALESVILLE — Tourism has increased in the last few years, and so has business at The Craft Barn near Galesville, where tourists account for many of its customers.
Owner Sharon Spahr opened her store in 2002 in a former barn at W17878 Silver Creek Road, about 1½ miles east of the Randy's Neighborhood Market grocery store in Galesville.
With nearly 4,000 square feet of retail space, the store sells items made by about 100 area artists and craft makers, such as country art and crafts, garden carts, unusual candles, oil paintings and woven rugs.
Two things The Craft Barn is best known for include a large selection of humorous gift cards, and what Spahr said is the area's largest selection of cookie cutters. The store has more than 400 different cookie cutter shapes. "We've continued to expand (the store's cookie cutter selection) because of demand," Spahr said.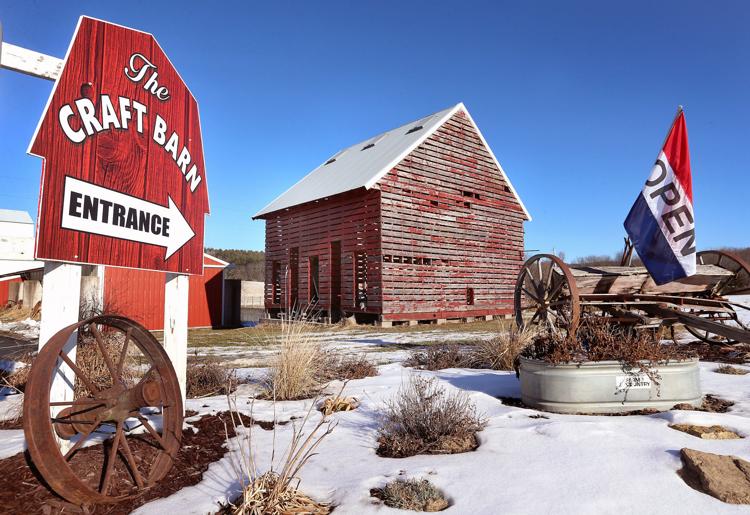 Four elf-shaped cookie cutters are the biggest-selling kinds this Christmas season, Spahr said. "Last year, it was ugly sweater cookie cutters."
The merchandise displayed in The Craft Barn changes with the season, and in recent weeks has included lots of winter- and Christmas-themed items.
Some big sellers in recent weeks include cookie stamps that leave a design on top as they cut out dough; braided table mats; candy; candles; wine accessories and lighted prints — pieces of wall art that use tiny lights to accent and highlight different areas of the print.
From spring through fall, The Craft Barn also has yard and garden art and outdoor furniture on display outside the building.
With heating and air conditioning systems, The Craft Barn is open year-round.
The business added 1,500 square feet of retail space when it expanded into an adjacent building in 2008. "There are more expansions to come," Spahr said, although she isn't ready to announce what those will be.
Tourists account for a good deal of the store's business, she said. "We've had people from all 50 states and several foreign countries (including Japan, Australia and some European nations) here. They've heard about the area and want to see it. And when they do Google searches, they find us."
Tourism has been increasing in the past few years, which has been good for her business, Spahr said. "People are feeling confident about spending money and traveling," she said.
Spahr said she enjoys "helping people understand the country way of life and meet the animals." She and her husband Tim — who helps her with such things as snow removal, cleaning and repairs — also raise some steers, chickens and ducks.
Sharon Spahr also is a town of Gale supervisor, and is on the boards of the Galesville Area Chamber of Commerce and the Trempealeau County Tourism Council.
She grew up on a farm near Mount Carroll, Ill., the community where Tim also was raised. They and their two children moved from that area to their 12 acres near Galesville in 1995, when Tim's employer transferred him to Winona, Minn. The couple's two children and four grandchildren sometimes help out at the store.
"We love it here," Sharon Spahr said. "I wouldn't live anyplace else. I love the terrain and the Mississippi River."
The building that houses The Craft Barn was a working dairy barn that had been rebuilt on its original foundation after a major wind storm in 1998. The Spahrs converted it into a gift store in 2002, but have kept the interior intact, including the bright red cow stanchions that kept cows in place.
"I'd always enjoyed craft shows on weekends," Sharon Spahr said of her decision to open The Craft Barn. "And being a farm girl, I liked barns."