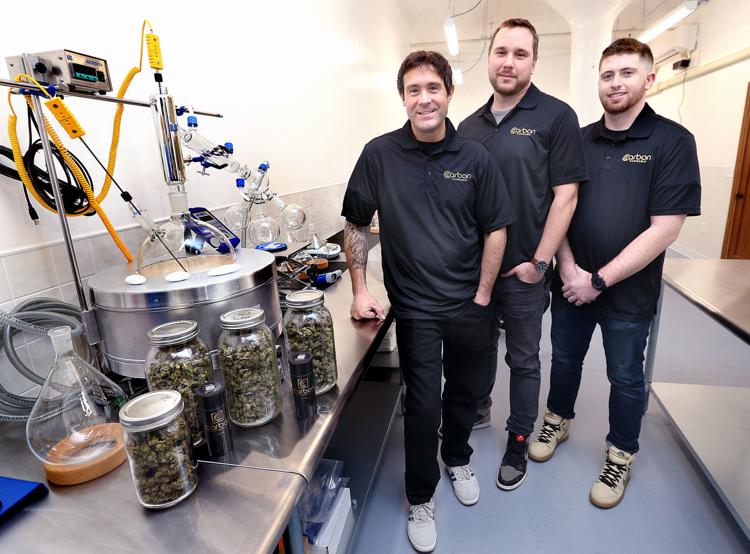 Carbon Cannabis owners Matt Boshcka, Austin Wszolek and Maxwell Weber have begun selling their first CBD (cannabidiol) product to retail stores in Wisconsin and Minnesota, and plan to roll out more products by the end of the year.
They also hope to eventually expand sales to other states and perhaps sell nationally.
The three men started Carbon Cannabis in 2,600 square feet of leased space in the former LaCrosse Footwear complex at 1501 S. Andrew St. in La Crosse. And they have the option to lease more space.
Carbon Cannabis processes organic Wisconsin-grown hemp and extracts CBD oil for use in products it makes such as tinctures, vapes and CBD candy. Its owners say it uses state-of-the-art supercritical CO2 extraction technology that uses carbon dioxide to ensure the highest quality.
Boshcka is a local restaurateur and also is part owner of the downtown CannaBiz Depot store, which sells CBD and other products made from hemp.
Wszolek worked for Logistics Health Inc. for a year before leaving to become president of Carbon Cannabis, where he works full time.
Weber has been working at La Crosse Distilling Co. as "brand ambassador" involved in sales for the distillery, but is transitioning out of that so he can devote all of his time to Carbon Cannabis. "I won't be in the lab on a day-to-day basis," he said. "I'll be doing a lot of sales (work) with Matt."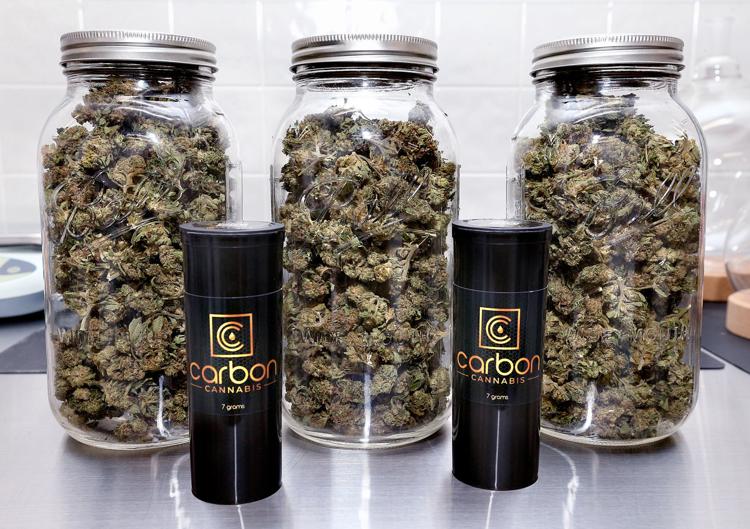 Besides Wszolek, Carbon Cannabis's facility is staffed by a full-time lab manager and part-time chemist. Wszolek expects to add several employees within the next year.
Carbon Cannabis' first product, smokeable CBD flower, began arriving in retail stores in mid-October. Its owners expect to begin supplying CBD retailers with tinctures and vapor cartridges by Thanksgiving, and to begin supplying them with CBD candy and pet tinctures by the end of the year.
You have free articles remaining.
Carbon Cannabis products initially are going to stores in Wisconsin and Minnesota.
"We'd like to eventually be (selling) on a national level," Wszolek said. "But we want to make sure we can provide a quality product at that scale. We want to have the local market where it needs to be before we start expanding."
CBD is a compound that's increasingly being used in lotions, dietary supplements, food products and other items.
Advocates for CBD say it offers health benefits such as relieving pain, anxiety and inflammation.
Carbon Cannabis says it has a focus on high-quality, full-spectrum oil and is a state-licensed hemp processor. Third-party testing provides a snapshot of the characteristics of the hemp it takes in as well as the finished products and helps ensure the hemp is free of pesticides and heavy metals, and has less than 0.3 percent THC content so it complies with federal law. THC is the cannabis compound that gives pot its high.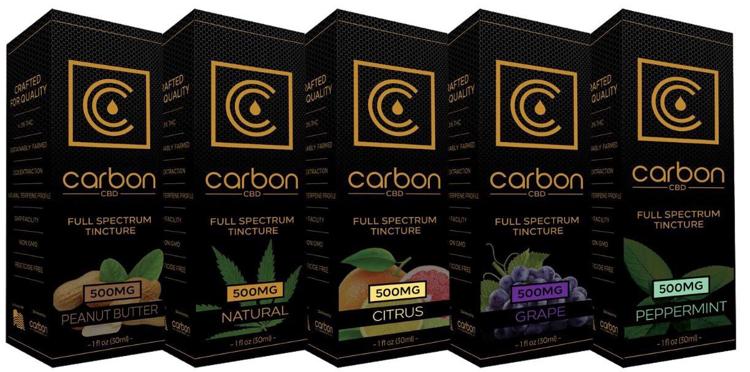 The 2018 Farm Bill approved by Congress and signed by President Trump removed hemp from the list of federally controlled substances and treats hemp — the low-THC version of the cannabis plant — like any other agricultural crop.
"A big thing we're trying to convey is the transparency of our company," Wszolek said. "On all of our products, you'll be able to find a QR code that takes you directly to the test results for the hemp that went into that product, as well as the finished goods, so you know exactly what you're getting. You just pull out the camera on your smartphone and hover it over our QR code, and a link will pop up. You click on the link, it takes you right to our website with the test results."
Boshcka said he was interested in starting Carbon Cannabis partly because "I'm involved on the retail side with CannaBiz Depot. I've always wanted to be involved in the vertical integration from seed to sale, where I know that the products I'm going to be selling, not only with CannaBiz Depot but with other CBD stores, are high-quality, lab-tested, fully transparent products." He said he also wants people to have access to CBD products at affordable prices.
Weber said he was interested in starting Carbon Cannabis partly because CBD products can help lots of people. Also, he said, "There's a lot of people out there who are taking shortcuts (in making CBD products) and whose products aren't testing out right. We want to offer people a clean product that we can really get behind, that we know will stand up to all regulations that will be coming."
"I take CBD daily," Wszolek said. "It helps me with a lot of different aspects of my life. And because we're in the early stages of the industry, I think we can really make a difference in pushing it in the right direction."
"We want to offer people a clean product that we can really get behind, that we know will stand up to all regulations that will be coming."

Maxwell Weber