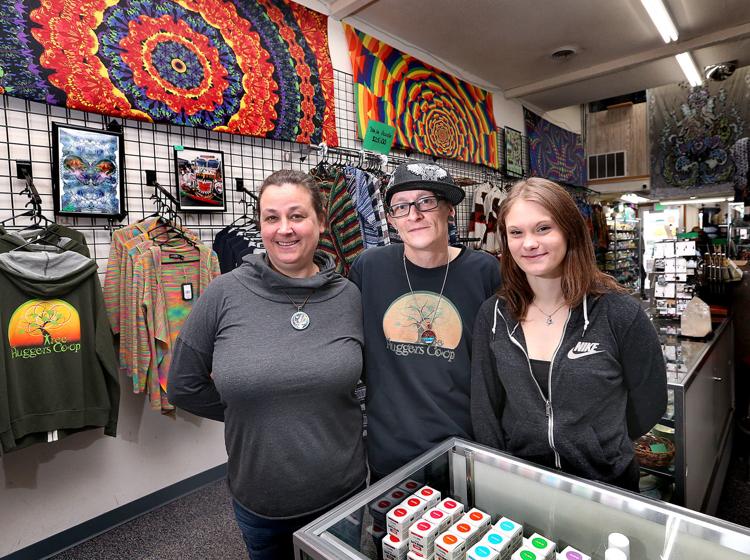 For years, the Tree Huggers Co-op at 312 S. Fourth St. in downtown La Crosse has been known for unique apparel, hats, jewelry, art and other merchandise made or designed by Midwestern artists.
But in the past year, it's also become known for selling CBD (cannabidiol) products, such as oils, tinctures, topical creams, gummies, bath bombs and even lollipops.
CBD is a compound derived from the hemp plant that's increasingly being used in lotions, dietary supplements, food products and other items. Advocates for CBD say it offers health benefits such as relieving pain, anxiety and inflammation.
The 2018 Farm Bill recently approved by Congress and signed by President Trump removed hemp from the list of federally controlled substances and treats the low-THC version of the cannabis plant like any other agricultural crop. THC is the cannabis compound that gives pot its high.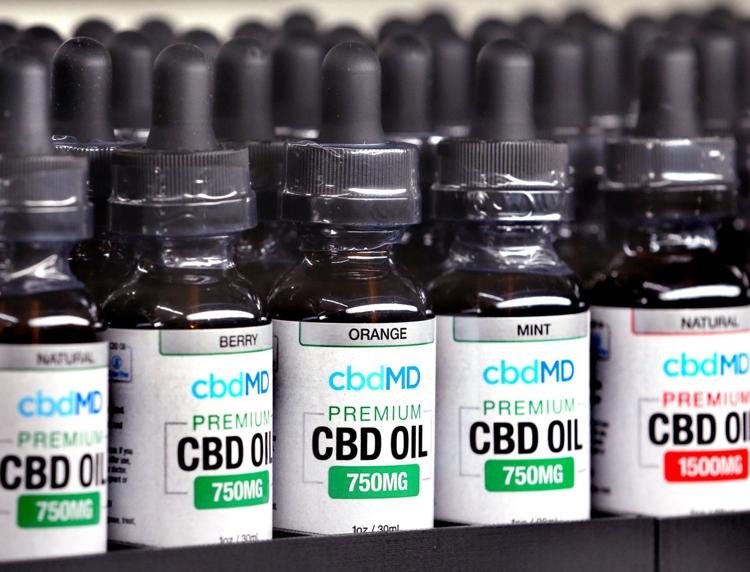 CBD products have become Tree Huggers Co-op's biggest sellers, say store owners Brent Welch and Sara Viner, who started the business in 2011 at 311 N. 13th St., near the University of Wisconsin-La Crosse campus. They moved it downtown, where the current location opened in February 2013.
Hats, hoodies and tapestries had been the store's biggest sellers before the store began selling CBD products last May, Welch said, and still account for a large part of its sales.
"We're very discerning about what we carry," store manager Rayna Coey said of the shop's CBD products. They're all made by U.S. manufacturers from American-grown organic hemp and contain no THC. Coey said she and the store's owners also look for products that are both the most effective and the most cost-effective.
Most of the store's CBD customers range in age from their late 40s to their 80s, Coey estimated. Many of them buy CBD products to help them deal with such things as pain, anxiety, sleep disorders, arthritis, digestion issues and even epilepsy.
"We've always been in the hemp fiber industry," Welch said, by selling T-shirts, hats and women's pants made with hemp fiber.
Tree Huggers Co-op has traditionally been a novelty and clothing store, he said. It sells such things as apparel, embroidered hats, tapestries, handblown glass, jewelry, oils, incense, holograms, art and more recently, CBD products.
"You won't find any of this (merchandise) in the Mall of America," Viner said of the store's large selection of unique merchandise. "We have one-of-a-kind things here."
"Now that we've been getting busier, we'll start opening on Sundays this spring" and will begin expanding Saturday hours as well, Welch said.
"I've noticed an increase in business in the last year or two," Welch said. "I think it's a combination of the downtown getting busier, CBD products are selling well, and we've been downtown for five years."
Welch is a native of Caledonia, Minn., while Viner grow up in La Crosse. Viner also has been a bartender at Del's Bar in La Crosse for the past 20 years.
Welch worked at the former Katmandu Trading Co. store at 320 Main St., which opened in 2004 and closed in 2007 and which sold apparel and other merchandise from around the world. He sold Katmandu merchandise at the store and at music festivals, before leaving Katmandu (which later moved from La Crosse to Portland, Ore., in 2012).
Welch had continued selling T-shirts and artwork at music festivals and craft shows, before he and Viner decided to open Tree Huggers Co-op near UW-L in 2011. "A shop became available and the rent was ridiculously cheap," Welch said of their decision to open the store.
He and Viner still sell merchandise at 12 to 15 music festivals a year, mostly in the Midwest.
"I enjoy the freedom of not having to punch a clock, and being able to do what the three of us want," Welch said of operating Tree Huggers Co-op.
"We're like a family," said Coey, who has worked for Welch and Viner for nearly a year.