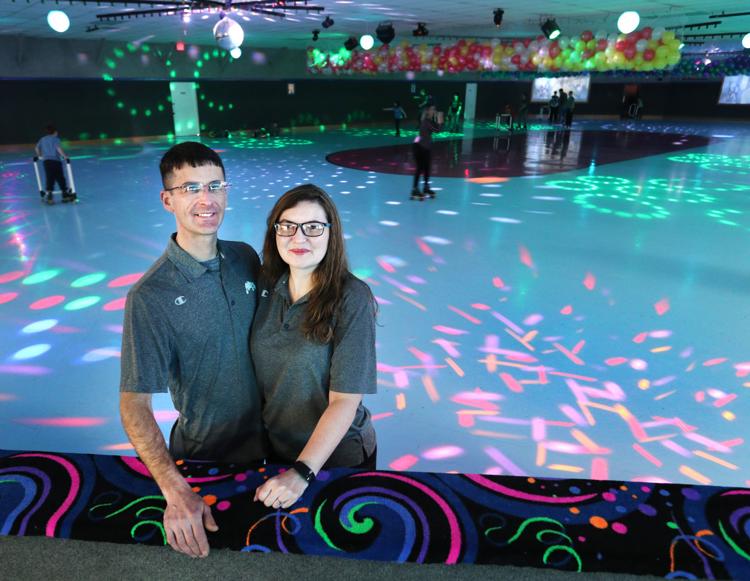 Nearly 20 years after they bought the business, Mark and Amanda Christianson continue to expand their customer base at High Roller Skating Center by making it even more family-friendly.
The Christiansons bought the skating center at 3624 East Ave. S., behind Shelby Mall in La Crosse, in February 1999. Since then, they have increased attendance by transforming it from a hangout for teenagers to a business that caters mainly to families and young children.
In 2013, the Christiansons created six separate party areas in part of the center, each with its own booths, lighted signs with the name of the party group and a counter for gifts and foods.
Having the designated party areas has increased the number of parties, Amanda said, adding that birthday parties account for a third of the skating center's business in dollar volume.
Over the years, the Christiansons also have added more video games and changed the music that's played by the center's deejay. The deejay plays rock, rap, pop, country, easy listening and oldies music.
"We always have a live deejay who's taking requests," Amanda said. The head deejay at the La Crosse skating center is the couple's 14-year-old daughter Lilli, who is a freshman at Central High School.
The Christiansons' 20-year-old daughter Emma manages their High Roller Skating Center in Eau Claire; they bought the former Skate America center in that city in 2014. Emma is a junior at the University of Wisconsin-Stout, majoring in business and recreational tourism management.
The food selection at the La Crosse location's snack bar has increased in the past decade and includes such things as homemade pizza, chicken tenders and french fries. "We've expanded our pizza selection in the last two years," Amanda said.
Pizza is the biggest-selling food item at the snack bar, with thin-crust pepperoni pizzas being the most popular.
In 2007, the Christiansons added an indoor playground for children of all ages. They replaced it with new playground equipment in January 2017.
Since August 2015, the La Crosse skating center has had video screens that show music and ambient (a genre designed to create a certain atmosphere) videos. There are six video screens in the center. "If there's a big sports event like a Green Bay Packers game, we'll switch two of the screens to that," Amanda said.
You have free articles remaining.
Two years ago, the skating center began offering wheeled walkers for beginning skaters to use at the rink.
Last April, the Christiansons replaced the La Crosse building's carpet (on walls and on the floor outside the skating rink) for the fifth time in their two decades as owners. Black lights above the carpet bring out vivid colorful designs. Amanda handpicked the colors that the manufacturer used to make the carpet.
The Christiansons also have been trying to be as environmentally friendly as they can. "Everything's been converted to LED" lighting, Mark said. "We did that about two years ago." The skating center also uses reusable plates and silverware for its parties.
While the Christiansons rent skates, they also sell skates at essentially their cost, plus shipping, to get them into the hands of more families. They continue to offer a promotion that gives the buyer a gift card good for admissions, equal to the amount they paid for the skates.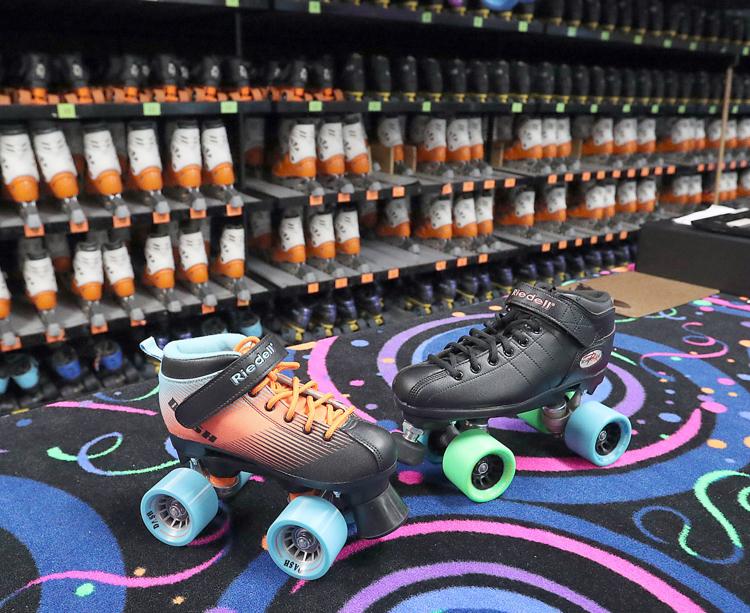 People can go to the skating center to shop for skates. And since Nov. 1, they've also been able to buy skates on the center's website and have them delivered to their home.
In October, the center began offering year-long membership passes, which are good for all of 2019.
It draws customers from a radius of about 125 miles, Mark said. Business peaks in the winter months, when children are less likely to be playing outdoors.
Some customers come for special events, such as Sensory Friendly Skate, Christian Music Night and Adult Night.
The Christiansons travel every other month to meet and trade ideas with other center operators in Wisconsin, Minnesota and Iowa. The meetings usually draw about 10 skating center operators.
The La Crosse skating center has a staff of 15 to 20 people, including part-time student employees who are on call to help with larger events.
"Our staff generally stays with us for quite awhile," said Amanda, a La Crosse native who began working at High Roller Skating Center in 1995.
Mark has worked at High Roller Skating Center since 1997. The Waukon, Iowa, native has been working at skating centers since 1986, when he got his start at a center in Decorah.