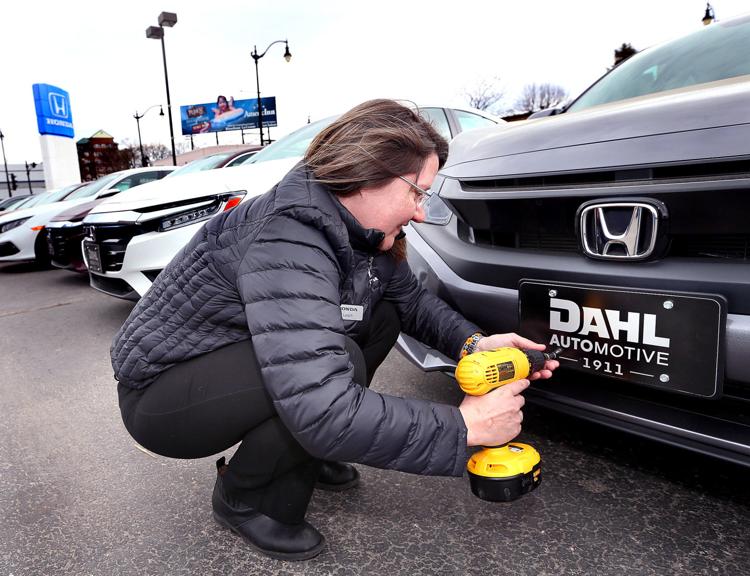 Dahl Automotive has purchased the Honda Motorwerks dealership at 500 S. Fourth St. in downtown La Crosse, and renamed it Dahl Honda. A grand opening celebration will be held April 25-29.
The sale was announced today, shortly after a temporary banner with the new dealership name went up on the building.
La Crosse-based Dahl Automotive bought the business from Chris Schneider and other members of his family on Wednesday.
It will lease the current site until it builds a larger, state-of-the-art Honda dealership building sometime in the next few years at 2520 Midwest Drive in Onalaska, Dahl Automotive President Andrew Dahl said.
The new building will be near the intersection of Midwest Drive and Theater Road and near Bremer Bank, the Goodwill Industries store and Mayo Clinic Health System-Franciscan Healthcare's Onalaska clinic.
The new approximately 20,000-square-foot Onalaska building will be much larger than the current 13,000-square-foot downtown building, and will have more room for sales and service.
Dahl Automotive is owned by fifth-generation owners Andrew, Jansen and Tyler Dahl, and their father, Harry Dahl. The business began in 1911 and is one of the oldest dealership groups in the nation under continuous family ownership.
"It was important to us that we chose an organization with strong values and a focus on guest satisfaction and team member engagement," Honda Motorwerks President Chris Schneider said of the sale. "The Dahl family has lived these commitments for over 100 years. I couldn't be more pleased to pass the Honda torch on to them. It's a perfect match."
Honda is the 10th franchise for Dahl Automotive, which has operations in La Crosse, Onalaska, West Salem and Winona, including dealerships that sell Ford, Lincoln, Subaru, Hyundai, Mazda, Toyota, Chevrolet, Buick and GMC automobiles.
Honda Motorwerks began in 1976 and built the current location in 1998.
Dahl Automotive offered employment to all of the Honda dealership's nearly 35 employees, Andrew Dahl said. "A couple people retired," he added. Paul Halbur has been named general manager of the Honda dealership.
"Honda is a top-tier brand," Andrew Dahl said of his family's interest in buying Honda Motorwerks. "It's a brand that we've been looking at for a long time. It has good reliability and is just a great product. We think it complements our mix of franchises really well. And we thought we could grow the brand locally."
The Honda dealership's new hours are service 7 a.m. to 6 p.m. Monday through Friday and 7 a.m. to 1 p.m. Saturday; and sales 8:30 a.m. to 8 p.m. Monday and Thursday; 8:30 a.m. to 6 p.m. Tuesday, Wednesday and Friday; and 8:30 a.m. to 5 p.m. Saturday.
The dealership also has a new www.dahlhonda.com website and a new Facebook page, both of which will be operating soon.