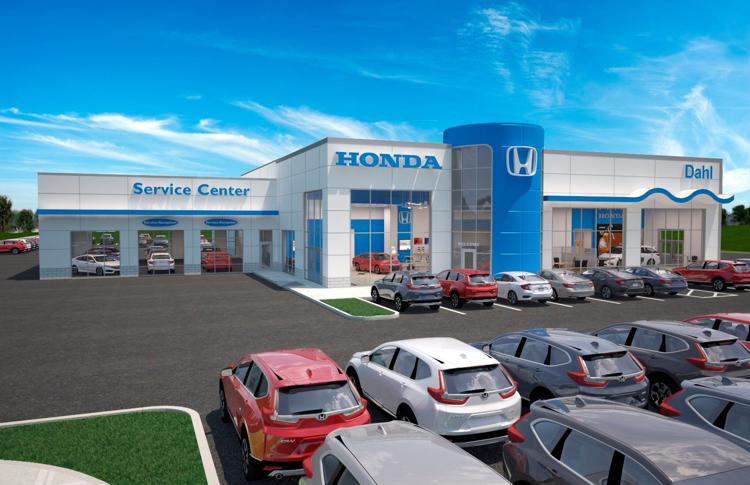 ONALASKA — Dahl Honda's much larger, state-of-the-art automobile dealership building will provide a welcoming environment for customers and employees when it opens early next summer at 2520 Midwest Drive, between the Goodwill Industries store and Bremer Bank in Onalaska, Dahl family members said at a groundbreaking ceremony Tuesday.
The approximately 24,500- square-foot new building will be nearly twice as large as the current Honda dealership building at 500 S. Fourth St. in downtown La Crosse, Dahl Automotive Vice President Jansen Dahl said. It will have 12 service bays, up from six at the downtown building, and the showroom also will be larger.
The five-acre Onalaska location also will have a parking area twice as large as the downtown one, he said.
With the move to a larger facility in Onalaska, the dealership's workforce of about 30 people is expected to increase by at least 20 percent, Dahl Automotive President Andrew Dahl said.
You have free articles remaining.
Employees will be proud of the new facility, which will offer an exceptional experience for customers, Andrew Dahl said. "We wanted to make sure we had the best for our team, as well as our guests," he said.
"We are just delighted that the Dahl family has chosen to grow with us here in Onalaska," Mayor Joe Chilsen said.
Wieser Brothers General Contractor Inc. is general contractor for the project. Earthmoving work at the site began this week.
La Crosse-based Dahl Automotive bought the Honda Motorwerks dealership in March and renamed it Dahl Honda. Honda is the 10th franchise for Dahl Automotive, which also represents Ford, Lincoln, Subaru, Hyundai, Mazda, Toyota, Chevrolet, Buick and GMC.
Dahl Automotive is owned by fifth-generation owners Andrew, Jansen and Tyler Dahl, and their father, Harry Dahl. The business began in 1911 and is one of the oldest dealership groups in the nation under continuous family ownership.