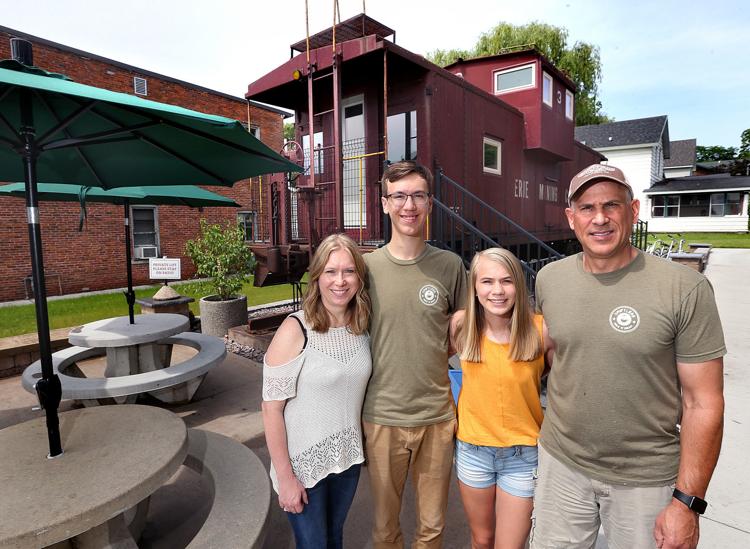 TREMPEALEAU — The Liberty Peak Deli, which the Brad and Amy Stanislowski family opened April 29 next to their Driftless Bike 'N' Bean shop, is drawing lots of attention from tourists and out-of-town bicyclists as they pass through downtown Trempealeau this summer.
The deli at 11367 Main St. is in a burgundy-color railroad caboose that the Stanislowskis' landlord, Kevin Miller, arranged to have trucked to downtown Trempealeau last August.
Miller renovated the 20-ton caboose, which had been part of an Erie Mining Co. train in Minnesota's Iron Range, until the mid-1980s. It had been in storage in East St. Louis, Ill., until he bought it and brought it to Trempealeau.
The deli, which has inside and outside seating, offers build-your-own deli sandwiches, soup, salads, cookies, snack chips and beverages such as soda pop, water and iced tea. Sandwiches can be made from five kinds of meat, five kinds of bread baked in a new kitchen in the Driftless building, and three kinds of cheese.
"So far the feedback (from customers) about the quality of the food has been great," Brad Stanislowski said. "People are really enjoying what we're serving."
"We've had requests for gluten-free options, which we are looking into," Amy Stanislowski added.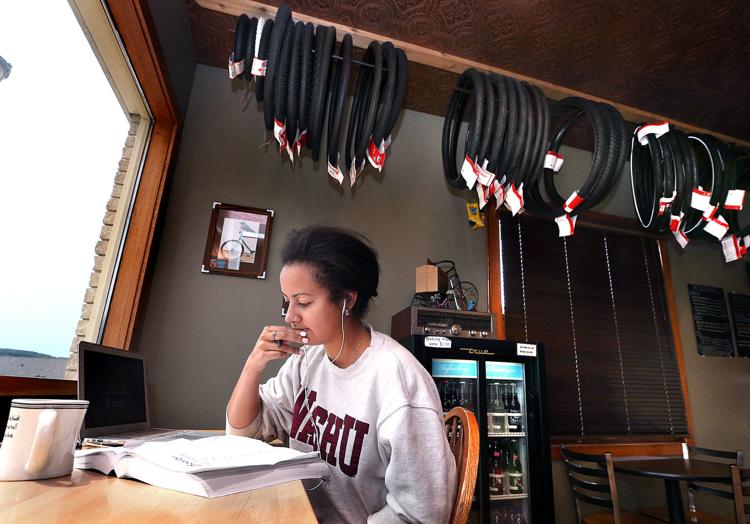 Brad Stanislowski said the deli is named after one of the Trempealeau area's most visible peaks, which also is commonly called First Peak.
The Stanislowskis opened Driftless at 11369 Main St. in December 2016 after buying the former Green Heron Bicycle Works bike shop there from Miller. Driftless is a combination espresso, coffee and ice cream cafe/full-service bicycle repair and rental shop. Miller still owns the building.
Driftless offers an array of coffee beverages, as well as smoothies, Spring Grove and other brands of soda pop, eight flavors of Chocolate Shoppe ice cream (homemade waffle cones and other kinds of cones are available) and doughnuts from Bloedow's Bakery in Winona. On Fridays and Saturdays, it also has scones from Renaissance Bakery and Pastries in Galesville.
You have free articles remaining.
Register for more free articles.
Stay logged in to skip the surveys.
Brad and Amy run Driftless and the new deli with the help of their daughter, Jordan, and son, Justin. Brad is a Trempealeau-area native, while Amy grew up in Galesville. The family lives near Galesville.
Brad Stanislowski said he had told Miller that if he had more space, he could do more things.
"The inspiration for a railroad caboose as a model for commerce came from Trempealeau's history with the railroad," Miller said of his decision to buy and bring the caboose to Trempealeau. "We have a set of working tracks dividing Historic Trempealeau and the main channel of the Mississippi River. Trains have been an integral part of our community since the 1800s. I have always enjoyed the process of creating something from nothing and the challenges it presents."
Trempealeau has many unique things to offer, Miller said. "I believe the caboose adds distinctive value to the community."
The project has been the most comprehensive challenge of his life, Miller added. "There was no architect, just me acting as the project planner, manager and contractor. Each day had its problems that required creative solutions." Miller said he couldn't have undertaken the project without the support of his wife, Carrie.
"Seeing all of those smiling faces each day coming and going from the deli makes all of the hard work truly worth it," Miller said.
The Stanislowskis' bike shop and deli together employ about 20 people, Brad Stanislowski said. Both businesses are open year-round.
"Obviously we get a lot of local support during our off-season" in the colder months, Brad said. "But during the summer we get people here from all over the place. We get people who are biking across the United States that will drop in."
Trempealeau is on the Great River State Trail.