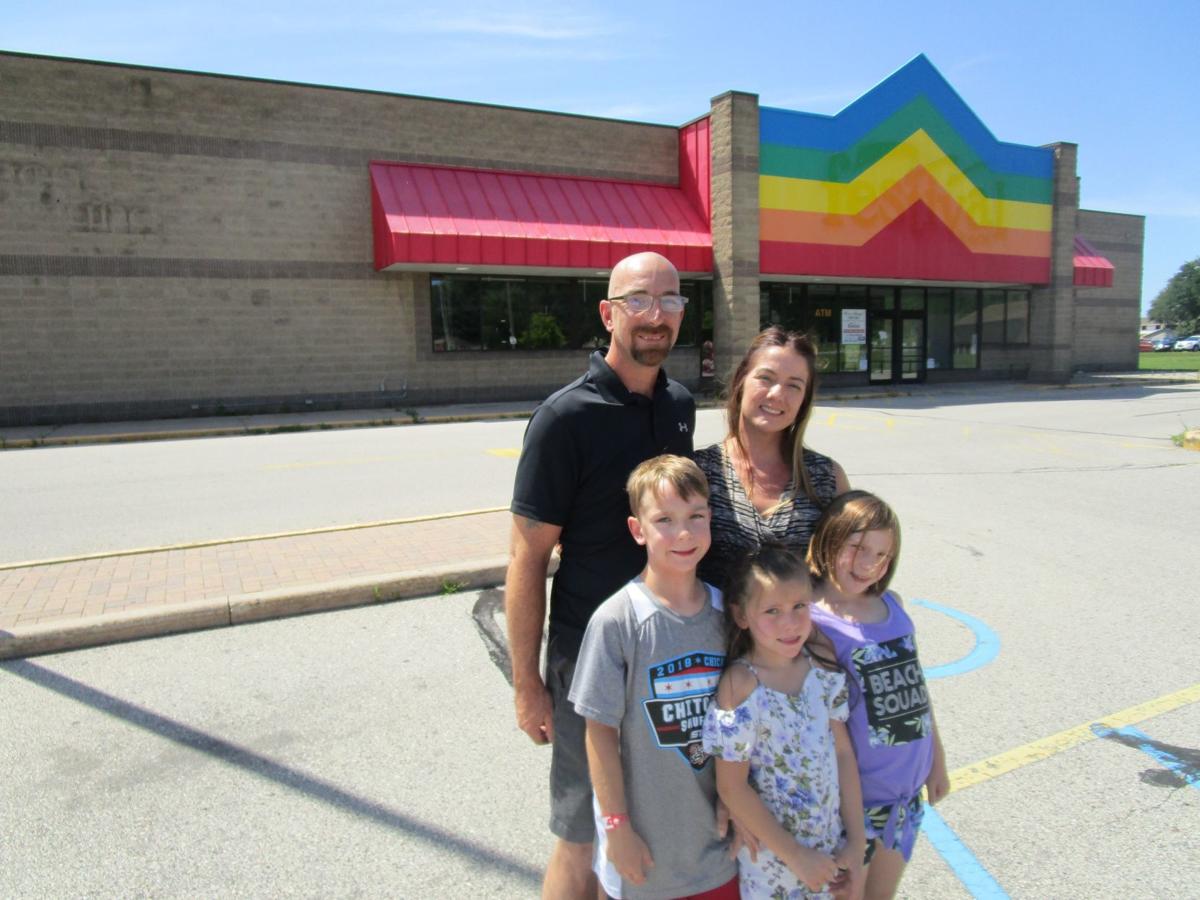 HOLMEN — Jeff and Jackie Voves of Holmen hope to purchase the former Festival Foods building at 600 N. Holmen Drive in mid-September and open a family entertainment center — tentatively named Breakaways — there in February.
The building, which is still owned by longtime grocers Dave and Barb Skogen, has been vacant since Holmen's Festival Foods grocery store moved to a much larger new location at 123 Hale Drive. The new grocery store opened last October.
The Voveses said this week that they hope to close on the purchase of the former Festival Foods building in mid-September and to then start remodeling it immediately. "We're in the process of finalizing financing," Jeff said.
"As of right now, we will have two phases," Jeff said. "And we're hoping, if all goes well, to open the doors in February 2019 for the first phase."
The first phase would include an eight-lane bowling alley with a lounge that serves wood-fired pizza as well as beer, wine and mixed drinks; an indoor playground; and an arcade with games.
Teen game rooms — probably three or four — would occupy part of the arcade and would have video games, a karaoke machine, couches and tables. The game rooms would be rented for playing video games and for special events such as birthday parties.
The indoor playground would have such things as climbing areas, obstacles, slides and ball blasters that shoot very soft balls, Jackie said.
"We want to keep the food menu in the lounge light so that we don't intrude on the surrounding businesses" such as nearby restaurants, Jeff said. "We want all of the businesses (in the area) to thrive."
The first-phase components would occupy about three-fourths of the former grocery store building, Jeff and Jackie estimated. The other fourth would be turned into storage spaces for individuals and businesses until it's needed for something else.
The first-phase components probably would employ about 20 people, they said.
They are talking with potential investors for a possible second phase — an indoor ice arena that would be built on a vacant lot just north of the former grocery store. "It would be a hockey ice arena," Jeff said, and might be used by area youth hockey programs. It also would be available to the public for ice skating.
The arena would be owned by the Voveses and by the other investors.
"We've had a lot of interest" expressed by potential investors in an ice arena, Jeff said. There's no timetable for the second phase, he said, adding, "There's a lot of moving parts that need to be developed with that."
Besides being an ice arena, Jeff said, "There's also an opportunity to maybe bring in some concerts or use it for wedding receptions or trade shows. There are all kinds of opportunities that could revolve around Holmen having a hockey rink."
"This is very, very focused on family," Jeff said of the planned family entertainment center. "Bringing something to Holmen that it doesn't currently have, to help build community and help build the area with different things. We want to create safe havens for kids and their families to come and do something fun."
As parents, the Voveses think there's a need for a family entertainment center in Holmen. They have three children at home, ages 6 to 10.
They also said Theresa Urbanek of the Small Business Center at the University of Wisconsin-La Crosse was very helpful in development of their business plan for the project.
The Voveses own v2 Studios in Holmen. "We are a video production house that creates national TV commercials and reality TV shows and marketing content," Jeff said of the business.
"When Barb and I first met these folks, we were blown away with their high character traits and moral maturity," Dave Skogen said of the Voveses. "They've done their homework. We're excited not only for Jackie and Jeff, but we're also excited for the Coulee Region. We're not at the finish line yet with this transaction, but hope to be soon."
The business news you need
With a weekly newsletter looking back at local history.