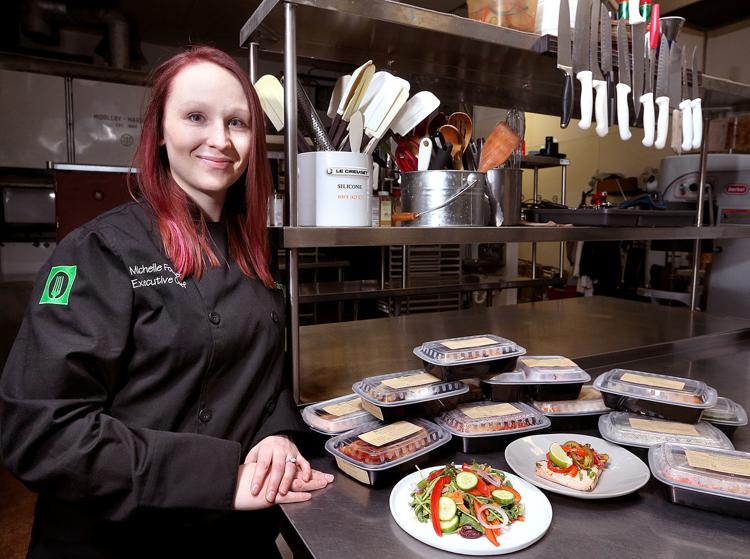 Michelle and Chad Fonger of Holmen are approaching the one-year anniversary of their FarmDish LLC meal preparation and delivery service, and plan to open a restaurant in a few years and to offer catering.
Michelle, who is FarmDish's executive chef, and some of the service's 15 employees prepare meals in a rented commercial kitchen space in downtown La Crosse on Sundays.
FarmDish offers deliveries to customers on Sunday evening and Monday morning, and also offers free pickups either in downtown La Crosse on Sunday evening or at FarmDish's office in Suite 103 at 405 S. Main St. in Holmen anytime on Monday.
Customers either subscribe to a meal plan or buy meals on an ala carte basis.
FarmDish began operating last July and now has about 50 customers, mostly in Holmen, Onalaska and La Crosse. It offers free delivery within those three communities, and there's a small fee for delivery elsewhere.
The meals are delivered in reusable insulated cooler bags with freezer packs. Most of the meals will keep in the customer's refrigerator or at room temperature for five to seven days, Michelle said. The meals also can be frozen.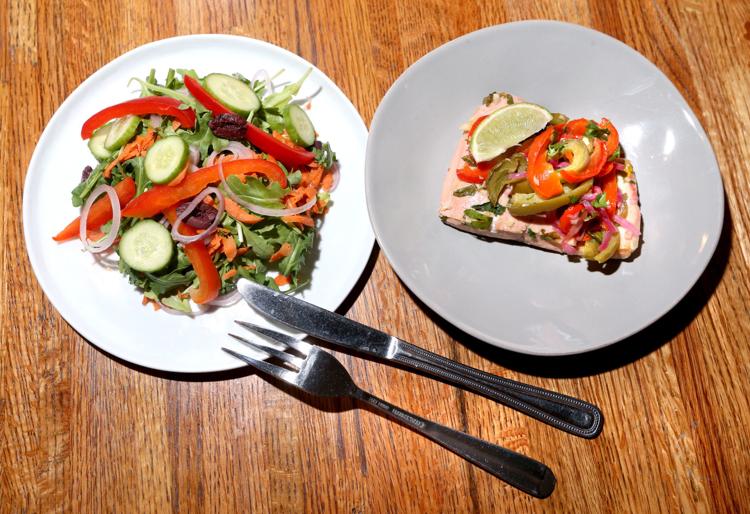 FarmDish offers meal plans for breakfast, lunch, dinner and children, and in the near future will offer additional plans, such as vegetarian, vegan and gluten-free.
So far, the dinner meal plan is the most popular. "That's definitely our biggest market," Michelle said. "We have a lot of busy moms, busy families. People who want their nights back. They can have their dinner ready, pop it in the microwave, and it's good to go."
Salmon dishes and frittatas have been some of the most popular menu items so far.
Michelle said almost all of the ingredients FarmDish uses are organic, and ingredients come from local or regional sustainable farms as much as possible.
Michelle grew up on French Island and the North Side of La Crosse, and Chad was raised in Onalaska.
The Fongers, who have two young children, moved back to the area from California in 2016.
Michelle said she lived in Los Angeles from 2011 to 2016, and received a bachelor's degree in culinary management from The International Culinary Schools at The Art Institute of California – Los Angeles in 2015. She said she has worked in and managed kitchens for years, including a job cooking at a West Hollywood seafood restaurant that attracted celebrities.
The Fongers, whose first child was 4 months old at the time, returned to the area from Los Angeles because "We just didn't want to raise our child in Los Angeles," Michelle said. "It's a very big, crazy city and it's also really expensive to live there.
"We wanted to have a food business" after returning to the area, Michelle said. "I was hesitant to do a restaurant right off the bat, because restaurants are so labor-intensive to start. And you need a lot of capital and a staff of people." She got the idea for FarmDish from working for a woman who had a somewhat similar business in Los Angeles.
"We have a really cool blueprint for where we want to take it," Michelle said of the couple's business.
"We'd like to have our own kitchen eventually," she said. "Something where we could have an actual restaurant Monday through Saturday, and on Sunday we could still do the FarmDish deliveries. We also want to get into catering, especially lunches for local businesses and things like that. And we also want to do cooking classes."
Michelle said she hopes to open the restaurant in a few years.
The business news you need
With a weekly newsletter looking back at local history.