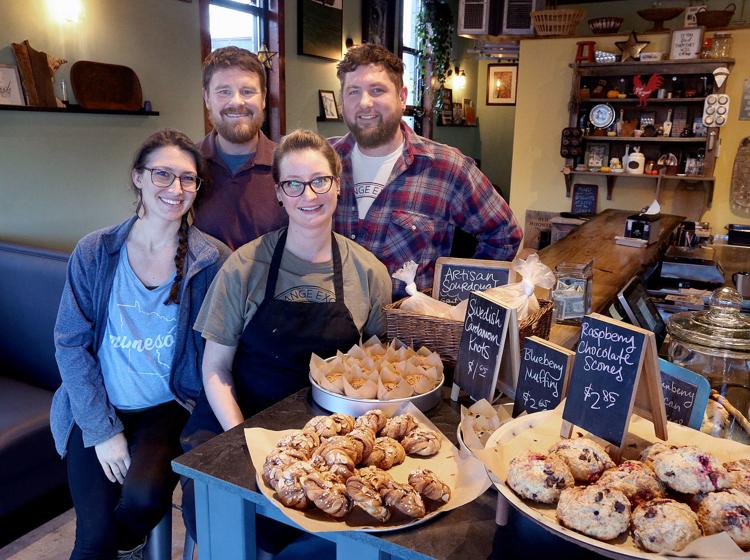 HOKAH, Minn. — They've been selling some of the food they produce, at farmers markets in La Crescent and Hokah.
Since mid-November, two La Crescent couples also have been serving up their products and other food grown in the region at their new farm-to-table cafe, Free Range Exchange at 46 Main St. in downtown Hokah.
Free Range Exchange is in the former location of the Sidewalk Cafe, which had been vacant since that business closed in October 2018.
Ben and Ava Horn, and their longtime friends Dan DeVaney and his wife Cambria Kolstad-DeVaney, bought the building last spring and immediately began renovating it.
The Horns also own Happy Horn's Market and Orchard, which raises produce that they sell at the two farmers markets and to a few restaurants. Ava Horn also is a registered nurse at Gundersen Health System in La Crosse.
Ben Horn also manages the La Crescent farmers market and is working full time at the new cafe, as is Cambria Kolstad-DeVaney, who also sells pretzels and other baked goods at the two farmers markets. Dan DeVaney is a surveyor for the Army Corps of Engineers.
"This is the result of years of brainstorming and dreaming about having a physical location to combine our passions of fresh and local produce, with Cambria's expertise in baking and ready-made food," Ben Horn said of the couples' decision to open the cafe. "The building was available, and there's a lot of potential here in Hokah. It's on a busy street."
"There's a lot of traffic," Kolstad-DeVaney added. "And a lot of young families are moving into town."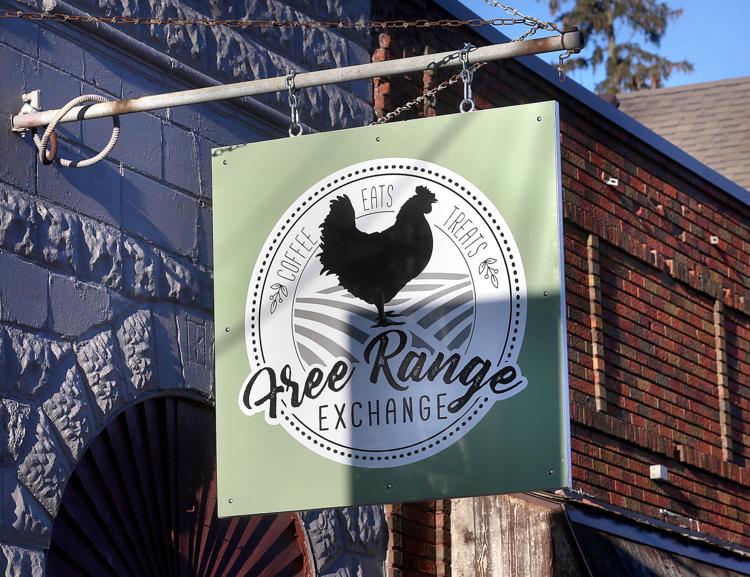 You have free articles remaining.
The cafe is open from 6 a.m. to 2 p.m. Monday through Friday, 8 a.m. to 2 p.m. Saturday and closed Sunday. It probably will be open on Sundays by next spring, Horn said.
When customers walk in, the first thing they see is an array of homemade baked goods, such as pretzels, breads, muffins, sweet rolls, English muffins, scones and cookies.
"Most of our products are made in-house," Horn said. "So any of the bakery products, the bread products, sauces, dressings – everything is house-made."
The food menu includes such things as salads; soups; quiche; burritos; a bagelwich made with smoked turkey, egg, cheese, spinach and what Kolstad-DeVaney calls "tomato schmutz," and other kinds of sandwiches.
The cafe soon will have a house burger with a special sauce, and may eventually have a Friday night fish fry.
"Our focus is local and naturally grown" food, Kolstad-DeVaney said. "We do have organic options." A blackboard inside the cafe lists farms and others in the region that supply food products to it.
The cafe serves coffee made with coffee beans from three area roasters – Carlson Roasting Co. in Houston, Heart Rock Coffee near Caledonia and Bean Juice in La Crosse. "We're going to add a small retail section for people to grab some bags (of roasted coffee beans) to go," Horn said.
The cafe's owners plan to apply to the city in January for a liquor license, so they can begin selling beer, wine and spirits. "We'll feature local microbrews, local distilleries and local wineries," Horn said.
A large cooler contains grab-and-go foods such as sandwiches, cheese, salads, parfaits, hard-boiled eggs and Spring Grove Soda Pop.
The cafe also sells merchandise that includes or soon will include Free Range Exchange T-shirts, local honey and maple syrup, CBD products, local art, plant-based supplements and skin-care products.
A long countertop that Free Range Exchange's owners installed was made from a white pine tree log that had been cut when the tree was about 237 years old and which had been at the bottom of Lake Superior for more than 100 years.