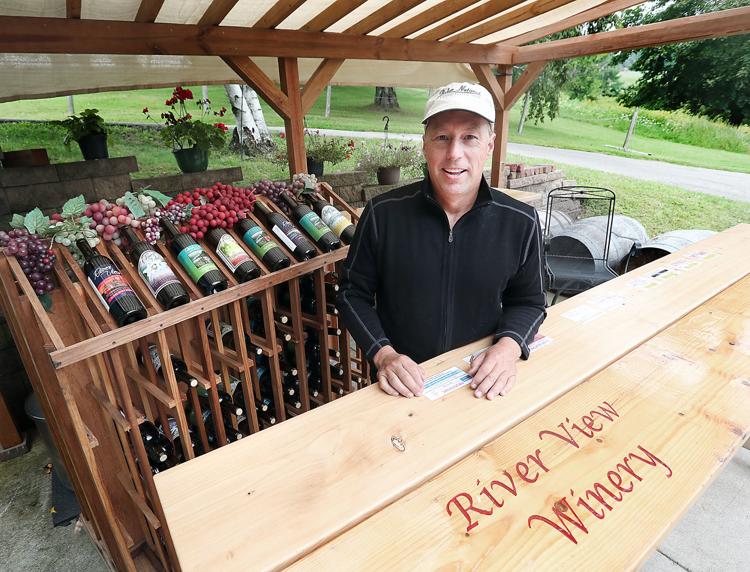 LA CRESCENT, Minn. — This year's grape harvest began Wednesday — several days earlier than usual — at River View Vineyard and Winery on Apple Blossom Scenic Drive north of La Crescent, where owner Brad Helstad says wine sales and production have continued to increase since he first opened to the public in 2011.
This year's weather has been good for fruit growth on his approximately 1,000 grapevines, Helstad said. But some recent hot summer temperatures have caused the crop to mature one to two weeks faster than usual, he said. He usually begins harvesting grapes around the end of August. Helstad expects to complete this year's harvest around mid-September.
The red, blush and white wines that Helstad makes this fall from his grapes will be for sale starting next spring. "But we let some reds age from one to two years," he added.
River Vineyard and Winery sells nine varieties of wine, all at its outdoor tasting room. About half of the wine Helstad produces is made from the grapes that he grows. The other half is made from grapes that he buys from growers within about 30 miles of La Crescent.
The tasting room overlooks Lake Onalaska and is open April through November. Its season normally ends on the Sunday after Thanksgiving.
The tasting room, which is open from 11 a.m. to 6 p.m. Thursday through Sunday and at other times by appointment, sells River View wines by the glass and by the bottle. And it sells glassware with River View's logo on it. It sells no food except for snacks, but people are welcome to bring food with them.
River View's tasting room has live music some weekends — usually on a Saturday — and Helstad said he hopes to begin bringing food trucks to the winery sometime in the near future.
The winery also hosts other activities, such as combination yoga class/wine tasting events that involve two different yoga instructors. "And we've had probably 20 or so weddings here" since the winery opened, Helstad said.
He plans to cover the outdoor tasting room in the next few years and to begin hosting more events, such as corporate functions.
River View is one of 11 wineries in Minnesota, Wisconsin and Iowa that are on the Great River Road Wine Trail. The 11 member wineries hold three weekend wine/food pairing events a year, including the Holiday Harvest Wine & Food Festival scheduled for 10 a.m. to 5 p.m. Nov. 10-11. Tickets for that event can be purchased in advance online at www.greatriverroadwinetrail.org or at the participating wineries.
Having wineries in the area "is really good for tourism," Helstad said. "We get a lot of people here from the Twin Cities, Madison, Chicago and from places in Iowa, like the Des Moines area. I enjoy meeting people from all over and helping to promote the Coulee Region."
You have free articles remaining.
Register for more free articles.
Stay logged in to skip the surveys.
Helstad said he also enjoys growing grapes and making wine.
"When I started (making wine) it was more a matter of following a recipe," he recalled. "But now I've fine-tuned it to making my style of wine. Making wine really is an art."
With River View's current equipment, Helstad said, "We have the capacity to produce about 1,000 cases of wine" per year. "That's 12,000 bottles or about 3,000 gallons." His wine production has gradually increased to about three-fourths of those numbers.
Helstad so far has sold his wine only at River View's tasting room. "And for the short term, I'll stick with that," he said. "Eventually I'd like to get into some liquor stores and restaurants." But before he does that, he will have to increase production and make arrangements for distribution.
The winery's Brianna wine is its biggest seller. "It's a semi-sweet white wine," with a citrus aroma, Helstad said. After Brianna, his biggest-selling wines are River Boat Blush, which he describes as a sweet, crisp and light-bodied blush wine; and La Crosse, a light-bodied, crisp, semi-dry white wine with peach overtones.
River View's wines have won several awards in regional wine competitions.
Helstad is a native of La Crosse, where he graduated from Central High School in 1979. He received a bachelor's degree in business administration from the University of Wisconsin-La Crosse in 1983.
After doing accounting work for some local firms, Helstad worked in information technology with American Airlines' Sabre reservation system for 14 years until he was laid off in 2004. "I traveled to travel agencies around the world to set up their Sabre systems," he said.
Before he was laid off, Helstad and his father had already started planting grapevines.
His father had read in a local newspaper in 2002 about a workshop in Lake City on starting vineyards and on University of Minnesota grape varieties that would thrive in a northern climate. They went to the workshop, then bought 200 vines, which they planted in 2003.
"It takes three to five years to get established," Helstad said of vineyards. He originally planned to grow grapes to sell to other area wineries. "They were just starting to take off in this area," when he and his father planted their first grapevines.
But in 2009 Helstad decided to establish his own winery. He made his first wines that year and gave them to family and friends, before opening the winery to the public and making his first wine sales in 2011.