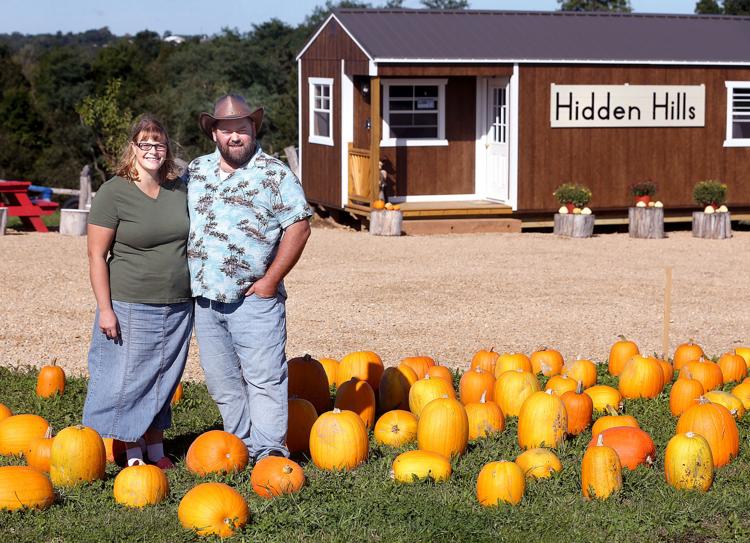 STODDARD — Families can walk on trails, feed animals, climb on and through an obstacle course, play paintball, play on a Nerf gun course, have a campfire picnic and shop for baked goods and crafts at the new Hidden Hills outdoor recreational center that Ethan and Deb Bolstad opened Sept. 14 on part of their 40-acre hobby farm between Stoddard and Chaseburg.
During the month of October, the five-acre forested paintball area is used for a Troll Trail that operates on Friday, Saturday and Sunday. (Paintball is still available Monday through Thursday in October, by reservation only.)
A see-through maze made with deer fencing also operates during the month of October. Besides looking for the way out, those who go through the maze look for a hidden item that if found will win them a prize.
"I walk them through the forest as we watch out for trolls," Ethan said of the Troll Trail." The groups he leads come across troll huts and several people dressed in troll costumes.
Some other attractions at Hidden Hills include a kids' tower for children to play in, and a large dirt pile with little toys, for kids to play on.
Hidden Hills will be open year-round, Ethan and Deb said. This winter, they plan to offer sledding; cross-country skiing; a live, interactive Nativity scene and Christmas caroling. And they are thinking about selling Christmas trees and offering horse-drawn sleigh rides.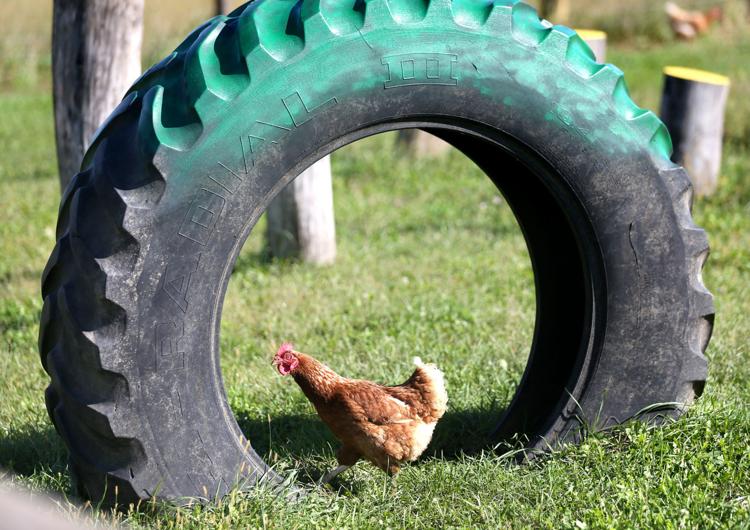 In a few years, Hidden Hills also will be in the apple business. The Bolstads planted about 140 apple trees (in 2013 and 2016) and hope to open their orchard to the public in the fall of 2022. They probably will offer pre-picked apples in their store, and you-pick apples.
You have free articles remaining.
The Bolstads also sell cage-free eggs, we well as beef, chicken, turkey and lamb from animals they raise. The livestock feed they use is all non-GMO (genetically modified organism). "And all the grasses they feed on are non-GMO grasses," Deb said of the family's livestock.
The Bolstads have about 60 free-range chickens wandering around their hobby farm, and sell their eggs in the Hidden Acres store.
They also raise cattle, sheep, fainting goats, turkeys, ducks, pigs and rabbits.
On Saturday and Sunday, the store has baked goods made by Deb, such as doughnuts, pie, cinnamon bread, cinnamon rolls, fry pies, dessert bars and pumpkin bread. There's a smaller selection of baked goods on Friday. "Some of our baked goods are gluten-free," Deb said.
Some other food items available at the store include candy, maple syrup, honey, jams, jellies, pickles and pears. "Everything is local," Ethan said of the food items, which also include pumpkins and squash grown on the farm.
Also for sale in the store are crafts made by area Amish and such things as Christmas ornaments, throw blankets, painted rocks, handmade greeting cards, woven baskets and handmade fishing lures.
Hidden Hills is open from 9 a.m. to 5 p.m. Friday and Saturday, and from noon to 6 p.m. Sunday. It also is open on Monday, Tuesday, Wednesday and Thursday by reservation only.
The Bolstads have five children ages 7 to 14 who are home schooled and who help with the family business. Their sixth child, son Torian, had a congenital disorder and died in 2015 at the age of 15 months.
"There were very few things for families to do in the area," Ethan said of the family's decision to open Hidden Hills. "And you can get outdoors here."