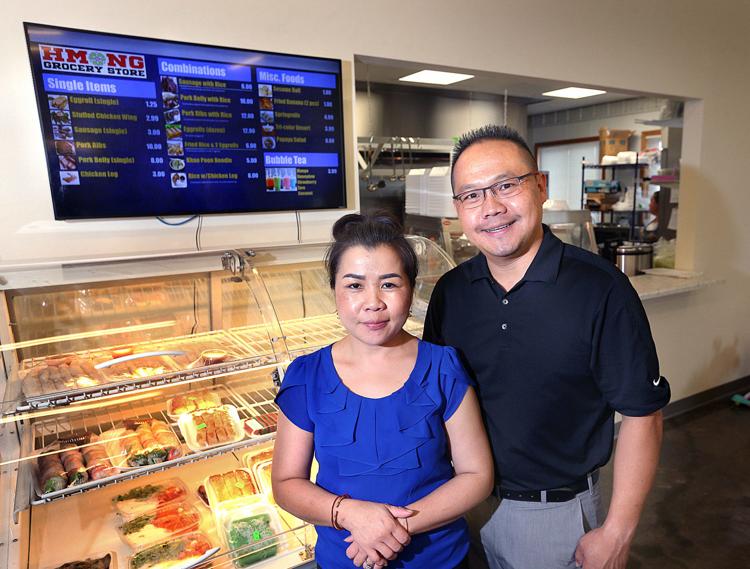 HOLMEN — Ka Vang says his family's new, much larger Hmong Grocery Store location at 120 Hale Drive in Holmen is doing well and has met his expectations. And its new deli area has been a big hit with customers.
Vang and his wife, See Lee, opened the new store April 1. It has about 3,500 square feet of space, compared with about 1,400 square feet at its previous location at 1506 Cole Court, along Hwy. 35 in Holmen, where they started the business in April 2015.
The store is in an 8,200-square-foot building that Vang and Lee bought last August and then renovated. Three other businesses — The Hive Chiropractic Center, Honey Bear Massage and Wild and Free Yoga Studio — lease the space that Vang and Lee aren't using for their grocery store.
"We have a lot more space and a lot more variety" in the new location, Vang said of Hmong Grocery Store.
He and his wife had a commercial kitchen installed in the new location, so that the grocery store could start offering hot and cold deli items. "It's grab-and-go things," Vang said of the deli area, which opened a few weeks after the store did.
Some cold deli items include spring rolls, papaya salad, coconut desserts, steamed rice rolls, cake slices and tri-color dessert. "The biggest sellers have been the spring rolls," Vang said. "Some people buy three or four at a time. They're popular because they're fresh and they're healthy."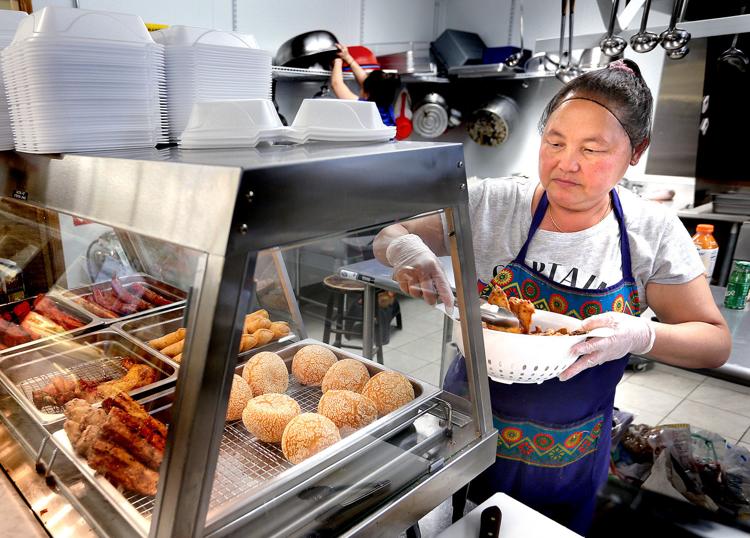 Some of the store's hot deli items include egg rolls, stuffed chicken wings, chicken legs, sausages, pork belly, sesame balls, fried bananas, khao poon noodle soup, fried rice and sticky rice. Egg rolls have been the biggest-selling hot deli item, Vang said.
You have free articles remaining.
Register for more free articles.
Stay logged in to skip the surveys.
The deli area also features five flavors of freshly made bubble tea. "Mango and coconut are the most popular flavors," Vang said.
Hmong Grocery Store has both fresh and frozen produce. Much of the store's fresh produce comes from local, mostly Hmong growers at this time of year. In the winter months, Vang said, much of it will come from Hmong and Chinese growers in warmer states such as California.
"It's gone pretty well," Vang said of the move to the larger store. "It's been what we expected. We've gotten lots of good comments from customers about the different varieties of food, the cleanliness of the store, and the deli."
Vang said he and his wife decided to buy the building and move their store there, partly because it's across Hale Drive from Festival Foods and a large Kwik Trip, both of which opened in the last few years. "It's a prime location" with high traffic counts, he said.
"I like to sell things that Festival doesn't," Vang said, which is a factor in what he and his wife stock in their store.
He goes to the Twin Cities once a week to buy food from seven or eight wholesalers. That allows the Holmen store to carry a large selection of Asian food.
Most of the store's customers are of Southeast Asian descent. Hmong account for the largest group, but the store also has some Vietnamese, Chinese and Korean customers, Vang said.
After Hmong, Vang said, "Our second-largest group of customers is Caucasian. Asian food has become more popular and more and more Caucasians are trying it. They're buying the deli stuff and also are cooking different Asian dishes."