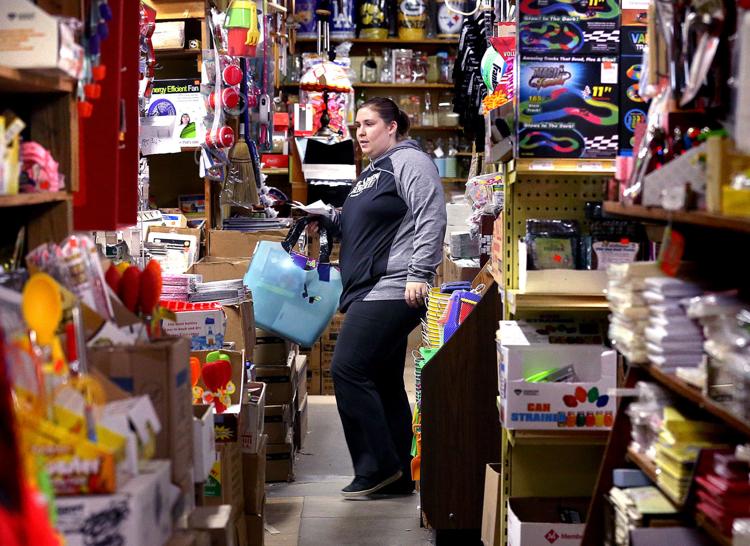 LANSING, Iowa — With Christmas only nine days away, there's been an increase in the number of holiday-season items on display at Horsfall's Lansing Variety and at Horsfall's Store, both in downtown Lansing.
But some things never change.
As always, both stores are packed with merchandise, especially the variety store at 300 Main St. that Paul Horsfall has operated since 1975. And Horsfall is still known for being able to quickly locate whatever item a customer might ask for.
Horsfall still suspects he has a million items in the century-old building that houses Horsfall's Lansing Variety, an old-fashioned variety store.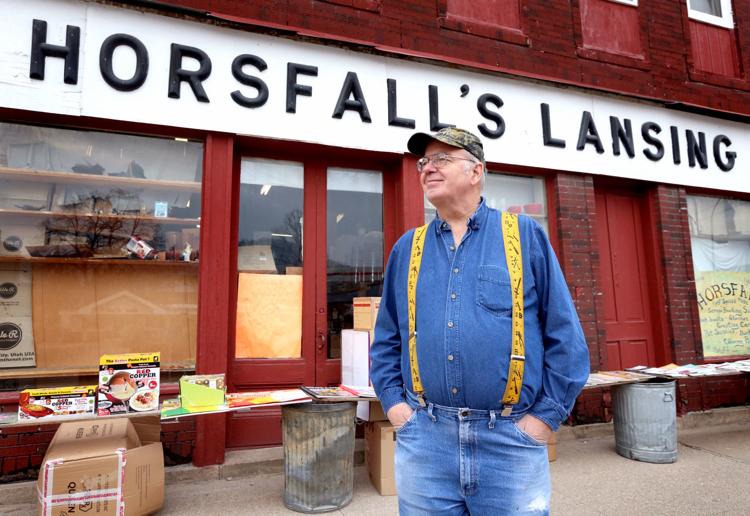 And he's still known for trying to find value for his customer. Horsfall estimates that 80 percent of his merchandise is close-out items purchased directly from manufacturers — such as calendars, Christmas-themed books, gift wrap, gift bags and boxes of holiday greeting cards that were on display last week on tables outside, and shelves inside, the variety store.
"We sell more gift items and more kids items" during the holiday shopping season, Horsfall said, such as magical bracelets that can be turned into a pet and then back into a bracelet, Christmas-themed coloring books and stocking hats with built-in lights.
The variety store still sells its greeting cards for 99 cents each, and most of its spices are priced at $1 each. It also has a large variety of candy, cookbooks, napkins, puzzles, cookie cutters, cookware, drink glasses, embroidery thread and hot iron transfers for flour-sack towels.
"It's awesome to see what there is here," Eileen Merges of Dubuque, Iowa, said as she examined a display of cross-stitch quilt blocks in the variety store. "We make a trip here once a year."
"I can't think of having to shop anywhere else," said another customer, Terisa Steiber of Lansing. "I bought several (Christmas) gifts today for not a whole lot of money, and was able to shop in my hometown. I've known Paul all of my life. He's a fantastic guy."
Paul Horsfall was raised in Decorah, Iowa, where his father, Paul Sr., managed Anthony's department store for more than 20 years. Horsfall was assistant manager at Anthony's before he bought Krieger's Variety Store in Lansing in 1975.
Horsfall's Variety Store has about 3,800 square feet of space, compared with about 5,000 square feet at the former Brown's Department Store at 360 Main St., a business that Horsfall bought in 1981. He gradually converted the latter from a department store to a second variety store. Today, it goes by the name Horsfall's Store.
The merchandise at Horsfall's Store is somewhat different than that at Horsfall's Lansing Variety, and includes items such as T-shirts, sweatshirts, home decor, signs, wall hangings, wind chimes, sports memorabilia and seasonal products. "We just got in 1,500 braided rag rugs from India" at Horsfall's Store, Horsfall said.
Horsfall, who is 64 and has a dozen employees, has no plans to retire. "It's still fun," he explained.
Horsfall still works seven days a week, but now does some of that work from his home in nearby Waukon. His wife, Dorothea Horsfall, was his business partner and helped him run both stores until she died in March.