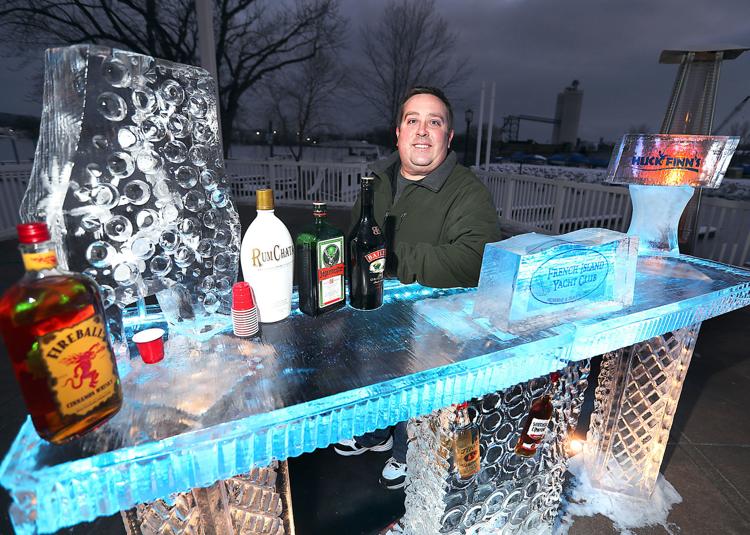 Huck Finn's on the Water in La Crosse has turned the drink of Southern Comfort on ice inside out with a new bar: A bottle of the popular, whiskey-based liqueur is embedded in the bar, which is carved from ice.
Creating the crystal-like, partly see-through bar from 300-pound blocks of ice involved "a chain saw, a chisel and a lot of work," said Chet Hawkins, co-owner of the bar and restaurant on French Island with his father, Rick.
The Southern Comfort has company within the icy grip of the middle support, as a bottle of Tito's Vodka also is trapped there until temperatures get a lot higher than the nighttime teens and daytime 20s to low 30s during the next several days.
As a precaution, they can cover the bar with insulating blankets if temps rise too high to prolong its life. Worst-case scenario, they can dismantle it and store it in Huck Finn's freezer, Rick said.
Chet, who lives on La Crosse's South Side, picked up the idea during an event called Social Ice in Rochester, Minn., where several bars were set up out on the strip, he said.
"I thought it was something we could do for our groups that book parties in the winter," said Chet, who noted that a family friend from church who is too shy to be named did most of the sculpting.
For such occasions — a recent Gundersen Health System party and a French Island Yacht Club soiree this weekend — Chet embeds the group's logos on a pedestal at center ice.
One end of the bar features a large sculpted chunk of ice with a hole that meanders through the interior to create a "booze luge." Bartenders can poor liquor down the luge, and it drops into a shot glass at the bottom. At the other end is a small ice tower with Huck Finn's logo.
The company's ice vendor pitched in to encase the Southern Comfort and the Tito's, putting them in before the ice block was frozen, angling them so they look like they are suspended in thin air instead of thick ice.
Although the bar, which is bedazzled with interior lights that fade in and out of colors, is more of a visual attraction than a practical piece of furniture, it appears durable enough to accommodate several guys who don't mind cold elbows. It doesn't have bar stools, which Chet said he might consider next year, if this pilot project goes like gangbusters and they decide to build bigger in 2019.
The patio also has a towering gas heater, and the Hawkins also plan to install a fire pit, Chet said.
When the ice gets dull or needs a touch-up, repairs are as easy as splashing a little water and — as counter-intuitive as it may seem — a quick flame from a blowtorch for a quick fix.
Huck Finn's opens during the winter at 4 p.m. Fridays and Saturdays, although most Saturdays up to Christmas are booked for parties, Chet said. People also can call him at 608-790-0733 to book the facility for parties of 25 or more Sundays through Thursdays.