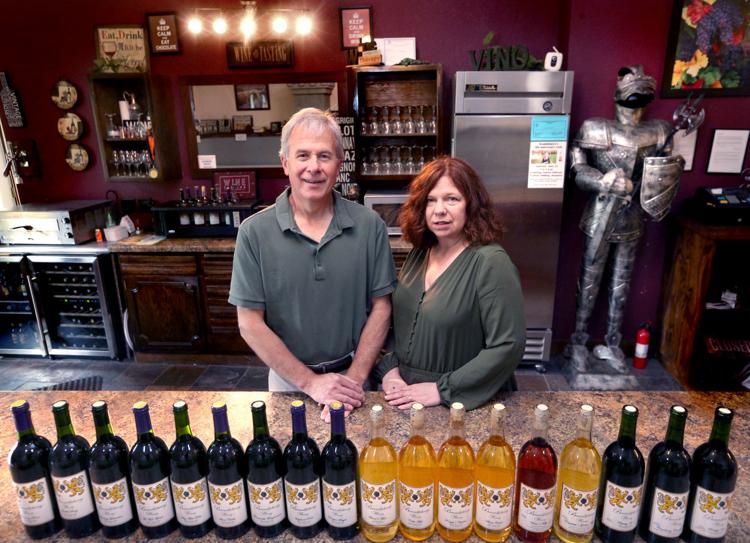 TAYLOR — Chris and Sherry Hardie continue to increase their wine production and sales at their Brambleberry Winery, Weddings and Country House Hotel business about 10 miles south of Taylor.
And they anticipate major growth in the wedding and wedding receptions part of their business, thanks to the Grand Wedding Pavilion that was completed last summer and which is open from May through October. The 40- by 100-foot pavilion can hold up to 275 people, has commercial-grade rest rooms and also can be rented for other events. Groups of up to 400 can be accommodated by renting an additional tent.
Two outdoor wedding ceremony sites are available, but the ceremony also can be held inside the pavilion.
"In the last three years, we've been doing small weddings" at Brambleberry, Sherry said. "And now with this (large pavilion) facility, we can also have large weddings here."
"We have a restaurant license, which allows us to prepare food for small special events," Chris said. "We do not cater large weddings — that needs to be done by a licensed caterer."
Homemade pizzas and cheese and meat trays are served in the Brambleberry Winery tasting room on Saturdays and Sundays.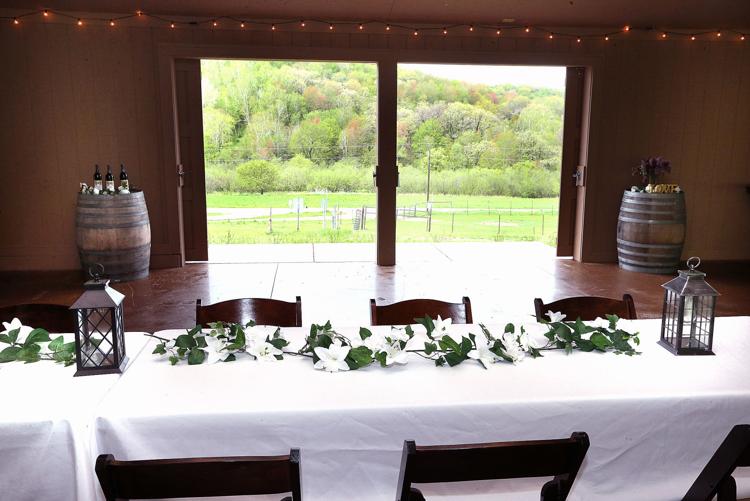 The Hardies will celebrate the sixth anniversary of their winery with a free concert from 4 to 7 p.m. June 22 in the new pavilion. It will feature Joanna Johnson of Chili, Wis., the 2017 U.S. national Scottish fiddling champion, and her mother, Deb Johnson, who plays guitar.
Chris writes a weekly column that appears in the La Crosse Tribune, and he and Sherry also write a weekly wine column for the Tribune and the Winona Daily News. Chris, former executive editor of the Tribune, is CEO of the 7 Rivers Alliance, a regional economic development organization.
"Brambleberry Winery, Weddings and Country House Hotel started in 2006 when we received our bed and breakfast license," Chris said. "We remodeled and added on to the farmhouse that once belonged to my great-grandparents Ray and Hilda Hardie. I grew up on the farm."
The country hotel part of the business has four guest rooms available for rent Thursday through Sunday.
Chris and Sherry opened the winery in 2013 after adding on to the farmhouse on their 115 acres of land, where they also raise Scottish Blackface sheep, Scottish Highland cattle, goats, donkeys and chickens.
Chris makes more than 50 wines from what he said are "the finest juices from around the world," from places such as California, France, Italy, Spain, Australia, Germany and Chile.
Register for more free articles.
Stay logged in to skip the surveys.
Because Brambleberry imports so much juice, Chris said, "People can come here and find wines they wouldn't expect to see at a Wisconsin winery."
The Hardies are growing some of their own Frontenac grapes. "But we don't have our production high enough yet" to make wine from them, Chris said.
"I make more than 20 different reds," he said. "I also make white wines and a variety of what we call our Sweetie wines, grape and fruit blends. I also make two special ice wines."
The Hardies sell their wines in the winery's tasting room for prices that range from $13.95 to $29.95. They also serve beers made by Sand Creek Brewing Co. in Black River Falls.
The winery is open from noon to 7 p.m. Friday and Saturday and from noon to 5 p.m. Sunday. In the winter months, it's open Saturday and Sunday.
Chris said he made about 6,500 bottles of wine last year, and production and sales have been increasing. That's partly because some retail outlets have begun carrying Brambleberry wines in the past three years.
Brambleberry wine is available at Mocha Mouse in Black River Falls, the Peddler's Wife in Hixton, Overflow Eatery in North Bend and Target Bluff German Haus in Camp Douglas. It's also available on tap at Growler Guys, a tap room in Eau Claire.
"We're certainly looking to grow" wine sales at retail outlets, Chris said. "A lot of that has been from (retailers) who have approached us because they've had our wine and like it."
Hosting weddings and other events at the new pavilion also will boost Brambleberry wine sales, Chris said.
"The sweeter wines sell the best" at Brambleberry's tasting room, Sherry said. "But our passion is actually the dry reds. We have at least 20 dry reds and are well-known for them. We excel at that. But we have delicious wines for every palate."
Brambleberry Winery's two biggest-selling wines are two Sweeties — raspberry sangria and a tropical coconut blend.
Also for sale in the tasting room are wine glasses, accessories and apparel such as T-shirts and hats.