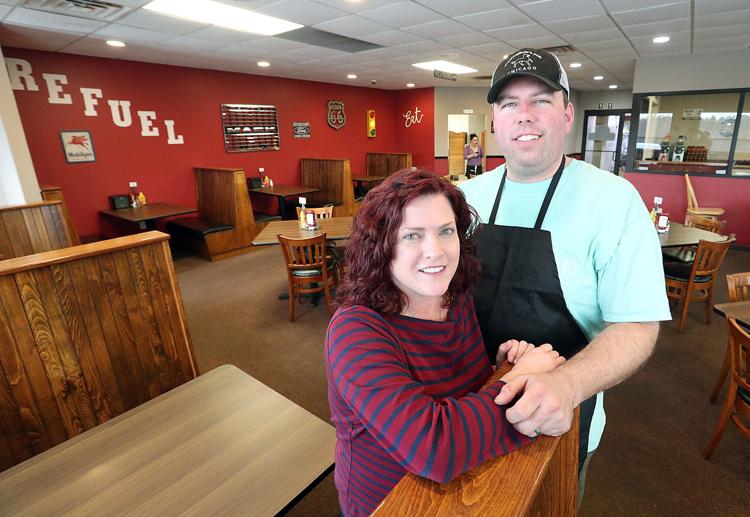 SPARTA — Joel and Susan Schultz say they've been pleased with business at the Jim Dandy's Tasty Eats & Frozen Treats restaurant and Neshonoc Sports convenience store that they bought last January in West Salem.
That prompted them to open a second Jim Dandy's Tasty Eats & Frozen Treats on Jan. 17, in the former D&D Diner part of the Sparta Travel Center building at 4105 Theater Road, on the far east side of Sparta. The travel center, which is along Hwy. 16 just off Interstate 90, also houses a BP gas station/convenience store.
D&D Diner closed in August.
"With the success of the West Salem location, we thought it would be good to open second one, in Sparta," Joel said. "We had a good following from Sparta people who were driving to West Salem" to eat.
"It's gone really well," Joel said of Jim Dandy's first week of business in Sparta. "It's been better than we expected."
The Schultzes are familiar with the Sparta area.
Joel is a native of Tomah and traveled extensively in the area during his 24 years in sales positions with three area soft drink distributors.
Susan, an Onalaska native, is a clinical laboratory scientist at the Mayo Clinic Health System's Onalaska clinic.
The Schultzes live in West Salem, where they bought the original Jim Dandy's and the Neshonoc Sports convenience store at 201 Hwy. 16 E. last January. Jim Dandy's opened in 2014 in a new addition to the building that houses both businesses.
The new Sparta restaurant is open from 6 a.m. to 8 p.m. seven days a week, Joel said. "The menu is probably 95 percent the same" as the West Salem restaurant's menu.
At the new Sparta location, Joel said, "We have at least two home-cooked options like meatloaf with mashed potatoes and an open-faced roast beef sandwich with mashed potatoes" each day.
Some of the most popular menu items at both restaurants include burgers (such as the new Bloody Mary burger made with Bloody Mary mix), Cuban sandwiches, pizza, fish sandwiches, fish tacos, Philly sandwiches, hot dogs, chicken tenders and sides such as french fries, onion rings, mac and cheese triangles, cheese curds, chili and soup of the day.
The two restaurants' Friday fish fry also is popular. And both locations have daily specials.
Both restaurants also serve breakfast fare such as pancakes, breakfast sandwiches, omelets and breakfast skillets. And they have ice cream items such as cones, floats, shakes, malts and sundaes.
The West Salem restaurant draws customers mostly from the West Salem area, Joel said.
"Here in Sparta, we can draw from Sparta and from Fort McCoy, and there are truckers who will stop here," he said of the new location.
"It's right off the interstate," Susan said of the Sparta restaurant, which is managed by Tom Mashak.