A.J. Frels, executive director of the La Crosse County Convention and Visitors Bureau, is optimistic about the summer tourism season and said it's already off to a strong start in the La Crosse area.
He noted lots of area events are scheduled for this summer, as well as 20 stops by four big paddle-wheeler boats at Riverside Park.
Frels said visitor spending in La Crosse County totaled $263.9 million in 2017, up 6.3 percent from $248.1 million in 2016. And he predicted that number will continue to grow in 2018, partly because of the strong economy, continued strong consumer confidence and countywide collaborative efforts to promote tourism.
An upcoming example of tourism collaboration is a new satellite welcome center that's expected to open during the second week of June in the Great River Landing building near the intersection of Highway 35 and Main Street in downtown Onalaska.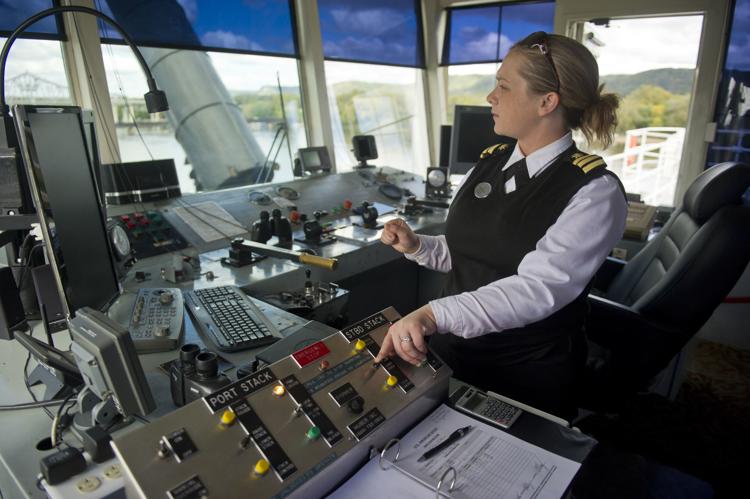 The bureau operates a welcome center and its own offices at 410 Veterans Memorial Drive inside Riverside Park in La Crosse. It also staffs the Wisconsin Welcome Center on French Island with volunteers and will do the same at the new satellite welcome center in Onalaska.
The availability of hotel rooms is one thing that helps draw visitors to the La Crosse area.
It also was one reason why the May 17-19 Cabela's National Team Championship walleye fishing tournament with its 200 two-man teams of anglers was moved to La Crosse because of flooding in the Quad Cities area, where it originally was scheduled to occur.
A spurt of five hotel openings in downtown La Crosse from 2015 to 2017 added 459 guest rooms. No additional hotels have been announced for La Crosse this year, although a 60-room Best Western Plus hotel is expected to be under construction this fall and open next May (if weather cooperates) in La Crescent, next to the planned La Crescent Area Event Center.
"The additional hotel rooms make for more availability, and make it more inviting to people because they have a variety of properties" to choose from, Frels said.
Frels doesn't seem overly concerned about the potential impact of rising gasoline prices on tourism.
You have free articles remaining.
Register for more free articles.
Stay logged in to skip the surveys.
"I can't control that," he said of gasoline prices. "Who knows where it's going to go? In the summer, we always see gas prices kind of creep up because people are traveling and so forth. We do our best to attract people and let them know there's value here when they come to stay, that there are multiple things to do."
By Memorial Day weekend — just a week ago — the national average price of gasoline had risen to $2.97 a gallon, up 31 percent from a year earlier. But AAA predicted more than 41.5 million Americans would travel Memorial Day weekend, nearly 5 percent more than last year and the most since 2005.
"The highest gas prices since 2014 won't keep travelers home this Memorial Day weekend," said Bill Sutherland, senior vice president of AAA Travel and Publishing. "A strong economy and growing consumer confidence are giving Americans all the motivation they need to kick off what we expect to be a busy summer travel season with a Memorial Day getaway."
AAA said gasoline prices are up because of higher crude oil prices, record gasoline demand and shrinking global supply.
Frels said major recent events that have once again attracted many visitors to La Crosse include the NCAA Division III Outdoor Track & Field Championships on May 24-26 and the state high school track and field championships June 1-2.
The area will host more fishing tournaments this summer, and the first Country Boom music festival is scheduled for July 13-14 at Maple Grove Venues near West Salem.
The convention and visitors bureau will once again operated narrated trolley tours throughout the area. Also returning are The Ghosts of Historic La Crosse Walking Tours offered by the La Crosse Public Library and local storyteller Michael Scott, and the Dark La Crosse Trolley Tours offered by the bureau and the library.
Some other highlights for the next few months include June Dairy Days in West Salem on June 1-3, Artspire June 8-9, Lobsterfest June 15, Norskedalen Midsummer Fest June 16, Onalaska Community Days June 15-16, Rotary Rock-N-Ribs June 22-23, Celebrate Onalaska on June 22-23, Riverfest on July 4-7, Three Rivers Roleo on July 14 and the Big Blue Dragon Boat Festival on July 21.
Also, the La Crosse Interstate Fair in West Salem on July 18-22, AAUW Art Fair on the Green on July 28-29, Irishfest on Aug. 10-12, Kornfest in Holmen Aug. 17-19, Great River Folk Festival on Aug. 24-26, La Crosse Area Bicycle Festival Aug. 31-Sept. 3, Mississippi Mayhem Rockabilly Weekend Sept. 7-8, La Crosse Pride Sept. 7-9, Steppin' Out in Pink Sept. 8 and Oktoberfest Sept. 27-30.
---