Three years after she started it, Laura Liudahl has been adding product lines to her Laura's Baking Delights custom dessert business.
And the Holmen woman has started thinking about moving it to a permanent location in about two years.
Liudahl bakes her cakes, cupcakes, cake pops and other desserts in the shared commercial kitchen in the Coulee Region Business Center, also known as the small business incubator, at 1100 Kane St. in La Crosse.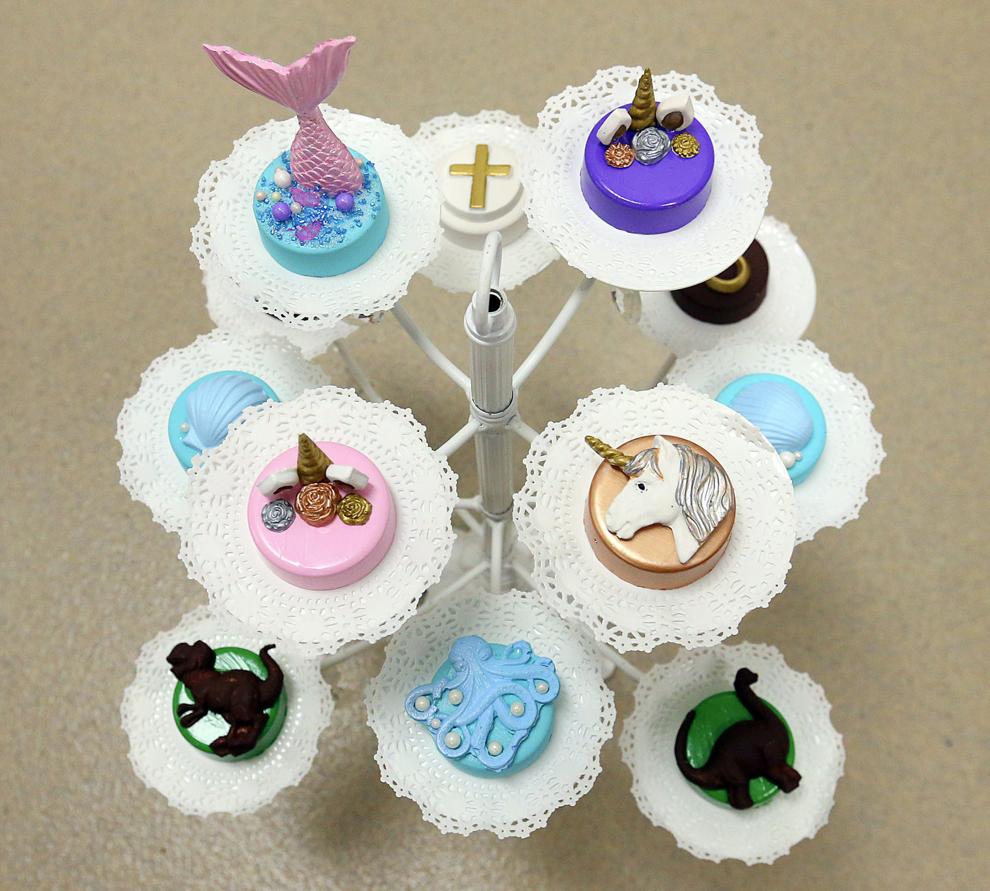 "I'd like to have my own space," said Liudahl, who appreciates the incubator's role in helping businesses get started. "I'd like to have a place to work that's closer to my home."
Liudahl, who has been baking since she was a young girl, recalled being given a "fun cupcakes" cookbook by someone in 2009. "I started making some of them and gave them to co-workers" at the J.C. Penney Co. department store in Valley View Mall, where she was working at the time, she said.
After the positive feedback she received from others, Liudahl started Laura's Baking Delights in 2014. "I'm a very crafty person and I've always been doing things like that," she said of her decision to go into the baking business.
"I love the crafty aspect, the decorating and learning new techniques," Liudahl said.
When she started the business, she was making cupcakes and cakes in the incubator kitchen. She later expanded into making wedding cakes, cake pops, chocolate-dipped strawberries, cheesecakes, cookies, muffins and dessert bars.
This spring, Liudahl began offering decorated Oreo cookies; she dips the cookies in chocolate and tops each one with a chocolate decoration that she's made.
About a month ago Liudahl added her newest creations – Wizard Wands for boys and Unicorn Horns for girls. Both are a pretzel wrapped in caramel and dipped in chocolate.
This year is Liudahl's first as a vendor in the Cameron Park Farmers Market in downtown La Crosse. She participates in it on some Fridays.
"I do it to let people know I'm out there" and to sell some of her products, she said.
At the farmers market, she sells such things as cake pops, decorated Oreo cookies and icing shots — a small plastic cup of frosting. People also can place orders for any of her products at her table at the farmers market.
Liudahl delivers most of her desserts to her customers, but they also can arrange to pick them up someplace else, such as the incubator kitchen or farmers market. She also has shipped cake pops by mail.
Most customers are ordering something for a special event, such as a wedding or birthday.
"Wedding desserts have become about half of my business," Liudahl said, and include such things as cake, cupcakes, cake pops and decorated Oreo cookies.
She offers a large variety of cake, frosting and filling flavors. "Champagne is my most popular cupcake variety," Liudahl said.
Her two most popular cakes are strawberry chunk with white chocolate buttercream frosting, and white chocolate cake with raspberry buttercream frosting.
"I enjoy making people happy," Liudahl said of her business. "Everybody's always happy to get cake."
While she owns the business, she said her husband, Lane, is supportive of what she does. They have two sons.