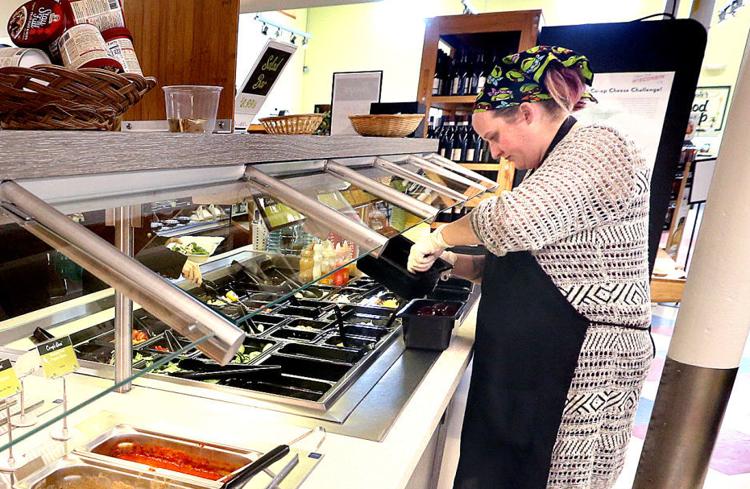 The People's Food Co-op at 315 Fifth Ave. S. in downtown La Crosse will hold a grand reopening celebration Thursday through next Sunday, to mark the store's nearly complete $1 million remodeling.
Activities will include a ribbon cutting, lunch and dinner specials in the revamped and expanded deli, music and dancing in Hackberry's Bistro on the building's second floor, vendor demonstrations, samples, discounts and a Kids' Day on Saturday that will include a bounce house in Cameron Park from 10 a.m. to 2 p.m. and an egg dyeing class at 2 p.m. In the community room. For a complete schedule, visit the co-op's website or its Facebook page.
Work on the remodeling project began in August and will be completed when sidewalk repairs, landscaping and tree replacements occur in April and May, co-op CEO Lizzy Haywood said. The co-op has remained open during the remodeling.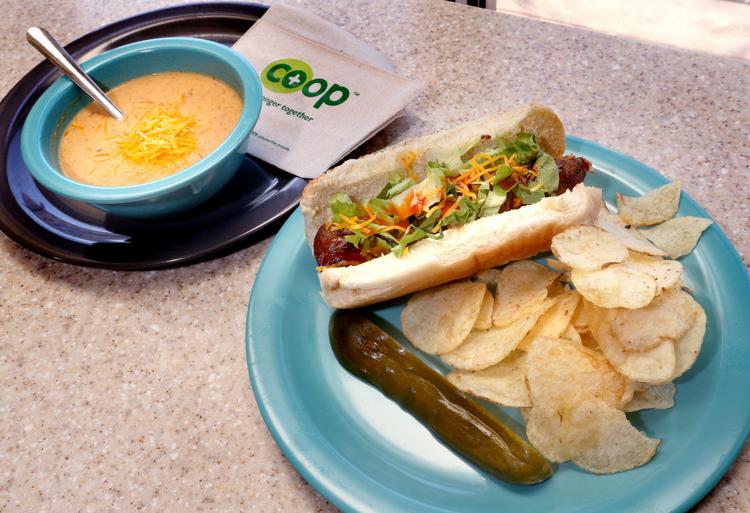 Some highlights include new exterior signs and awnings; remodeling the Fifth Avenue entrance; repainting the store's interior; additional bicycle parking; expanding the deli area and adding some countertop seating there; adding self-service soup, bakery, beverage and hot food bar areas; relocating and expanding the salad bar; installing a new beer cooler; creating a speedier checkout system with an additional express lane and a dedicated customer service lane; and rearranging the wellness and grocery product aisles and shelving.
The expanded deli offers new menu options such as protein bowls, grilled bratwurst and foods made by the co-op that are available at the hot food bar. And with the addition of more cooler space, Haywood said, "We have more space for packaged salads, entrees and sandwiches that are ready to go.
"It's because of the demand for food choices," Haywood said of the decision to add a hot food bar and create space for more ready-to-go prepared food items. "That's kind of what we're all about, giving people lots of choices," including vegan options as well as meat options that are antibiotic- and hormone-free, she said.
Hot food is available from 10 a.m. to 9 p.m. daily, while the salad bar is open from 8 a.m. to 9 p.m. daily.
Four trees will be replaced in the next several weeks as part of the remodeling project. "Two of them are dead," Haywood said. "And the other two are just too big." The new trees that replace them "will be uniform and very resistant to salt damage, and they'll grow more straight up than out," Haywood said.
About two years' worth of planning went into the project, she said. Co-op officials listened closely to what co-op owners and other shoppers wanted, got input from the city and from Downtown Mainstreet Inc., and market analysis and feasibility studies were done, she said.
Haywood said some of the project's main goals included expanding deli space for more food options, faster service and improved seating; increasing staff safety through improvements to the receiving dock and back room; increasing visibility of the co-op with new outdoor signage; and improvements that focus on sustainability and efficiency.
It was the first major remodeling of the La Crosse store since its expansion in 2004. The co-op was organized in 1972 and has been at its current location since 1993.
The People's Food Co-op has had a second location in Rochester, Minn., since its merger with Good Food Co-op in that community took effect in January 2012.
With about $25 million in annual sales, the People's Food Co-op has about 10,133 members including about 6,361 members who shop at the La Crosse store.