HOLMEN — The new Festival Foods at 123 Hale Drive in Holmen will open at 6 a.m. Friday, with a much larger selection and some features that haven't been available at the supermarket chain's current Holmen store at 600 N. Holmen Drive.
The 67,000-square-foot new store is nearly twice as large as the current 35,948-square-foot store.
And it will be open 24 hours a day, seven days a week. The current Holmen store has been open from 6 a.m. to 11 p.m. daily.
Some new features include a scratch bakery, round deli island and seating area, Tot Spot supervised in-store child care service and community conference room that will be available to local organizations.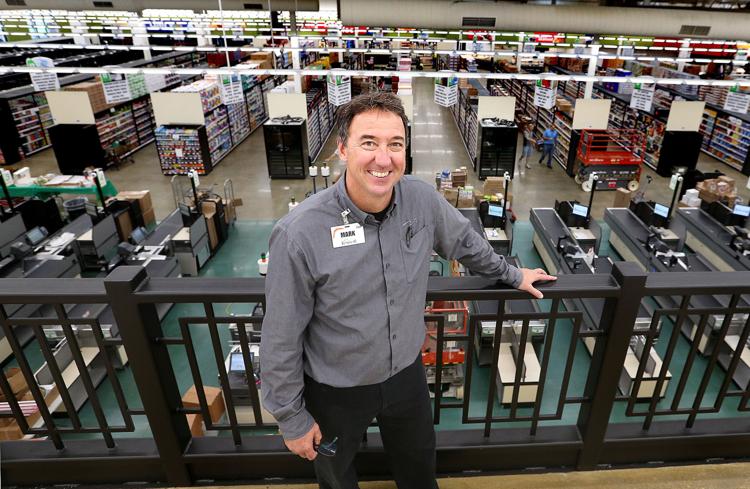 The new store also will offer an expanded selection of natural and organic foods as well as other items. Skylights and larger windows on the front and sides of the building will let in more natural light.
The new building also has an energy-saving design with exterior and interior LED lights and motion sensor lighting.
The decision to build a larger store was based on customer requests for a wider selection or products, especially natural and organic, as well as various services that the new store makes possible, said Mark Skogen, president and CEO of Skogen's Festival Foods stores.
"We'll also bake on premise at the new store," Skogen said. "Right now, we get bakery items from our Onalaska store."
Degen Berglund Pharmacy will again be offering pharmaceutical services, and will have a drive-thru window, in the new Holmen store, Skogen noted.
"We'll also have a substantial wine and spirits department," Skogen said.
"We've continued to grow business at the existing store, as the village of Holmen continues to grow," Skogen said. "We believe we will earn more business from the surrounding area" with the new, larger store.
"The new building is just remarkable," Festival Foods Holmen store manager Mark Przywojski said, adding that the number of employees is increasing from about 160 at the current store to about 235 at the new location.
"There's so much more variety in the new store," Przywojski said. For example, the much larger deli area will have a specialty cheese island. The wine and spirits department is four to five times as large as the one in the current store, he estimated.
"And we'll have our own scratch bakery," Przywojski said of the Holmen store. The current Holmen store hasn't had its own bakery, so baked goods have been delivered there twice a day from the bakery in the Festival Foods store in Onalaska, he said.
Having a Tot Spot in the new Holmen store "is huge" because so many young families live in Holmen, Przywojski said.
The new store also has a built-in "brat barn" with running water, heating and air conditioning, instead of a portable one like the current Holmen store has, he said.
Przywojski predicted the new Festival Foods store and businesses that are constructing buildings nearby will be a destination that helps keep local shoppers in Holmen.
Mark Skogen's parents, Dave and Barb Skogen, own the current Festival Foods building at 600 N. Holmen Drive. That building is available for lease or sale, Dave Skogen said.