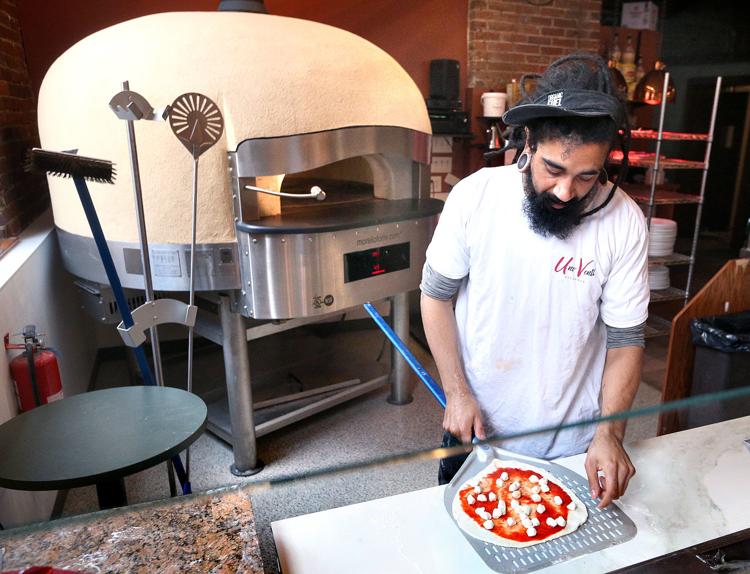 Chris and Tammy Roderique and Josh Aliesch say the Uno Venti Pizzeria that they opened Oct. 1 at 120 King St. in downtown La Crosse is generating lots of compliments from customers, including many who have been to Italy.
The pizza rest- aurant opened in the former location of Wine Guyz, which closed in July 2018. It's next to Piggy's Restaurant.
The Roderiques own Piggy's and the building that both restaurants occupy. Aliesch and his parents, Mike and Florence, operate Kramer's Bar & Grill.
Uno Venti Pizzeria has unique pizzas, the Roderiques and Aliesch said.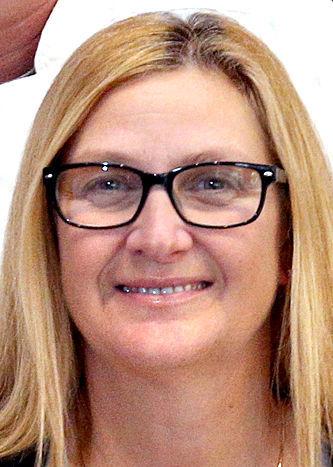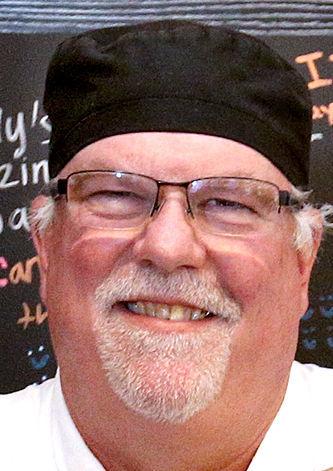 All of the pizza dough is made in house each day using what is known as double zero flour. "It's super fine, almost like baby powder," Chris Roderique said, and creates a dough that is silkier and maintains a chewiness after the pizza is baked.
Roderique said an impressive cauliflower-based, gluten-free crust is available as an option.
Uno Venti offers several kinds of "red pies" and "white pies" with red outselling white by a large margin. Crushed San Marzano tomatoes from Italy serve as the base for the red pies. "Those are highly prized," Roderique said of the tomatoes.
"We've received numerous compliments" about the pizzas, Roderique said. "The ones that really stick out are from folks who have lived in or traveled to Italy, and they compare our pies to those in Italy."
"When people who have traveled to Italy have our pizzas, they cannot believe the similarity," Aliesch added.
The biggest-selling pizza on the menu is That's a Lot of Pig!
"That's a little nod to Piggy's (restaurant) next door," Roderique said of the name of that pizza, which is topped with pepperoni, sausage, pancetta and capicola meats.
The new restaurant also has appetizers, salads, desserts and a variety of beverages such as beer and wine.
You have free articles remaining.
The biggest-selling appetizer so far is the warm antipasto dip, which is made with Italian meats and cheeses, is baked and comes with baguette slices. Two kinds of appetizers made with focaccia bread baked at Piggy's also have been very popular.
The new restaurant has 15 to 20 employees, Roderique said.
And it can seat about 75 customers inside and about 30 on its new outdoor patio, Aliesch said.
Roderique developed the new restaurant's recipes.
Uno Venti Pizzeria's pizzas are baked at about 580 degrees Fahrenheit in a stone dome oven imported from Italy. Depending on the variety, the pizzas take between two and three minutes to bake in the oven.
The pizzas' baking time contributed to the new restaurant's name.
"Uno Venti loosely translates to 120," Roderique said. "And a simple pizza, like a simple margherita pizza or a simple white pie, only takes about 120 seconds in our oven. It takes us longer to make the pie than to bake the pie."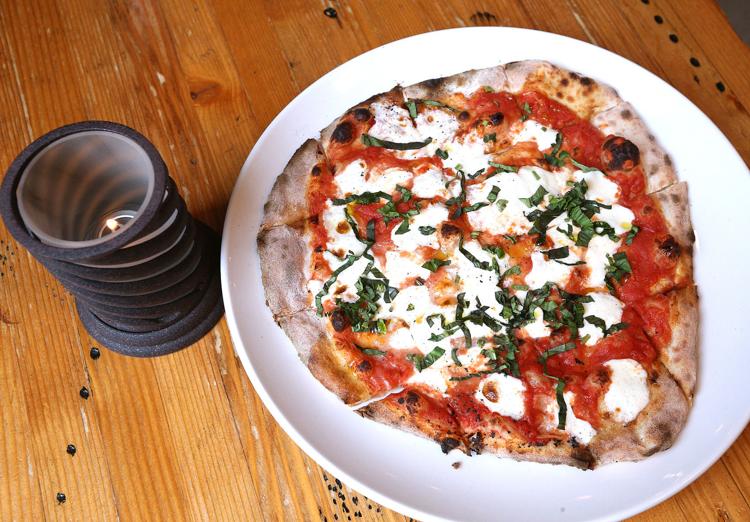 After a former tenant closed the Wine Guyz wine bar in July 2018, Roderique and his wife had hoped to find another tenant.
"We had a lot of tire kickers, but nobody had any money" to open a business there, Roderique recalled.
"So it was maybe last November when Tammy and I started talking about what we were going to do" with the space, he said. "We figured we need something over here but did we really want to do something on our own, because (Piggy's) is so big."
So last spring, Roderique said, they contacted Aliesch "and he was more than interested." The Roderiques had known Aliesch for about two years.
"I think we officially pulled the trigger at the end of July" with plans for their new pizza restaurant, Roderique said. "Then then we went 100 miles an hour and got it opened."
Roderique said he, his wife and Aliesch settled on the idea of a pizza restaurant partly because "The decor, the atmosphere (from the space's days as Wine Guyz" was conducive to something Italian."
"And this is something that can appeal to all ages," Tammy Roderique said of opening a pizza restaurant.