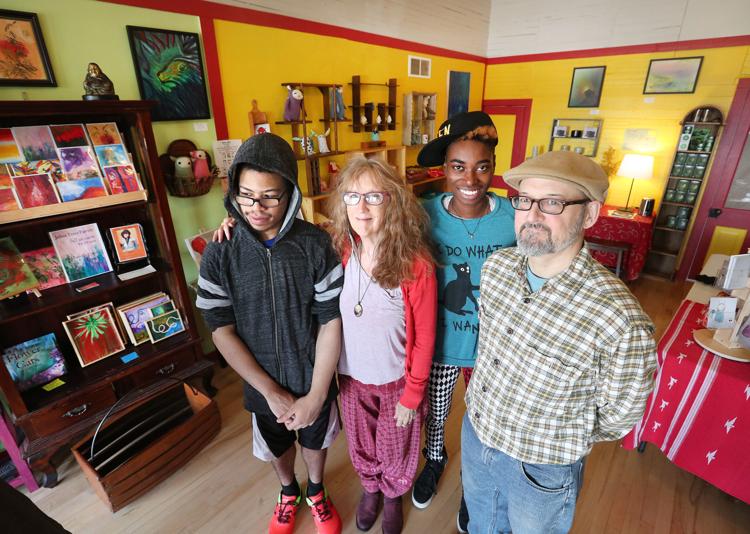 VIROQUA — Eleven years after Ted and Catherine Parrish began their Parrish Music shop in Viroqua, they and their two children have expanded into selling fair trade gift items, soft-sculpture dolls and artwork.
Their newest business, The Harmony Shop, and their daughter's Jaali's Dollies both opened in July at 207½ S. Main St. in downtown Viroqua.
Parrish Music had added a gift department in 2015. "That department had been growing in the last few years, which provided the impetus to move it" to the new The Harmony Shop, Ted said.
The Harmony Shop sells such things as fair trade gifts, yoga and meditation supplies, locally crafted jewelry, matcha tea, sunglasses and reading glasses.
Jaali, who is 22, had opened Jaali's Dollies in October 2016 in a small storefront next door at 209 S. Main St. She makes and sells soft sculpture dolls, plush animals, illustrations and greeting cards, and offers classes.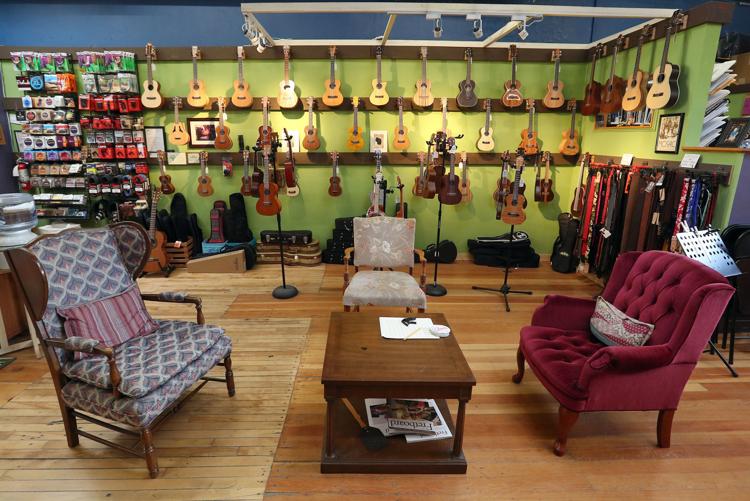 Her brother, Julius, who is 24, is a painter. Some of his artwork, as well as greeting cards that bear some of his works, is for sale at The Harmony Shop. The shop also sells some artwork by Julius' mentor, Viroqua artist Pita Daniels.
"Painting is something that he's always loved," Catherine said of Julius. "It's a great form of expression. He's always had a knack for it."
Catherine and Ted adopted both Julius and Jaali at birth while living in Chicago.
They started their Parrish Music business in 2007, the same year that they moved to Viroqua from Chicago. They moved it to its current, larger location at 111 S. Main St. in 2009.
Before moving to Viroqua, Ted had been director of retail operations at the Old Town School of Folk Music in Chicago for 14 years. He and Catherine first met when both were teaching at Old Town. They continue to perform together at area events and venues as The Parrishes, an acoustic duo with original songs, which they say cross the bridge between folk and blues.
In 2016, The Parrishes released their first compact disc, "Live in the Studio, Volume One."
"Our second CD will be out this fall," Ted said. "You'll never guess what the title will be," he joked.
Ted and Catherine first heard about Viroqua from friends who had moved there from Chicago, and who had enrolled their children in the local Waldorf school.
Besides having a Waldorf school, "It's a beautiful area with a nice food culture and great people," Ted said of Viroqua. He and Catherine were looking for a quieter life, and decided to make the move to the Vernon County community.
Parrish Music began as a small retail shop and teaching studio, and has grown to be a destination folk music shop.
The shop is especially known for its large selection of ukuleles and smaller guitars. "We regularly get people here from places like La Crosse, Madison, Eau Claire and Chicago for our ukuleles," Ted said.
But the store also sells other musical instruments such as banjos, mandolins, drums and some more exotic instruments such as ouds, bouzoukis and doumbeks.
Parrish Music also gives group and private music lessons, and rents and repairs musical instruments. A small stage built inside the store this past spring is used for concerts and for recitals by Parrish Music students.
"There's a lot of tourist traffic in Viroqua, and it's grown a lot in the last two or three years," which has benefited the family's businesses, Catherine said.
Some out-of-town visitors have stopped at The Harmony Shop and Jaali's Dollies because they saw Jaali interviewed in Wisconsin Public Television's "Around the Corner with John McGivern" episode on Viroqua earlier this year, Catherine said.