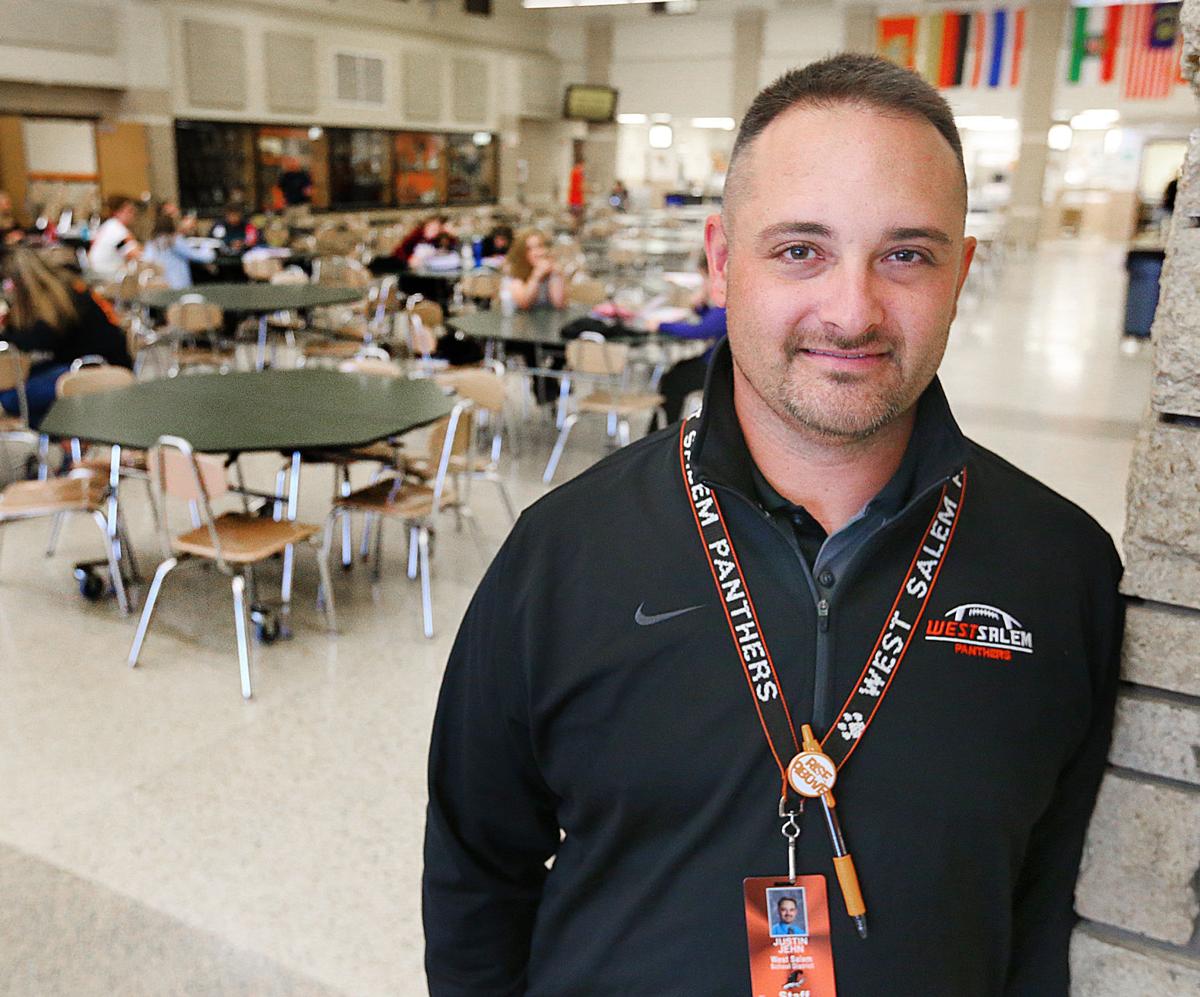 As students at West Salem High School know, Justin Jehn's mantra is all about finding your passion in life.
"The biggest thing is to connect with that passion and continue with it," said Jehn, the school's interim dean of students.
The joy of finding your passion in life is something Jehn knows all too well. Having spent 12 years as a science teacher at West Salem High School, he's been able to connect with students on a personal level.
"The joy I experience from my work comes from the growth of the individuals I work with," Jehn said.
"As a classroom teacher, the look on the face of a student engaged in learning or solving a complex problem were some of the most rewarding moments. While working with a teacher, I felt fulfilled when coaching conversations caused him or her to consider the current reality, determine what went well and the areas for growth and create a plan of action for continued improvement. Teachers teaching and students learning are the core of education. When either group engages in self-discovery, new learning or individual growth, I feel like I have had an impact on the future. This feeling is the most rewarding part of my work."
Now that he's moved into the school's administration, Jehn acknowledged he's been on the receiving end of the mentoring he's tried so hard to instill in his own classrooms.
"I am extremely fortunate to have been mentored by, and work with, many exceptional professional educators," he said. "The two things that I have learned from my interactions and time with them that motivate me is to always be prepared and always do what is best for students. As a leader in the schools, I work tirelessly on the details and communication of my work in hopes of lightening the burden of accessory activities in education so teachers can focus their time and energy on the challenging task of teaching."
Jehn served as a key member of the highly skilled high school science department, helping students reach new levels of academic achievement. In search of a lead teacher with the ability to offer guidance and support to our high school team, the administrative team turned to him.
In three years, Jehn developed this position into a vital resource for administration and staff.
He also serves as the head coach for West Salem's Titan football program. He assumed leadership of the program less than two weeks before the season. It was the first year in which the team was to play an entire new slate of opponents as part of a different athletic conference. Under his leadership, the players and coaches moved forward and rumors of the team's demise disappeared.
Jehn is also enrolled in the principal and curriculum director leadership programs at Viterbo University, and will soon earn his certifications in these areas.
"Justin is a talented, dedicated and compassionate educator who lives the school district mission statement by 'Serving with Passion' every day," said Troy Gunderson, who nominated Jehn for Rising Stars Under 40. "Looking forward, I have no doubt that Justin will apply his leadership skills, academic talent and passion for service in making a difference in the lives of students for many years to come. Justin will grow into a regional educational leader continuing to make the Coulee Region a great place to live, learn and raise a family."
For Jehn, it's a matter of faith. And even a bit more.
"My faith is important to me," he said. "I understand serving and leadership through this lens. The thing I am most proud of is the way I have continued to serve and lead in this manner with the ever-increasing pressures of society. The pressures can lead to impatience, ruthlessness, lack of compassion, greed … I strive to maintain a clear line between right and wrong, consider the heart of the individuals I serve and work with, and demonstrate joy, patience, kindness, compassion and self-control. I am never perfect in doing so, but those I work with get my best as I serve in this manner."
The business news you need
With a weekly newsletter looking back at local history.