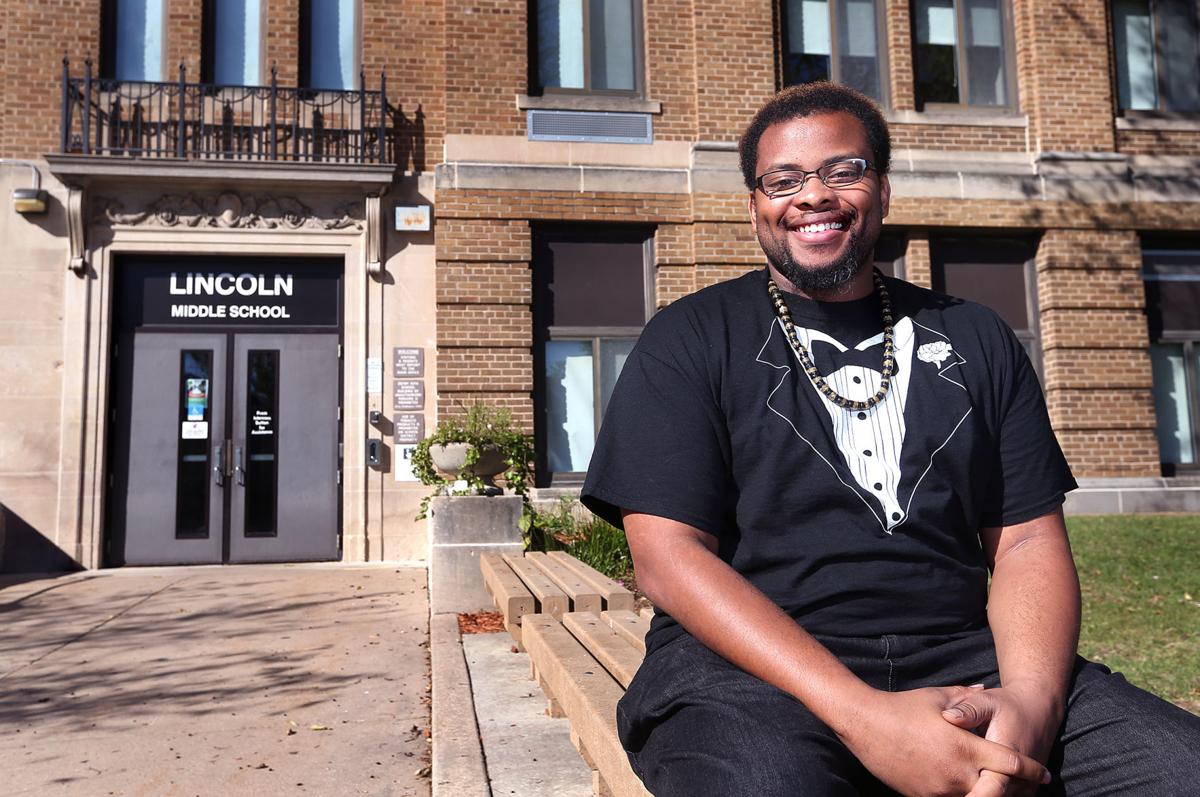 Making connections when people are uncomfortable is integral to Shaundel Spivey's job.
"It's important to understand that white norms are what everybody learns," said Spivey, cultural liaison for the School District of La Crosse. "You're challenging the system as a whole, and it tends to make people uncomfortable."
But, Spivey hasn't been deterred from serving as a connector for youth in the city, creating transitions for advancement, as well as structural activities he didn't see around him growing up in Milwaukee.
"I don't quit because I know this is important," Spivey said.
Part of what he does, he said, is provide black, Latino and multi-cultural youth with education in diversity and social justice, as well as support to teachers, administrators and community members. The elements of injustice are systematic, and Spivey is part of a movement to change the mindset of the community, fostering unity in spaces where youth may wonder why things are the way they are.
"We've got to work to change them," he said.
And, Spivey has worked hard to get where he is. He received his bachelor's and master's degrees from the University of Wisconsin-La Crosse. While in school, Spivey served as a senior staff and counselor-peer tutor in the Academic Success Institute, Academic Year Tutoring Enrichment Site Supervisor for the Office of Multicultural Student Services, and completed an internship in the department as the financial retention and program intern. He also served as an adviser to the Black Student Unity and Sigma Tau Gamma Fraternity.
After earning his degrees, Spivey went back to school. He received a Food Production degree from Western Technical College.
You have free articles remaining.
All of those skills are what Spivey brings to the communities he serves, which has brought him his own recognition.
Spivey's community involvement has been extensive, said Jodi Vandenberg-Daves, who nominated him for Rising Stars Under 40. Recently, Spivey founded the group Black Leaders Acquiring Collective Knowledge (BLACK), which currently works on finding ways to bring the La Crosse black community together.
He's also on the La Crosse Human Rights Commission, working to eliminate discrimination and inequalities within the community. In 2011, he — along with two others — founded Kings of Nia, which serves young black males by fostering professional, spiritual and personal development. And, since 2008, Spivey has been a leader in the Prodigy of Life Dance Ministry, serving as an instructor, coordinator and choreographer. He's also served as a mentor in the Reach and Rise Mentoring program at the YMCA, and on the La Crosse County Jail Ministry Board. Spivey has also served as an adviser to Boys to Gentlemen and The Annie Ruth Girls.
Spivey has helped to bring the Martin Luther King, Jr. Celebration to area youth, and he served as the co-emcee at a community event in Powell Park after the shooting of a Central High School student, George Miller, in 2015.
"Shaundel is an action-oriented community organizer, leader, mentor, educator (and) effective communicator," Vandenberg-Daves said, "and uses all of these attributes to bring about positive change. He certainly is a rising star in our community who we hope will stay in La Crosse for a long time."
For Spivey, his motivation comes down to the desire to be daring, to look both at the past and to a better future, and to those close to him.
"As a leader, I am motivated by hope," Spivey said. "The hope of my ancestors, the hope that one day things will be equitable and better for not just me, but for our youth and our community. My family motivates me, as well; they encourage me to be innovative, to be daring, and they remind me to do it with love. The young black youth in this city also motivates me. Being able to interact and work with them is great. It reminds me why I am doing the work that I am doing."
He also has pride, not only of himself, but of what he sees in others.
"I am most proud of the academic success I have had being a black, first-generation college student with a master's degree," Spivey said. "I am also proud of being able to contribute to the changes happening in the community of La Crosse."