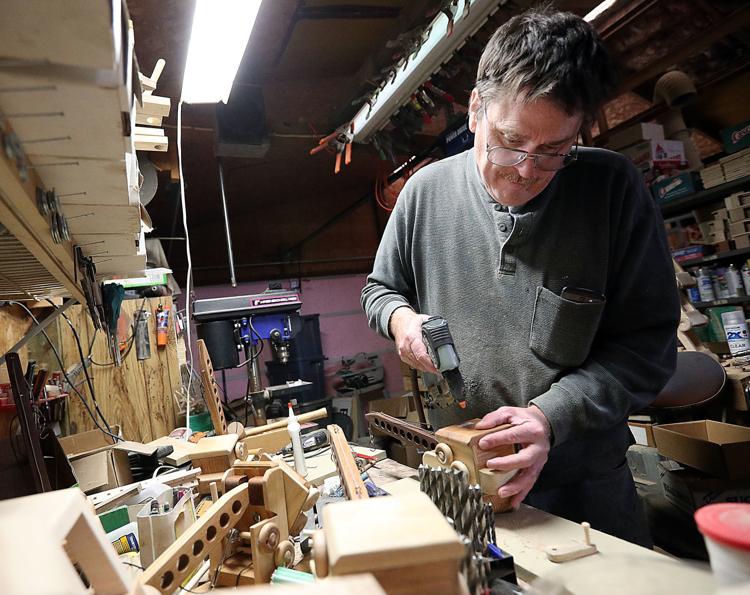 SPARTA — It's the busiest time of the year for DeWayne and Deanna King of rural Sparta and their DK Wood Toys business.
The Kings are selling many of their wood toys at the annual Holiday Fair at the La Crosse Center, which began Thursday and concludes from 10 a.m. to 3 p.m. today.
DeWayne has been handcrafting wood toys such as tractors, airplanes, cars, trucks, bulldozers, fences and cranes for more than three decades. He makes them in a workshop at home with the help of Deanna and their sons Don and Doug. Doug's wife, Briana, helps sell them at craft shows.
The Kings sell their toys at prices ranging from $2 for a wood top to $89 for a barn, at craft shows and on the DK Wood Toys website.
"We average around 18 shows a year," Deanna said. "All of the shows are in Minnesota and Wisconsin."
Some of the largest shows they participate in are the Little Falls Arts & Crafts Fair in Little Falls, Minn., in September; the Holiday Fair at the La Crosse Center; and the Holidazzle show in Minneapolis every weekend after Thanksgiving until Christmas.
"We started (selling) at small craft shows in Northern Minnesota before moving to Sparta," Deanna said. The family's wood toy business started about 25 years ago, when they were selling at three or four craft shows a year.
"DeWayne started making toys over 30 years ago," Deanna said. "He was making toys as gifts for family and friends. His older sister, Wendy, suggested that DeWayne turn his hobby into a business."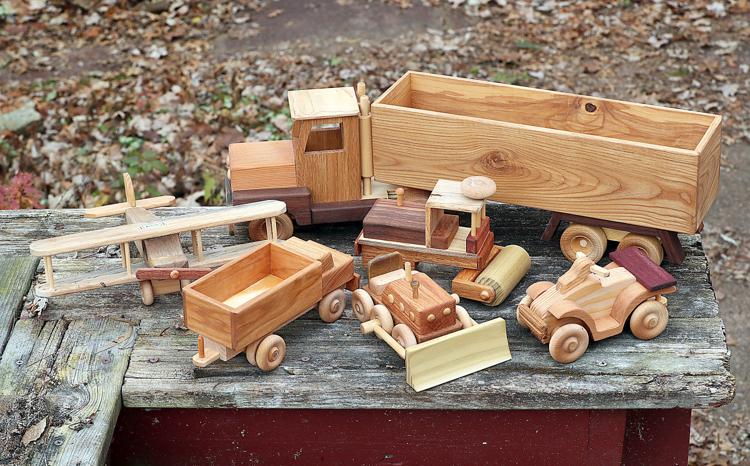 The Kings moved to the Sparta area about 20 years ago from Rush City, Minn., where DeWayne had managed a hardware store for 10 years.
After moving to the Sparta area, DeWayne worked at Coulee Region Enterprises near Bangor for about 10 years, making cabinet components. He left that job six years ago to devote all of his time to DK Wood Toys.
Today, DeWayne makes about 1,000 wood toys a year with the help of the other family members. "We have about 60 different styles of toys," Deanna added.
Most of DK Wood Toys' customers are parents and grandparents buying for children, she said.
DK Wood Toys is busiest from early October through the end of December because of people buying toys as Christmas gifts, DeWayne said.
The holiday season adds to the Kings' enjoyment of making and selling wood toys.
"It's cool seeing a kid come around the corner and watching their eyes light up" when they spot the toys at a craft show, DeWayne said.
"They're fun to make," he said of the toys. He also likes having a family-owned business "because you're your own boss."
DeWayne said he selects the boards he uses based on quality, wood grain and beauty. The completed toys are finely sanded and are sealed with a non-toxic finish.
All of the colored toys are dyed with a children's drink mix.
DeWayne usually is working on four toys at a time, at different work stations in his workshop. "I like to move on and work on something different" after a while, he explained.