LA CRESCENT, Minn. — Five years after she began selling her own soaps, lotions, lip balms, bath products and candles at farmers markets and craft fairs, Deb Affeldt has opened Wild Willow Soap and Gifts at 136 S. Walnut St. in downtown La Crescent.
Affeldt's new retail store opened Oct. 20 in part of a building that also houses a Snap Fitness center.
Besides the products she makes from natural ingredients, and some of her paintings, it sells items made by area crafters, such as plush snowmen, washcloths, painted tile coasters, placemats, quilts, gloves, hats, knitted scarves, jewelry and home and Christmas decor. And it sells custom-made gift baskets.
"It's gone pretty well," Affeldt said of business so far. "I've been surprised at how busy it's been. At this time of year, people are buying gifts" for Christmas.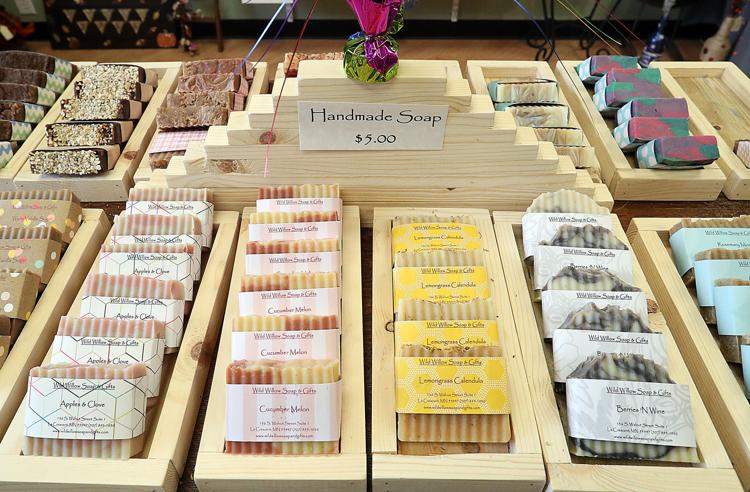 "A long-term goal of mine is to make my own candy here," said Affeldt, who sells Abdallah chocolates from the Twin Cities area and who used to make candy at home for sale at the La Crescent Farmers Market. She had no prediction how soon she might make and sell her own candy in her downtown shop.
Having her own retail store "is something that I've always wanted to do," Affeldt said. "The opportunity for doing that came along. I think this is a good location. I thought it would make for a nice store. Everything here is local and handmade."
Affeldt said she probably also will continue to sell some of her own products at a few craft fairs, most likely just during the winter months. She will no longer sell them at farmers markets, however, as she is busy running her retail store with the help of her son, Sawyer, who is 11 and homeschooled.
Affeldt's husband, Joel, is a salesman for a La Crosse business and has helped with things such as putting up shelves. He also has spread the word about his wife's store.
Affeldt also sells some of her products on her website, www.wildwillowsoapandgifts.com. Before opening her downtown store, Affeldt made everything at home.
"Soap by far is my biggest seller," Affeldt said of the products she makes. "Followed by lotions and lip balms."
She makes her products with natural ingredients such as organic coconut milk, aloe vera juice, goat milk and jojoba, argan and avocado oils.
Affeldt started making soaps and cleaning products for her family's use about a year before she began selling them in 2013 under the business name Purely Natural Soaps and Lotions.
In January, Affeldt changed her business name to Wild Willow Soap and Gifts. "I made the name change to better reflect the variety available at the shop," she said.
Affeldt said she enjoys being her own boss, and making all of the necessary decisions, by having her own business. "I also like making things from start to finish, and what I'm making is good for people," she said.