SPARTA — Stephanie Ruedy has been baking since she was little, helping her mother in the kitchen on the family's dairy farm near Sparta.
And for years, while working for other bakeries, she dreamed of owning her own bake shop.
Ruedy's dream came true on Oct. 26, when she opened Steph's Cakes & Bakes bakery at 119 N. Water St. in downtown Sparta. It's in the former location of The Greenery floral shop, which had been vacant since that business closed a few years ago.
"It's been a hit so far," the 29-year-old Ruedy said, while several customers snacked on baked treats at chairs and tables in the new bakery. "The community has really welcomed me and been supportive."
Steph's Cakes & Bakes makes cakes, pies, cupcakes, cookies, dessert bars, cheesecakes, cinnamon rolls, scones and assorted pastries, Ruedy said. It also offers several kinds of beverages, such as coffee, hot tea, soda pop, milk, juice, hot apple cider and water.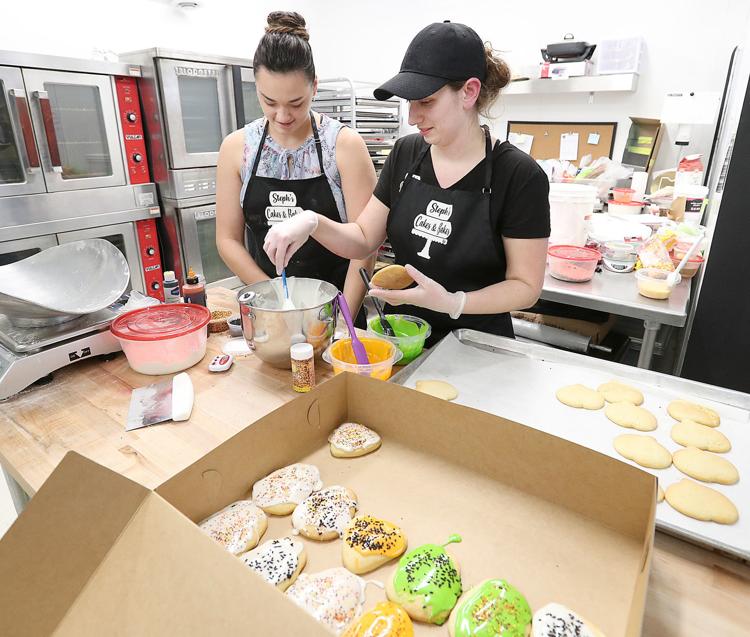 The bakery also sells bulk candy, greeting cards, Door County Coffee and products made by some area businesses, such as The Great American Pancake Co. near Cashton, Lynns's Candies near Sparta and Storandt Farms jams and salsas near Mindoro.
Ruedy also offers artisan breads on Fridays and Saturdays. "Right now we have white bread and peasant bread," said Ruedy, who is thinking of offering additional varieties.
Steph's Cakes & Bakes soon will begin selling helium-filled balloons for special occasions. And it and soon will offer cake, pie and cheesecake by the slice. "So you'll be able to sit down and have a cup of coffee and a treat," Ruedy said.
"I wanted to have a cozy environment and have people feel welcome to sit down and have a treat and coffee," Ruedy said of the interior work that she, relatives and friends did before the bakery opened. "We also have kind of a general store feel with the bulk candy and the local products that we have."
Ruedy and her parents bought the building about 1½ years ago, planning to turn it into a bakery. They, relatives and friends had been remodeling it since then.
Ruedy graduated from Sparta High School in 2007, then went to Madison Area Technical College where she successfully completed a one-year baking and pastry arts program in 2008. She worked at Ken's Kreations bakery in Sparta, and later at bakeries in Appleton and Chetek.
Ruedy returned to the area in 2013 to be closer to family and to begin planning to open her own bakery in Sparta. She worked at Union National Bank & Trust Co. in downtown Sparta as a bookkeeper for about 4½ years before leaving that job several weeks ago to open her bakery.
Before opening it, Ruedy had been baking cakes for relatives' and friends' special occasions, such as birthday parties, weddings, baptisms and graduations. She continues to offer custom baking at her bakery.
"I like being able to share something special with someone," Ruedy said of her love of baking. "I like being able to share a sweet treat."