Longtime fiber arts enthusiasts Kait Holton and Carolyn Zick plan to open Unwound: Artisan Yarn Shop in early August at 413 Jay St. in downtown La Crosse.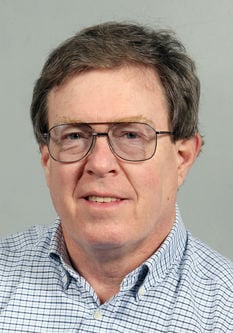 It will sell yarn, spinning fiber that can be spun into yarn and knitting and crocheting tools, Holton said, with a focus on local, regional and small-scale brands.
"We'll also offer classes in knitting and crocheting" starting this fall, Holton said. "We'll have different levels of classes, from beginner to advanced."
Unwound also will host events such as knit nights and participate in others such as World Wide Knit in Public Day.
Holton said she and Zick hope to hold their yarn shop's grand opening on Aug. 5, with drawings for prizes.
They grew up in Durand, Ill., and have been friends since high school. Holton lives in La Crosse and Zick lives in Cashton. Holton sold items she had knit on her online Etsy shop for several years, and Zick has been selling knitting and crocheting patterns on her Etsy shop. They've had a Chain 344 podcast on knitting, crocheting and spinning on YouTube for more than two years.
"It's something that's been in the back of my mind for ages," Holton said of opening a yarn shop. For more information, visit www.unwoundshop.com, or Facebook or Instagram.
---
Area native Casey Eckelberg Vacek purchased the Barber Arms barber shop at 166 S. Leonard St. in downtown West Salem on Saturday from Dawn Scheel, who continues to cut hair there part time.
Vacek graduated from West Salem High School in 2007. She cut men's hair in the Twin Cities for 10 years before her family moved to Ettrick, so she and her husband could raise their two daughters in a small town.
She began cutting hair at Barber Arms in March and has been updating the shop. "I plan to put in a new floor in the next couple months and a few other things," she said. "But I really want to keep it the classic, old-school-looking barber shop, so I won't do anything too major."
Vacek charges $15 for a men's haircut and $11 for a boy's haircut. "I do take walk-ins, but most guys are loving the online booking option," she said. The barber shop's Facebook page www.facebook.com/barberarms166 has a link to the online booking site.
Hours are 10:30 a.m. to 8 p.m. Monday and Tuesday, 10:30 a.m. to 5 p.m. Thursday, 9:30 a.m. to 4 p.m. Friday, and usually 10 a.m. to noon every other Saturday. The shop is closed on Wednesday and Sunday.
For more information, call 608-864-1461 or visit the barber shop's Facebook page.
---
Barb Weibel of West Salem, who worked in local fabrics stores for nearly 40 years, has started My Mom's Store from her home.
She takes in special articles of clothing such as a deceased loved one's shirt or a wedding dress and turns them into keepsakes such as T-shirts, memory and baby quilts, stuffed bears and pillows.
Weibel also offers sewing and crocheting classes. One-on-one classes are in her home, and classes with multiple students are at other venues. Weibel said she also will continue to hold classes in the fall and spring at the Heider Center in West Salem, as she has in the past.
She has been making items for friends and family and selling some for a few years. "I've done craft shows in the area," she said, and turned what she does into a business in April. She hopes to eventually have her own retail location.
Weibel worked at Hancock Fabrics in Onalaska, and before that, at Northwest Fabrics & Crafts in Onalaska and La Crosse for nearly 40 years, until the Hancock Fabrics store closed in July 2016.
Jo-Ann Fabric and Craft Stores opened last October in the former Hancock Fabrics location. But Weibel decided to start her own business, so she would have more flexible hours. "And I wanted to share my passion for sewing," she said.