TREMPEALEAU — It has been a good year but a wet one at the Tamarack Garlic Farm northwest of Trempealeau, where owners Jason Hovell and Dan Lilla completed their third annual harvest of gourmet garlic a week ago.
"It hasn't been bad," Lilla said of this year's growing conditions. "But we would have been in trouble if we didn't have raised beds" to grow the garlic on. Rainwater ran in between the rows of garlic plants, rather than puddling on top of the plants.
At the moment, bunches of Hovell and Lilla's garlic plants are hanging inside a barn near their three-fourths acre garlic patch, curing/drying for four to five weeks before the bulbs are ready to ship to customers or to be sold at a few area retail outlets.
"I think we'll have at least 3,500 pounds (of garlic bulbs) this year," Hovell said last week. "And we probably had about 400 pounds of scapes." The scapes already have been shipped to customers.
Eleven of the garlic farm's 12 varieties are hardneck varieties and produce a stalk known as a scape, which has a milder garlic flavor. Some people cook and eat scapes like they would asparagus. "Some people put them in their stir fry," Lilla added.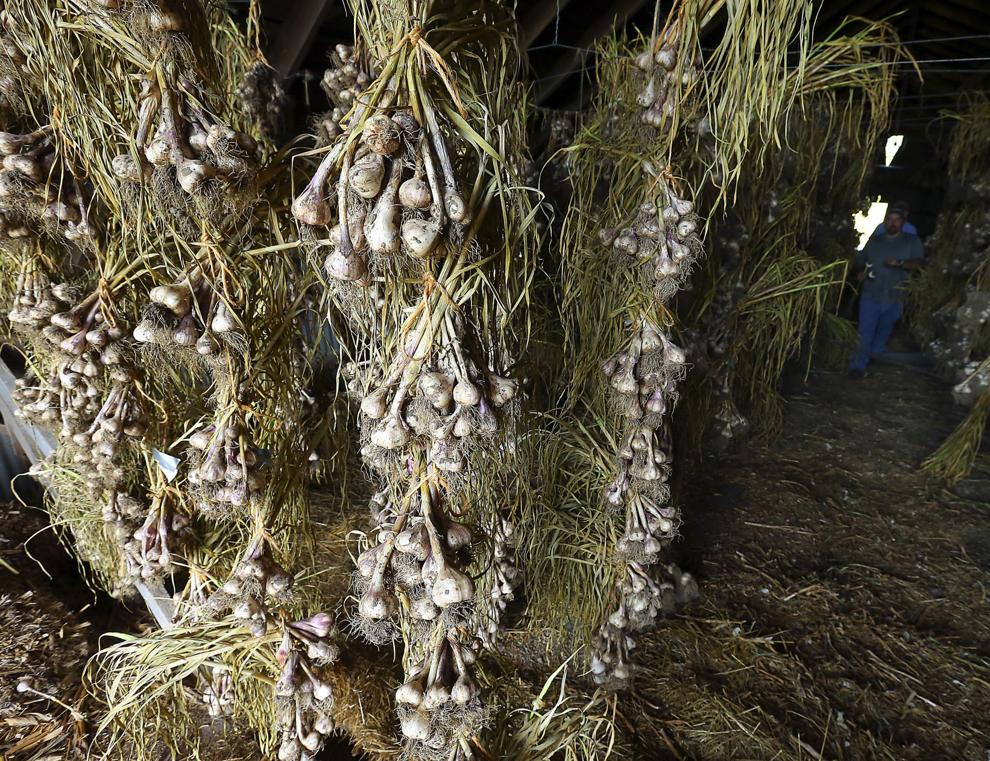 Hovell and Lilla usually harvest the scapes one to two weeks before they harvest the garlic bulbs, which grow below ground. They usually harvest garlic bulbs between the last week of June and about July 10.
Each variety has its own flavor, which is one reason why people buy Hovell and Lilla's garlic. "Flavors will range from sweet to mild to hot," Lilla said.
The two men, their wives and their children harvest much of the garlic. They hire about a dozen people to help with about two peak days of harvesting.
Tamarack Garlic Farm sells most of its garlic through its website.
Hovell and Lilla also plan to sell some at a Saturday morning farmers market in Galesville; at the Midwest Garlic Fest in August in Elizabeth, Ill.; and to the Schwertel Family Farms roadside stand near Trempealeau and the Bluff Country Co-op and Rochester Wholesale Fruit stores in Winona.
Hovell and Lilla sell their garlic for $10 to $15 per pound and expect to sell out this year's crop by October or November.
"With a lot of our customers, eating healthy foods such as garlic and eating locally grown food is popular," Hovell said of the garlic farm's success.
The farm's hottest varieties have the highest levels of allicin, which is associated with such health benefits as improving blood pressure and cholesterol levels.
The garlic bulbs that Hovell and Lilla harvest typically each contain six to 12 cloves, depending on the variety. Some of the larger cloves will serve as seed stock, which the two men and some of their customers will use for planting.
One garlic clove is planted to produce each plant, and this year Hovell and Lilla had about 30,000 plants.
They plant in early October, after the first frost, and grow their garlic without the use of pesticides or herbicides.
Growing garlic is a sideline for the two men, lifelong friends who grew up in the Tamarack area of Trempealeau County. Today, both men and their families live near Trempealeau.
Lilla, who grew up on a dairy farm, teaches technical education at Holmen High School. "Welding, machinery and construction are my main things" in that job, he said.
Hovell, who grew up on a nearby acreage, teaches agricultural education at Independence High School.
They decided to start a garlic farm partly because of their interest in agriculture, both like garlic and it can be shipped with no refrigeration. Also, growing and harvesting garlic fits in well with their teaching schedule.
But because of their jobs, the two men don't plan to greatly expand their garlic farm operation.
"We spent about a year researching it before we planted our first garlic," Lilla said. He and Hovell visited other garlic farms in the state. They chose what appeared to be the best varieties to grow in Wisconsin and harvested their first crop in 2015.
Lilla and Hovell plant their garlic on farmland that they rent. Because they practice crop rotation, this year's crop was on land adjacent to the site of last year's crop.