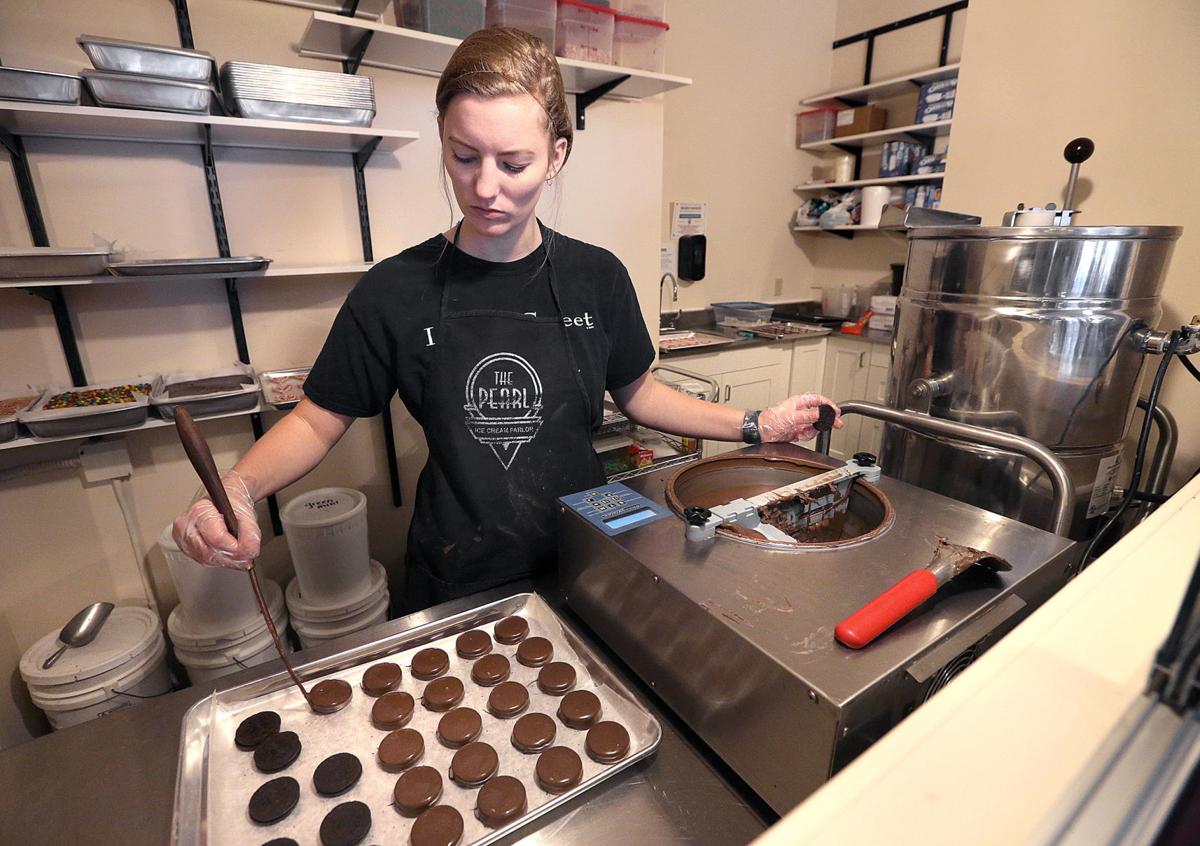 A year after it opened, candy makers are busy preparing for an influx of buyers of Valentine's Day sweets at The Pearl Confectionery at 205 Pearl St.
With Feb. 14 approaching, popular items at the store for the holiday include such things as chocolate-dipped Oreos topped with pink-and-white sprinkles, red velvet fudge, pink and red foil-wrapped candy hearts, heart-shaped pretzels dipped in yogurt and Valentine's-themed PEZ dispensers.
"Our homemade chocolates are always popular for Valentine's Day," said Azia Peterslie, whose family owns the candy shop and several connecting businesses on Pearl Street.
The Pearl Confectionary also will have chocolate-covered strawberries the week of Valentine's Day.
"An even mix" of men and women buy candy for Valentine's Day, said Peterslie, who is one of four candy makers at the shop. "The men definitely are the ones who come in (to buy candy for Valentine's Day) the day of, or the day before," she said, smiling.
"We've found that more and more, people are buying Valentine's candy not just for their sweethearts, but also for grandmas, other relatives and friends," Peterslie said.
Although the days before Valentine's Day are one of the busiest times of the year at The Pearl Confectionery, the Christmas holiday season is still its busiest time.
The T.J. and Michelle Peterslie family opened The Pearl Confectionery in November 2018 next to their The Pearl Ice Cream Parlor at 207 Pearl St. and The Pearl Coffee House at 209 Pearl St.
You have free articles remaining.
Most of the candy that traditionally had been displayed in the ice cream parlor moved to the new confectionery space.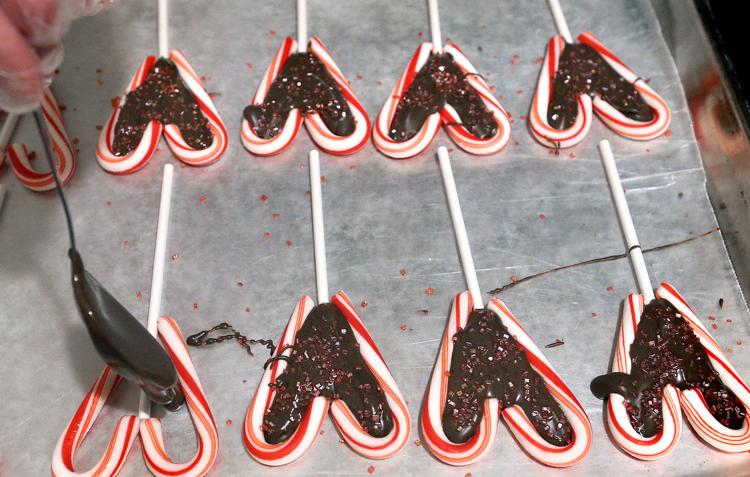 With the candy operation taking over the space formerly occupied by he All Glazed Up! Paint-your-own pottery studio, which moved in May 2018 to 313 Pearl St., the Peterslies expanded into making fudge, expanded their selection of truffles and taffy, and had more seating for their candy, ice cream and coffee customers.
T.J. and Michelle Peterslie and their daughters Dani and Azia operate the ice cream, candy and coffee businesses, as well as a few other connecting shops on the block.
Most of the candy shop's homemade chocolates are made in house. The confectionery also has about 14 flavors of fudge available at a time, including some seasonal flavors such as peppermint.
Azia Peterslie said the candy shop makes about 20 different kinds of fudge during the year, including some seasonal varieties. Two of the most popular fudge flavors are raspberry chocolate swirl and peanut butter chocolate, she said.
Customers can watch as the fudge and other candy is made in the store's candy kitchen.
Having a separate shop with a candy kitchen that the public can see has resulted in increased candy sales, Azia said.
The Peterslies' candy, ice cream and coffee shops share a website and share a Facebook page.