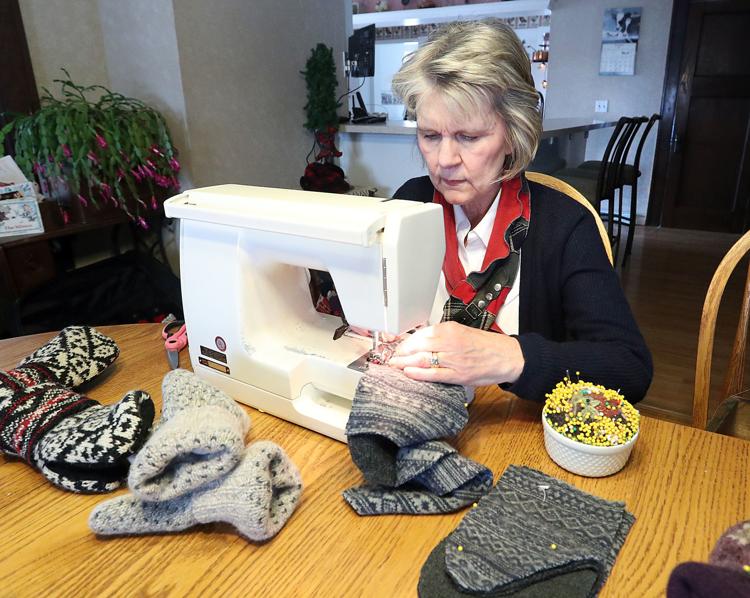 COON VALLEY — Joanne Hutson of rural Coon Valley and her sister, Linda Osegard of rural Neillsville, think of their late sister a lot when they make their The Smitten Sisters mittens.
Joanne, Linda and their late sister, Beth Schmidt, began making the mittens from old wool sweaters in 2006 at Beth's rural Ettrick home, while Beth was undergoing chemotherapy for breast cancer.
"We came up with The Smitten Sisters name," Joanne said in an interview at her home. "We thought of 'mittens' and 'sweaters' and kind of combined those words into 'smitten.'"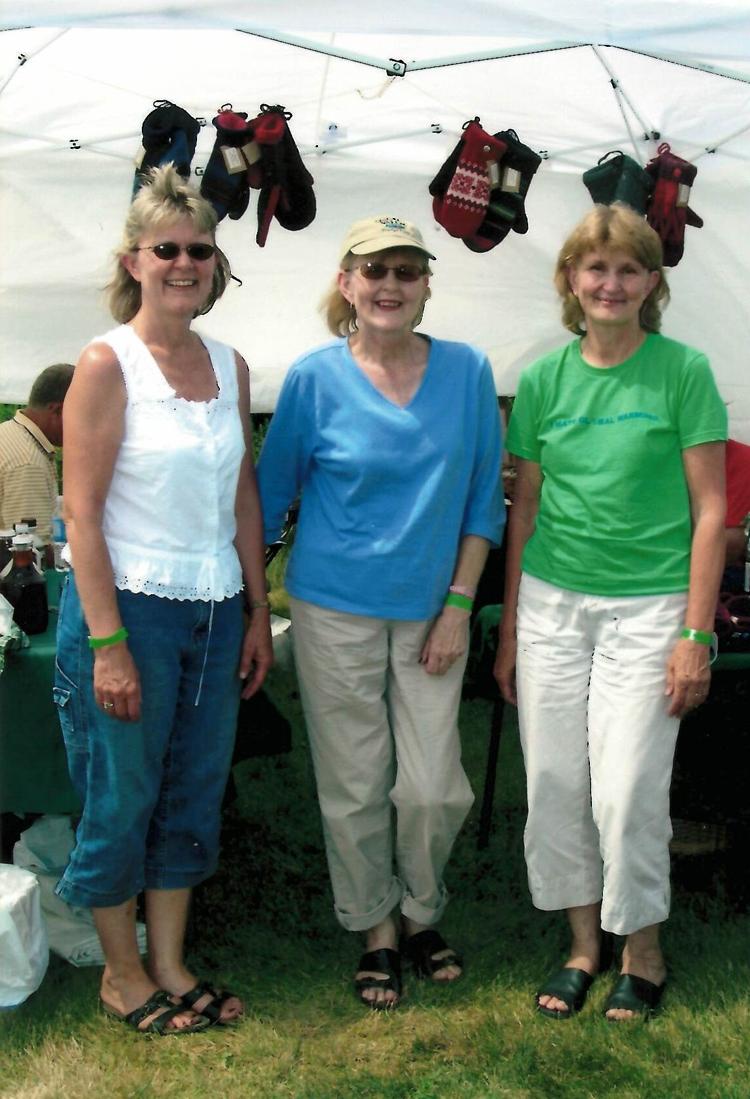 Inspired by Beth, who died in 2008, Joanne and Linda have continued making their warm, comfortable fleece-lined wool mittens, and selling them at about seven craft fairs each year and at several stores.
"Linda and I would met at Beth's farm house in rural Ettrick and sew together," Joanne recalled. "We had many wonderful times and it was something that Beth could do when she wasn't feeling the best."
The three sisters sewed mittens for friends and then started selling them at craft shows, starting with the 2006 Kickapoo Country Fair in La Farge.
Joanne thinks the sisters sold about 60 pairs of mittens at the event that summer weekend. "It was very hot, probably in the upper 90s," she said. "But people were trying on the mittens and liked them, and bought them for things like Christmas presents. That inspired us" to continue.
"Beth had seen some mittens like these made out of old wool sweaters," Joanne said. "We started talking about making them together. We had all started sewing when we were about 5 years old; our mom had taught us how to sew."
These days, most of the mittens are made by Joanne in her home, and by Linda in her home. But Joanne and Linda also get together at each other's homes for "mitten-makin g marathons" two or three times a year, Joanne added. "We talk politics and tell old stories about Beth and about growing up on the farm."
Joanne and Linda decided to continue with The Smitten Sisters mittens, even after Beth died, about 12 years after being diagnosed with cancer.
"We wanted to do this all the more," Joanne said. Continuing the mitten venture "brought back memories of Beth, and it was good therapy for us," she said.
"We had enjoyed (making and selling mittens) so much when the three of us were doing it together," Linda said in a telephone interview. "It was something Beth could do with us. And it had kind of taken off. And we enjoyed going to the craft shows. Also, I retired in 2010 (as a school secretary), so I've had more time to devote to it."
Linda said she enjoys making and selling mittens and spending time with Joanne. "And we meet so many nice, fun people when we go to events," Linda said. "It's also exciting finding the sweaters that we find" to use in making mittens.
"I've loved sewing my entire life," said Joanne, who also is a dietitian with Mayo Clinic Health System in La Crosse. "I enjoy working with wool. The hunt for sweaters is fun. And I like to go to the thrift shops and rummage sales" looking for old wool sweaters as well as apparel with interesting buttons. Joanne and Linda embellish the mittens they make with buttons, lace and appliques.
Family and friends also have given old wool sweaters to the pair.
"We have a wide variety of colors," Joanne said. Many of the mittens are made from wool sweaters that were made with traditional Scandinavian designs.
"We've also done some memory-type mitten things," Joanne said. For example, she said, "A woman gave me a vintage sweater, probably from the 1960s, that had belonged to her father. He would only wear it on Christmas Eve.
"He had passed away, and she asked me to make four sets of mittens from it for her and her siblings," Joanne said. "She gave them away as Christmas presents, along with a picture of him wearing the sweater."
Most of the sisters' mittens sell for $25 to $30 per pair, and they sell hundreds of pairs a year.