MELROSE — It's been a long, cold winter.
But snow, ice and freezing temperatures outside don't stop Rose Strait and her daughters Ann and Mary from growing and harvesting tomatoes at their The Tomato Patch greenhouses on the north edge of Melrose.
The Tomato Patch, also known as Melrose Tomatoes, grows its produce year-round in five greenhouses next to the Strait home. Its tomatoes are sold to 12 grocery stores and four restaurants within 40 miles of Melrose. Tomatoes also can be purchased directly from the Straits, Monday through Saturday.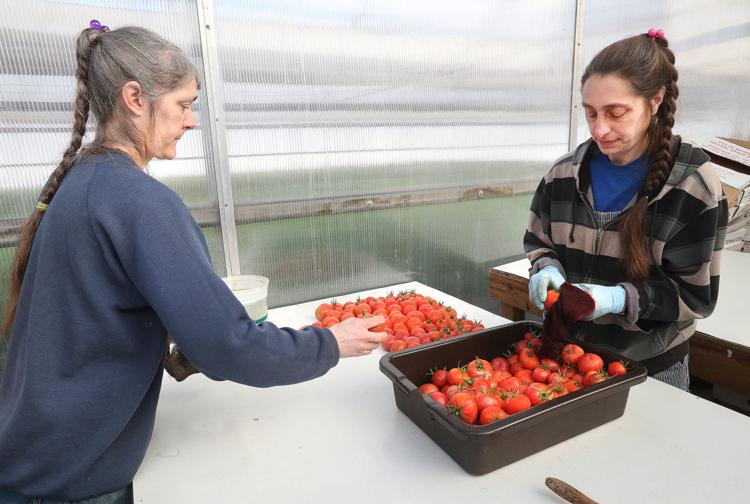 The business is known for producing homegrown, good-tasting tomatoes year-round, Rose said.
She and her daughters have about 3,200 tomato plants in their greenhouses, which are heated with propane in the colder months. The Tomato Patch typically produces 60,000 to 80,000 pounds of tomatoes a year. Last year's harvest was on the low side — about 60,000 pounds — because of hot weather in July and August, Ann said.
"The weather is the most important factor" in the volume of production at The Tomato Patch, Ann said. "We like it when it's sunny and when temperatures outside are in the 70s or 80s." Fewer tomatoes are produced in the winter months, she said, because days are shorter and there is less sunlight.
But hot spells in the summer can be a problem.
"Tomato plants shut down when it gets to be in the 90s," Ann said. Temperatures topped 100 degrees inside the greenhouses at times last July and August.
The Straits are welcoming the approach of spring, which will bring down their propane use. The greenhouse operation's propane costs average $50,000 to $60,000 a year, Ann said.
During the winter, the heaters mostly run at night. The sun helps heat the greenhouses during the day.
Rose owns The Tomato Patch, and operates it with her daughters. Ann has a degree in horticulture from the University of Minnesota at Waseca. Mary has a degree in commercial art from what was then Western Wisconsin Technical College in La Crosse.
Rose and her husband Dean, who died in 2014, started the business in 1986 almost by accident after enclosing their porch with sheets of plastic to make their house warmer.
They decided it looked like a good place to grow tomatoes and looked into the possibility of raising them indoors. A University of Wisconsin-Madison expert said that wouldn't be economically feasible because of a lack of winter sunlight and high heating costs. But after starting their business with 40 tomato plants on their enclosed porch, the Straits proved the expert wrong.
The family built its first greenhouse in 1988.
The Straits grow the Trust variety of tomatoes, which Ann said is well-suited for greenhouse production because of its resistance to disease and ability to provide 8- to 10-ounce tomatoes.
While those are by far the biggest part of their business, the Straits also grow some cherry tomatoes and some cucumbers from the end of December through September, for sale to a few grocery stores and a restaurant. Their produce is raised without the use of pesticides.
Besides helping in the greenhouses, Rose delivers the tomatoes to area grocery stores and restaurants. "I enjoy driving and I enjoy visiting with the produce managers – they're really friendly," she said. "And I've always enjoyed having fresh tomatoes to eat."
After 37 years, Rose retired in 2014 as a school bus driver for the Melrose-Mindoro School District.
She and her daughters enjoy operating their own business, and working together in it.
"And I enjoy working with plants," Ann said. She and her sister Mary have worked at the family business ever since they were in junior high school.