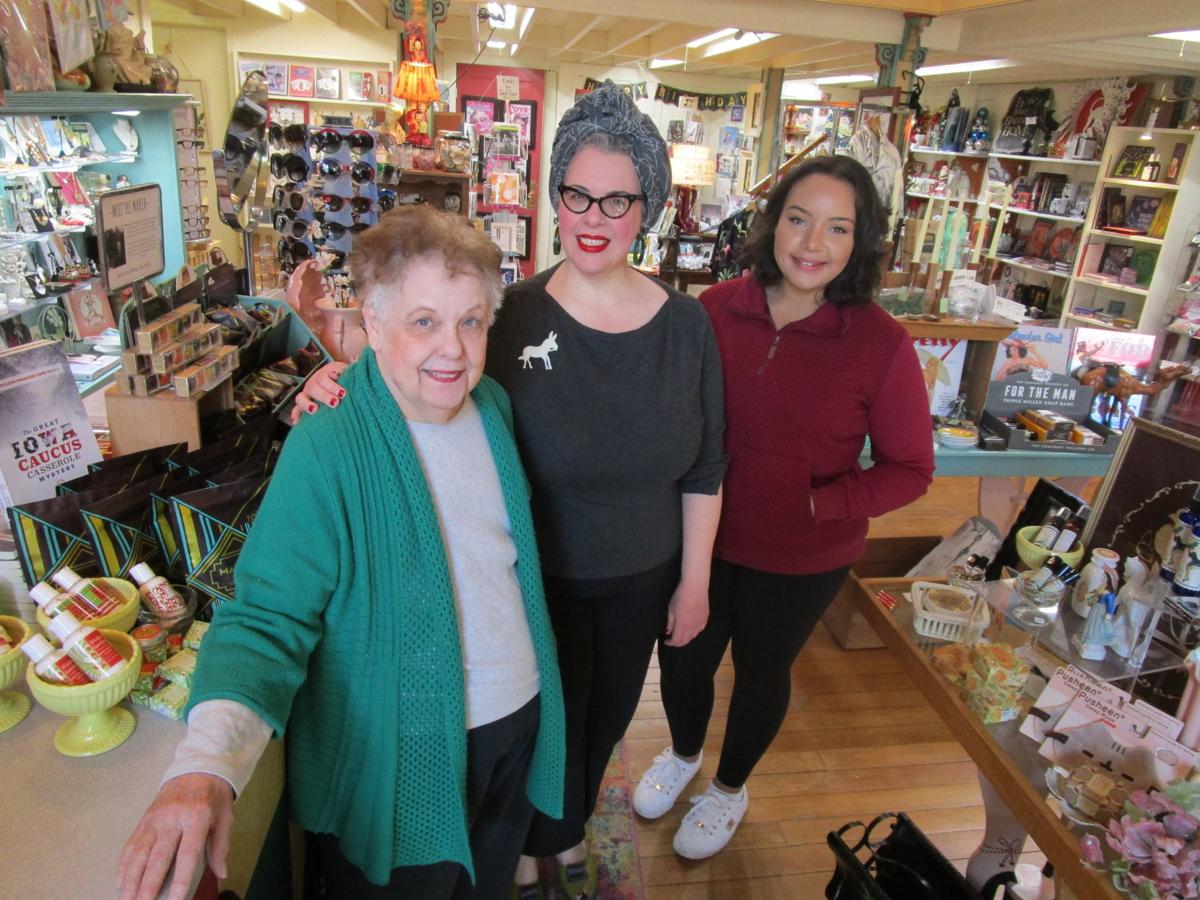 MCGREGOR, Iowa — Its doors have been closed temporarily for the past week because of their concern about the spread of coronavirus around the world.
But Louise White and her daughter, Jennifer White, are determined to continue offering humorous, offbeat gifts and quality books at the store that Louise and her late husband, Ken White, opened in 1994 at 206 A St. in downtown McGregor, Iowa.
The store announced in a Facebook post Tuesday night that "Tonight Louise and Jen have made the painful decision to close the Paper Moon until further notice due to coronavirus-19. Our goal is to help mitigate the spread of this virus and support the health and well-being of our customers, our staff, our families, our friends, and our local and global communities."
The post also said, "Uncertainty abounds and we will take our cues from local, state and federal officials for how long we will be closed to the general public."
In a follow-up Facebook post Wednesday, Jennifer said she is still at the store, although the doors are temporarily locked.
In Wednesday's post, and a subsequent phone interview with the Tribune, she said the store is offering 10 percent off any purchase and 10 percent off gift certificates each day that the doors are closed. "Curbside delivery is available," she said.
Jennifer said she recommends that anyone planning to pick up something at curbside call her at 563-873-3357 or email her at jennypapermoon@gmail.com first, to make sure she will be there.
In an interview several days earlier, Jennifer told the Tribune that she and her mother always look for humorous gifts to sell in the store.
"And nostalgic gifts, too," she added. "We're always looking for something that's more unique. Something that you won't find in the big box stores."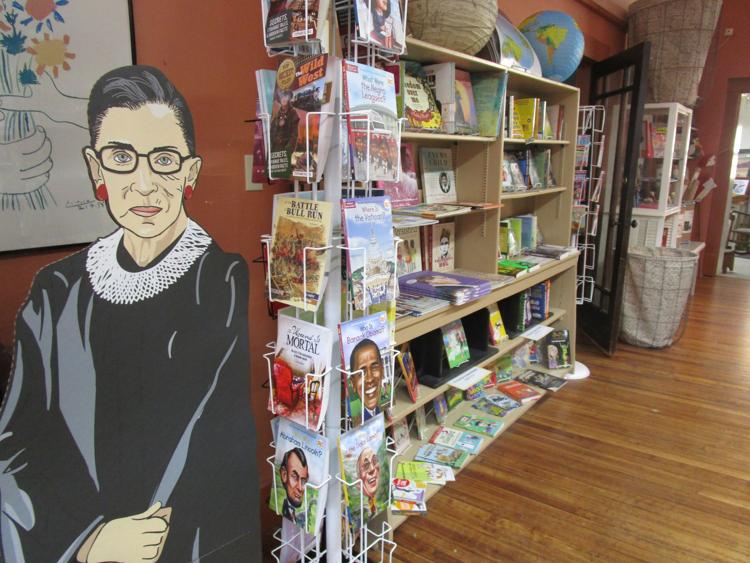 Such as cardboard cutouts of U.S. Supreme Court Justice Ruth Bader Ginsburg. "We've sold nine of them," Louise said.
"And people love to come in here and have their picture taken with her, too," Jennifer said of the cutout.
Some of Paper Moon's best-selling books in recent months are "An Elderly Lady Is Up to No Good" and "The Great Iowa Caucus Casserole Mystery."
The store has three levels filled with merchandise. The first level has lots of gifts, stationery and housewares. The second level mainly has books. And the third level mainly has children's merchandise such as books, toys and art supplies, but also has framed items such as magazine covers and paintings.
Two of Jennifer's three cats, Solomn and Ruby, are the store's mascots and wander through the building. "They come and go at their leisure," Jennifer said.
"We both have a good sense of humor," Jennifer said of herself and her mother. "We try to be light-hearted with the customers."
Jennifer and Louise buy merchandise from sales people who stop at the store, from catalogs and online. They both work full time at the store and have three part-time employees.
Some of the store's customers live far away. They come from places as distant as Milwaukee, Chicago and the Twin Cities.
"We even see a lot of international travelers," Jennifer said.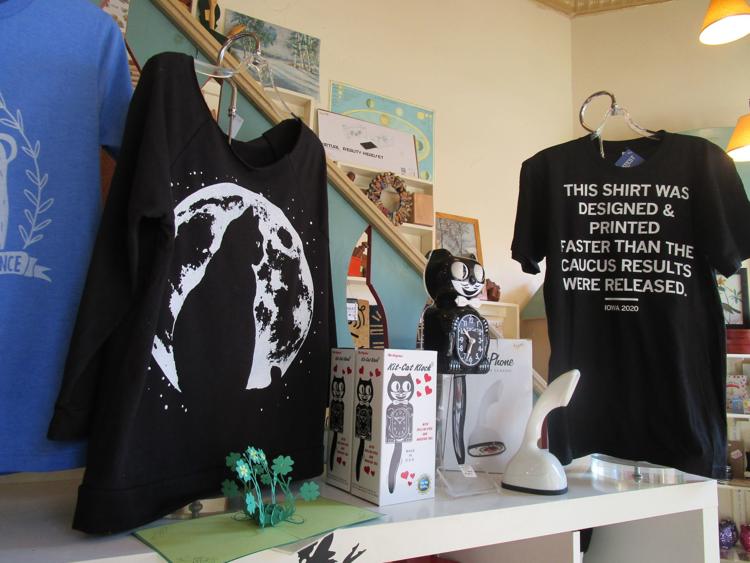 "The Saturday before last, we had somebody from Ukraine," Louise said. "And somebody from South Africa, somebody from Vermont and somebody from England."
"We've had a lot of customers who have come here their entire life," said Stephannie Fox-Dixon, who as the store's content manager runs its website, Facebook page and other social media. "I'm one of them," said Fox-Dixon, who is 28 and has been working at the store for three years.
"She couldn't see over the counter the first time she came in," Louise recalled.
"She's our resident millennial," Jennifer joked.
McGregor is busting with vacationers and day trippers in the warmer months, but is much quieter in the winter. That's why — except for its temporary closure during the coronavirus scare — Paper Moon is open from 10 a.m. to 5 p.m. Monday through Saturday and noon to 4 p.m. Sunday from April through December and from 10 a.m. to 5 p.m. Wednesday through Saturday from January through March.
Paper Moon's busiest month is October, when visitors are driving along the Mississippi River to look at fall leaf colors. The next-busiest time is the summer months.
Louise and her late husband, Ken, started Paper Moon in 1994, after operating an antiques shop in the community since 1975. Ken passed away in 2018.
"I wasn't happy doing that anymore," Louise said of selling antiques. "And I always thought it would be fun to sell books. We started with books mainly" at Paper Moon. "And then Jen came back, and wanted to get into the business with us."
Jennifer joined the business in 1997, after working in the paper conservation laboratory in the Wisconsin State Historical Society in Madison for seven years.
Jennifer persuaded her parents to expand the store's merchandise selection, to include much more than books. "I wanted the store to appeal to a broader audience," she explained.
Today, books and gifts each account for about half of the store's sales, Louise said.
The business news you need
With a weekly newsletter looking back at local history.