Bio: Adam Sonntag has been the City Administrator for the City of Hillsboro, WI since 2011. Sonntag holds a Master's Degree in Public Administration from Minnesota State University – Mankato and a Bachelor's Degree from Ripon College. Sonntag is a regional coordinator and executive board member for the Wisconsin City/County Management Association and a member of the ICMA. He also is a member of the League of WI Municipalities Lobbying group, the Monroe/Vernon/Crawford Growth Fund Board, and numerous other local boards in Hillsboro. Sonntag was raised in Sheboygan, WI.
Town of residence: Hillsboro
Occupation/company: City administrator, City of Hillsboro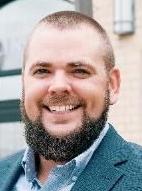 Why do you believe you were nominated for this recognition — and were you surprised?
Of course, I am surprised and humbled. This is more about this community than it is about me. Hillsboro is a fantastic small community. I have always preferred to be behind the scenes, working with others to promote and develop Hillsboro. The Mayor, Common Council and I have always shared a strategic vision for the community, which has been extremely beneficial. I also work with a great group of employees who are committed to the city and work extremely hard daily to make Hillsboro a great place to live. Hillsboro has seen its share of ups and downs during the past few years. However, more recently we have seen a lot of positive developments that continue to push the community forward. A new hospital, the best craft beer in Wisconsin, young entrepreneurs taking risks, tremendous industrial growth, and a community that continues to support each other – I really feel this recognition is more about the successes of this small town!
You have free articles remaining.
Register for more free articles.
Stay logged in to skip the surveys.
What is your proudest professional accomplishment?
I can't pinpoint a single accomplishment, but I own every victory and every setback. Small towns are struggling and for Hillsboro to often be looked at as an example for other small towns is very rewarding. I feel that the combined successes and investments of the city is what I am most proud of. We have invested millions of dollars in the city's aging infrastructure to modernize and upgrade our utilities. We have completed and executed numerous plans, including a Comprehensive Plan update, Recreation Plan, Downtown Revitalization Plan, Housing Plan, Branding Plan, and Baraboo River Corridor Plan. We have worked regionally to promote tourism and economic development, often being the smallest municipality at the table. Numerous businesses have started and expanded with the assistance of city programs and to have even a small part in someone else's success is very rewarding. We've been aggressive. We've been smart. All of this with a vision to make Hillsboro a great place for our residents and visitors. Being small doesn't mean you cannot offer residents high level services and amenities. I am just proud to be a part of the collective efforts of the past eight years to make Hillsboro a better place.
Please tell us what community and volunteer activities you're involved with — and why:
Locally, I serve on the Hillsboro Library Board and am a member of the Hillsboro Lion's Club and Cesky Den. A large part of my job is working with community groups to hold events and complete projects. Working with these groups has been very rewarding and their work has a tremendous impact on the community. I am also a Regional Director for the WI City/County Management Association and a League of WI Municipalities Lobby group members. Both allow me to give back to my profession and promote local government statewide.
Tell us what inspired you to be a leader in your organization and in your community:
My parents. Growing up both were involved in the community as elected officials and that really stuck with me while trying to figure out to do in my own life. Also, Hillsboro took a chance on me when I was 25 years old and had only 9 months of experience as an intern. That trust they showed in me and the great staff made me want to commit to Hillsboro. I am also often inspired by the resiliency of the community. Whether it is a flood, a business closure, or any other struggle, the community responds and moves forward. To be a part of the solution drives me.
What advice would you offer younger leaders to aid their success?
Get involved in your local government. Serve on a committee. Attend a meeting. Also, don't short sell the small towns out there! There is a lot of opportunity in small towns and you can really become a part of the community in a very deep and meaningful way. Have a vision and make the commitment — for yourself, for your organization, and for your community.