ONALASKA — In the two months since the coronavirus pandemic prompted governors of many states to issue stay-at-home orders, more people with more time on their hands have been walking and bicycling around town.
That's caused a spike in business at bicycle shops, such as River Trail Cycles in Onalaska, which owner Emily Vance started in 2007 in Holmen.
For the past month, her shop at 106 Mason St. has opened to the public at noon on weekdays rather than the usual 10 a.m., to help ensure that its dozen employees have enough time to assemble new bicycles for sale and to service and repair other bicycles. "It's increased our productivity and efficiency," Vance said of the change in hours.
The shop now is open to the public from noon to 7 p.m. Monday and Wednesday; noon to 5:30 p.m. Tuesday, Thursday and Friday; 9 a.m. to 3 p.m. Saturday and 11 a.m. to 2 p.m. Sunday.
Vance said that with the coronavirus situation, "Bicycling is one of those activities that people can do (in their free time), especially as a family. People are looking for means of fitness and recreation," partly because fitness centers and recreation programs closed temporarily because of stay-at-home orders.
Although coronavirus has caused an uptick in the bike shop's sales and repairs business, it's also put a stop to its rentals of bicycles and bicycle trailers for children. "We've got that on hold until we feel confident that (coronavirus) cases have slowed down or hopefully have gone away," Vance said. She hopes to resume bicycle and bicycle trailer rentals by late summer. The shop also rents snowshoes during the winter months.
River Trail Cycles usually co-sponsors several area bicycle tours each year, but Vance said most of those already have been canceled for 2020 because of the coronavirus.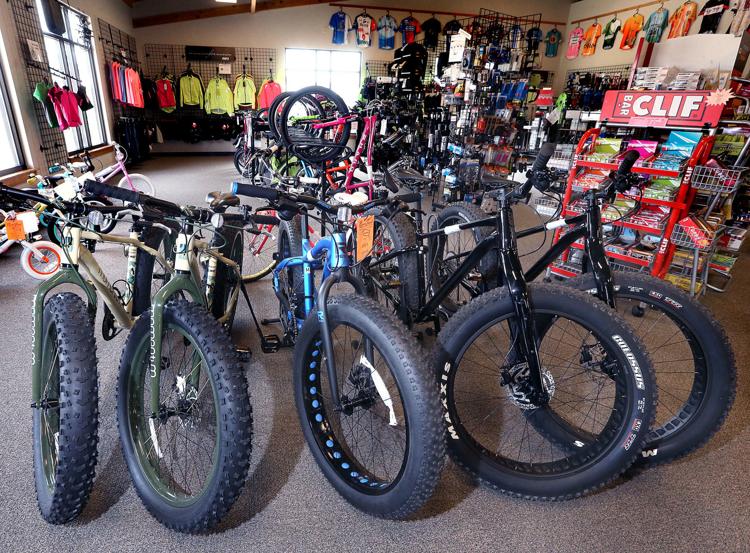 The bike shop sells the Giant, Haro, Bianchi and Reid brands of new bicycles; Giant is its main brand.
Sales of used bicycles are a huge part of the store's sales, Vance said. "We don't buy used bicycles outright, but we take them in as a trade on a purchase," she said. Used bicycles are "extremely popular with the youth market," as youths outgrow the bicycles that they've had, she said.
Vance opened River Trail Cycles in 2007 in the Holmen Square shopping center in Holmen.
In 2013, she moved the business to her own brand new building at the corner of Mason Street and Highway 35 in Onalaska, which was twice as large as the space she had been leasing in Holmen. Her business had outgrown the Holmen location, and she wanted to own her own building. The new location also is across from the Great River State Trail, a popular bicycle and pedestrian trail.
With the move to the current Onalaska building, Vance expanded her selection of bicycles, bicycle accessories, snowshoes and running and fitness apparel.
"One of the growing trends is electric bikes," said Vance, who has sold them for about three years. "I've seen more demand for them, some of it from riders who maybe are not quite as confident about their own abilities or endurance, or where one spouse might be a more avid cyclist than the other. And some people have gotten into commuting," which also has increased the demand for electric bicycles. Electric bicycles make pedaling "almost effortless," Vance said.
River Trail Cycles has about a dozen employees from spring through fall, and has about half that many employees during the winter months. "In the first few years, there were only like three of us," Vance recalled. The number of employees has grown because the bike shop's sales and service and repair business have continued to increase, she said.
The busiest months at River Trail Cycles are April, May and June. Most of the bike shop's customers live within 60 miles of the business, and most of those in turn live in the La Crosse, Onalaska and Holmen areas, Vance said.
Vance grew up in the Twin Cities suburb of Shoreview, Minn. When she was 14, she began joining an aunt and uncle on bicycle tours. She started working in a bike shop in the suburb of Roseville when she was 15. "I did that through high school," she said.
Vance came the La Crosse area to attend the University of Wisconsin-La Crosse and graduated in 1997 with a bachelor's degree in psychology. "I was looking at different schools and I was impressed with the La Crosse area," she said of her decision to attend UW-L. "I saw all the people who were outside, walking and biking, and the beauty of the parks and the river."
She had thought about a career in psychology, but instead became the first female outside sales representative for Milwaukee-based Olympic Supply Co. That involved selling bicycle parts and accessories to bicycles dealers throughout Minnesota and northern and western Wisconsin from 1999 to 2007.
Vance had dreamed of owning her own bicycle shop, so she started River Trail Cycles in 2007.
As a bike shop owner, Vance said she most enjoys "seeing the joy that a bicycle brings to both adults and children. We have so many people who haven't been on a bike in 20 years, but now they're home and looking for something to do, and it's very enjoyable for them."
The business news you need
With a weekly newsletter looking back at local history.