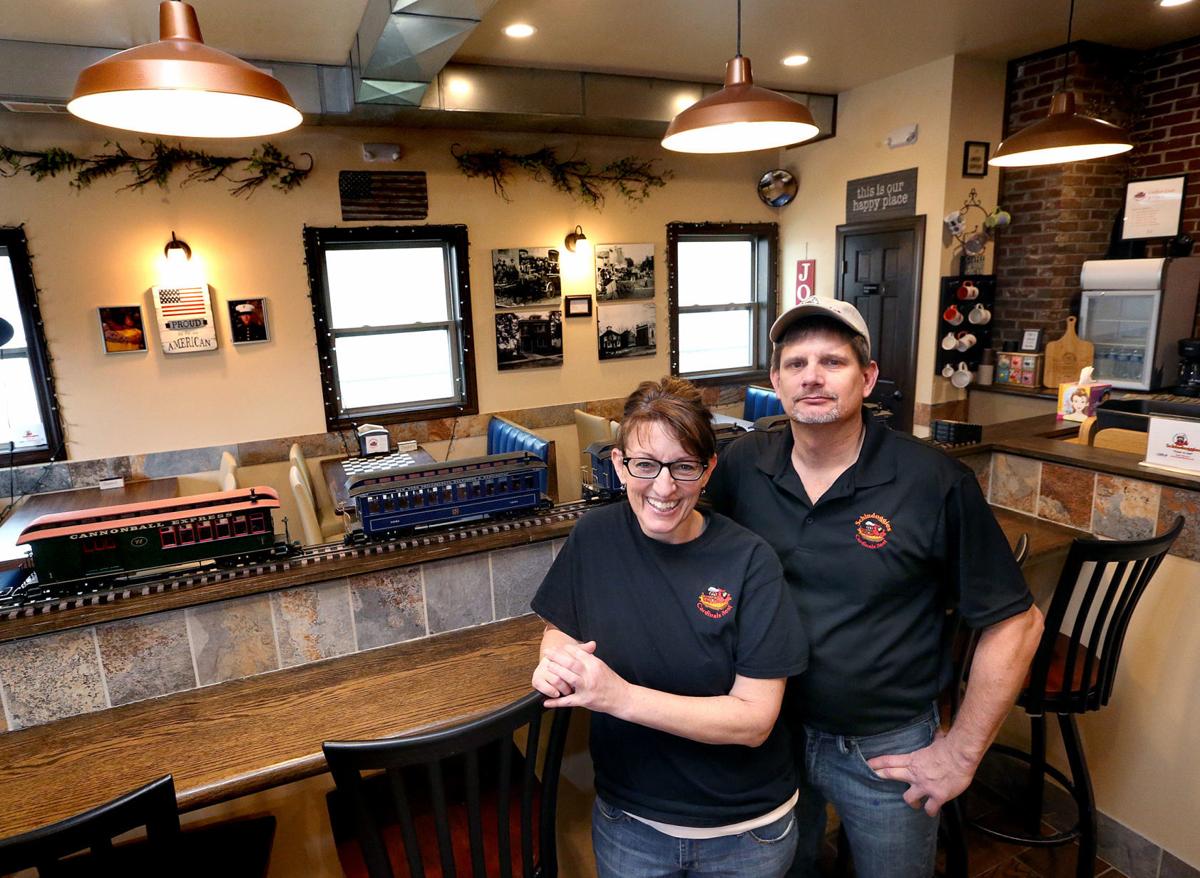 BANGOR — Two years after he started his Schindoggies food cart, Michael Schindler and Sara Clark are adding a Schindoggies food truck and making plans for monthly cruise nights this summer at their The Cardinals Nest at 1710 Commercial St. in downtown Bangor.
Schindler and Clark opened The Cardinals Nest in late October in the former location of the Purple Cow Sweetshop & Cafe, which had closed in September. "We are a sandwich shop that also offers ice cream," Schindler said of The Cardinals Nest.
"We are a local gathering place," he said of The Cardinals Nest. "We have made The Nest as comfortable as we can for our patrons. We have checkers on every table, coloring books, playing cards, games like Battleship, and there's a 'little library' box on site for book exchanges."
Of course, things have changed since March 17, when Gov. Tony Evers banned bars and restaurants from offering dining on the premises, in order to slow the spread of coronavirus. But The Cardinals Nest has remained open for take-out food and beverages.
"Our hours have not changed," Schindler said. "They are 10:30 a.m. to 7 p.m. Tuesday through Saturday. We will expand our hours once the order is lifted and the weather warms." And outdoor tables and picnic tables will be put in place as well. At that point, the sandwich shop will have inside and outside seating.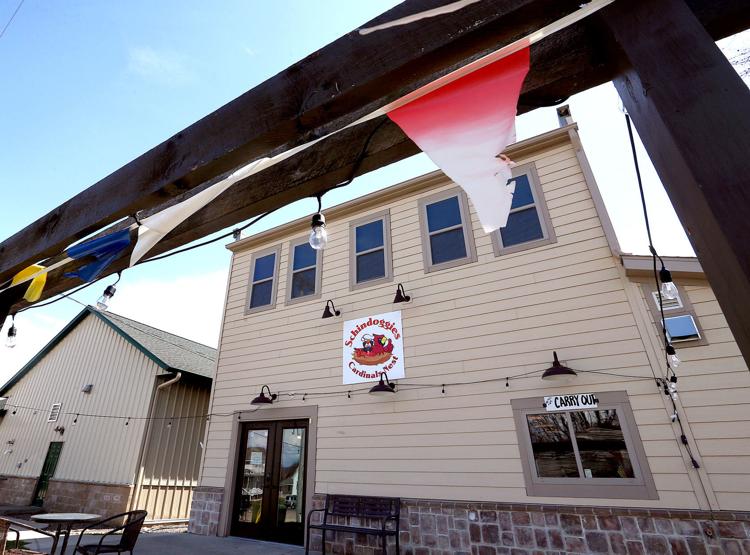 Schindler and Clark plan to hold cruise nights on the second Wednesday of each of the summer months, beginning June 10, assuming those are allowed by the state by then. "We are anticipating that the (governor's) order will be lifted and the weather will be warmer, so for us it'll feel like going from crawling to a fast sprint," Schindler said.
Schindler, who also is a Rural Mutual Insurance agent in West Salem, started his Schindoggies food cart business in 2018. He said he brought Sara in as a partner when they decided to open The Cardinals Nest last fall. He said they also are partners in life.
Schindler graduated in 1986 from Holmen High School, where Clark graduated one year later. Both later left the area, moved back a couple years ago to be closer to their families, and became reacquainted.
Schindler has worked in the financial services industry in advisory and management roles since leaving the Navy in 1992. He also has worked in the food service industry for most of his life, starting as a dishwasher and bus boy at the former Nob Hill restaurant in Onalaska. He also was a Navy cook and for several years held seasonal management jobs in concessions at major sports stadiums.
He had always dreamed of owning a food business, and began operating his Schindoggies food cart in the summer of 2018, mostly focusing on events, catering, fundraising and street sales.
"The Schindoggies signature item is the USDA-inspected venison dog," Schindler said. "The food cart also serves a great made-from-scratch Cincinnati-style chili dog as well as Hansen's award-winning old-fashioned wieners, always best served with the Schindoggies special topping." Nacho grandes are another of the cart's most popular items, Schindler said.
The Schindoggies food truck is under construction and should be operational in time for Memorial Day weekend, Schindler said. "Our food truck menu will primarily consist of the signature products from our food cart, but we will also add things like our homemade mac and cheese to the menu. The mac and cheese dog that we serve at The Cardinals Nest is just too popular to not bring it with" the food truck.
Schindler said he and Clark also offer catering. "We customize that menu to the client's needs and wants," he said.
The Cardinals Nest has a larger menu than the food cart does.
"We try to offer good comfort food that appeals to a wide audience," Schindler said of The Cardinals Nest.
The Champ, The Cardinal, The Turkey and a hand-carved ham and swiss sandwich are the most popular sandwiches at The Cardinals Nest, he said. The Champ is made with grilled garlic bread, cheese, bacon and homemade mac and cheese. The Cardinal is made with ham, salami, pepperoni and red onions, sauteed in an Italian dressing and served on a French roll with white American cheese.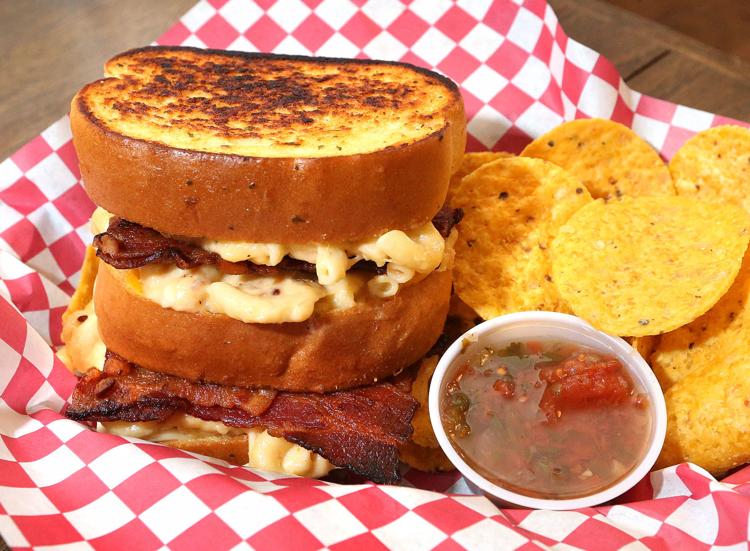 The sandwich shop's most popular dogs are its venison dogs, Hansen's IGA old-fashioned wieners and buffalo chicken mac and cheese dogs. "Our nacho grande, BRATchos (made with diced bratwurst) and buffalo chicken nachos are also quite popular," Schindler said. And the sandwich shop's Dirty Monkey shake, made with ice cream, peanut butter, chocolate and bananas, also has been a big seller.
Clark said she enjoys Schindler's energy and ideas and sharing laughter with him most every day. "I enjoy the quiet time in the kitchen in the morning preparing for the day to get rolling," she added. "I've made some new friendships in this community through The Nest and it's always a pleasure to find a few minutes to visit with our guests and get to know them a bit."
Clark said she also enjoys preparing food that people enjoy, and creating a place where they want to linger.
"For me, it's about socializing, getting to know the community, and enjoying what I am doing," Schindler said.
"When Sara and I reconnected and talked about what we've been doing the past 30 years, we realized that our experiences were somewhat similar and that our strengths and weaknesses meshed pretty well," he said. "Next thing we knew, the opportunity for The Nest presented itself out of the blue. Personally, I felt like that was sort of a sign to do this, so we discussed it and made the leap."
The business news you need
With a weekly newsletter looking back at local history.