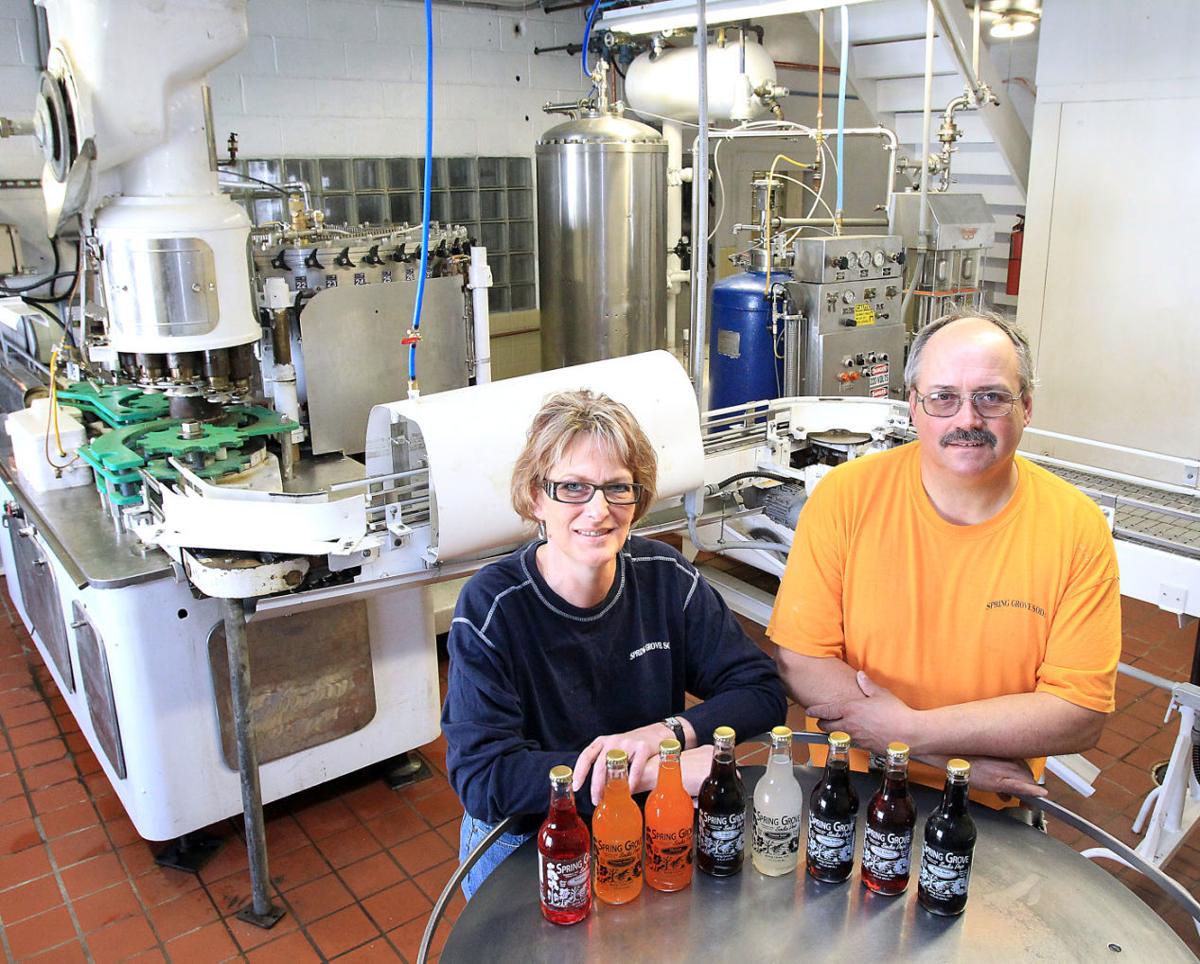 SPRING GROVE, Minn. — Production and sales of its soda pop have continued to grow during the 16 years that Bob and Dawn Hansen have owned the Spring Grove Soda Pop business, which began in 1895.
And the Hansens plan to continue that trend, despite a recent downturn due to coronavirus and efforts to slow its spread.
"Sales to bars and restaurants are huge (in the soda pop business), and they're both way down," because so many of those businesses are either closed or open only for take-out, Bob Hansen said.
"The grocery stores seem to still be taking it," Hansen said. "But with a lot of people, the farther we get into this (economic downturn resulting from coronavirus), the tighter the economy is, so fewer people have that extra money to spend."
Coronavirus and efforts to slow its spread have had a "quite significant" effect on sales and production for the past month-and-a-half, Hansen said. As a result, Spring Grove Soda Pop has been bottling about two days a week, down from an average of three days a week during the winter. At this time last year, it was bottling five days a week.
The Hansens haven't had to lay off any of the firm's nine employees, but they've had to cut back on hours. "We're hoping we can kind of maintain where we are" until the nation recovers from the coronavirus pandemic, Bob Hansen said.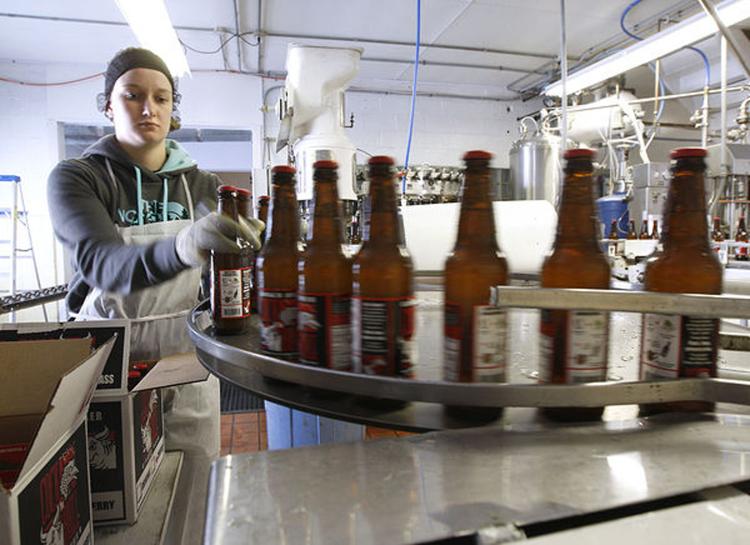 Because of the pandemic, The Sugar Shack retail sales area inside the bottling plant is temporarily not open to walk-in customers. But it is open for curbside pick-up of its merchandise from 8 a.m. to 4:30 p.m. Monday through Friday. The retail area sells Spring Grove Soda Pop items such as pop, apparel and bottle openers.
Coronavirus has resulted in an increase in online sales on the Spring Grove Soda Pop website, Hansen said. The company has been selling its pop online for a few years. "It's a pretty small percentage of our business, but it's going up every year," Hansen said. "With this virus thing, we've been selling a lot more online."
Spring Grove Soda Pop was started in 1895 by G.G. Ristey, who used cane sugar as a sweetener. Spring Grove Soda Pop is still made with cane sugar.
"It's more of a clean flavor," Hansen said of cane sugar. "It finishes on your palate a little better. It's more expensive and it's more of a process to use it. But it works a lot better for our production."
There are nine flavors of Spring Grove Soda Pop — strawberry, orange, creamy orange, black cherry, cream soda, lemon sour, root beer, grape and the newest — rhu-berry, which was added about 10 years ago. Rhu-berry combines strawberry and rhubarb flavors. Hansen said the company continues to test possible additional flavors.
"Strawberry is absolutely the best seller in the La Crosse-Spring Grove area," Hansen said. "But our lemon sour and root beer have really taken off well companywide. And when you get into areas like the Twin Cities, black cherry and cream soda are big sellers. Strawberry is getting a big foothold there as well."
The Minneapolis-St. Paul area has become the company's largest market, Hansen said, but the La Crosse area also is one of its largest markets.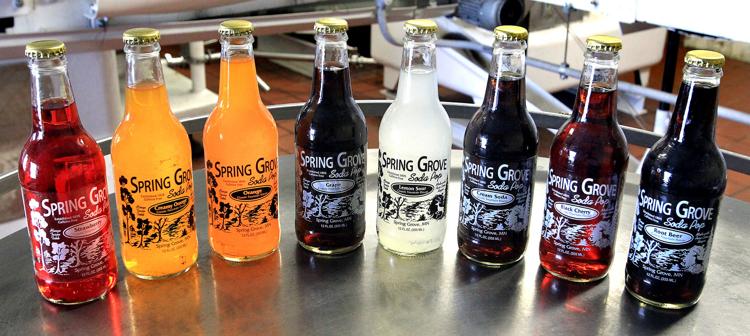 Hansen said the core market for Spring Grove Soda Pop is Minnesota, western Wisconsin, northern Iowa and the eastern halves of North and South Dakota. Spring Grove Soda Pop also can be found elsewhere in the United States, such as in Rocket Fizz soda pop and candy stores. Locations that sell Spring Grove Soda Pop can be found by using the "find" function on the company's website.
The Hansens bought Spring Grove Soda Pop in December 2003 from Roger Morken and his son, Eric Morken. Roger Morken's father, Arnold Morken, had purchased the business in 1964.
The business was producing about 10,000 cases (with 24 bottles to a case) of Spring Grove Soda Pop annually before the Hansens bought it. They installed some newer equipment, lined up additional distributors and about five years ago began doing contract production of other brands of soda pop for other beverage companies.
Spring Grove Soda Pop now bottles "in the mid-30s" thousands of cases of its own brands each year, Hansen said. "In 2019 we did just under 80,000 cases" of total production, which included the company's own Spring Grove Soda Pop brand plus contract production for several other beverage companies.
"If you're going to have the toys, you've got to play with them," Hansen said of his and his wife's decision to begin contract production. "If you're going to have the equipment, you want to keep that equipment running as much as possible."
Spring Grove Soda Pop also is a distributor for Pabst Blue Ribbon and Milwaukee Special Reserve beer, and Nantucket Nectar beverages, for Houston and Fillmore counties.
"The soda business is a fun business to be in," Hansen said of operating Spring Grove Soda Pop. "Whenever you talk to people about soda, they always tend to be in a good mood. I also enjoy hearing all of the stories about people growing up with Spring Grove Soda Pop, and hearing all of their memories."
The business news you need
With a weekly newsletter looking back at local history.