Merchants say they are grateful that a man they claim repeatedly harassed and threatened several State Street business owners was arrested Tuesday afternoon following an incident at Coopers Tavern on Capitol Square.
But as protests reignited by that arrest turned violent, business owners say they want to know when the city will address larger concerns of violence and vandalism and begin to care about their livelihoods.
"It's getting more scary," said Abbul Lababidi, who has owned Princess of India Imports, a clothing and jewelry store, for 24 years at 306 State St. "My customers, they call me, and they don't want to come down to State Street anymore. I don't know what we're going to do. Business is very tough. Very tough."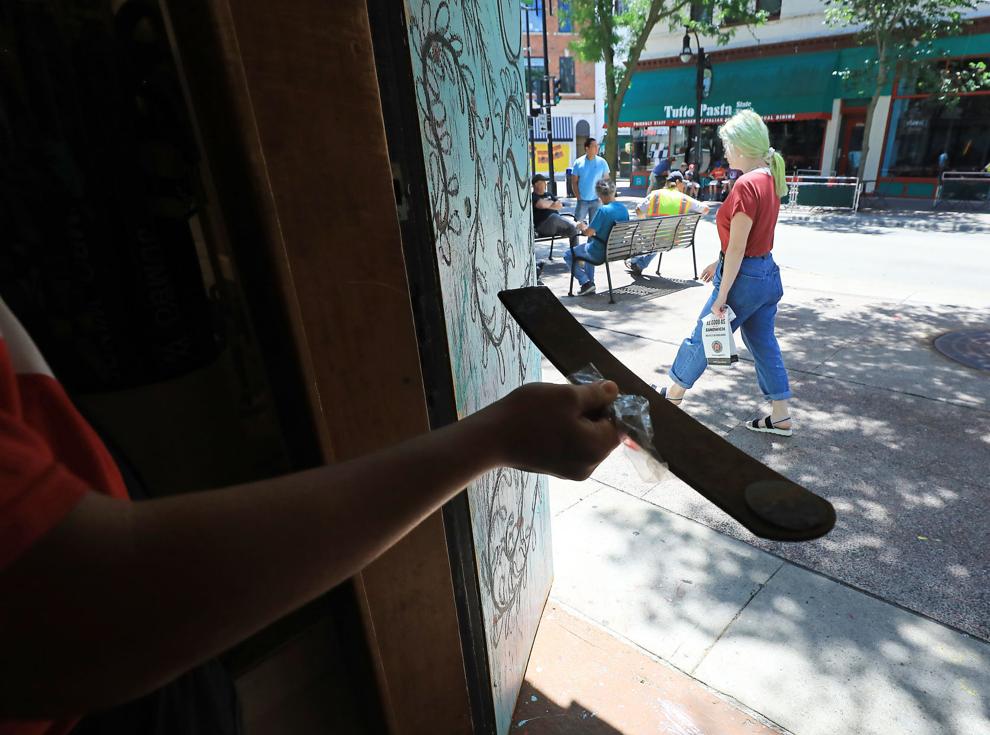 Statues were toppled, a state senator assaulted, windows broken and the state Capitol vandalized over several hours after the arrest of Devonere Johnson, 28, a Black activist. The vandalism was reminiscent of what took place the weekend after George Floyd died in Minneapolis police custody, which sparked nationwide protests.
Police said, and videos showed, Johnson entered the patio of Coopers Tavern with a bullhorn and armed with a baseball bat. Johnson then followed a white customer inside the restaurant, calling him a racist through the bullhorn and using profanities, the video shows. When Johnson was confronted by police officers, a struggle ensued and at one point he escaped out of a squad car before two officers tackled him.
But several business owners and the head of a Downtown business organization said the disturbance at Coopers Tavern was not an isolated incident. They said Johnson and others entered multiple businesses on State Street on Monday and Tuesday, played loud music, called business owners racists, threatened to burn buildings, demanded free food and drinks and knocked over patio chairs and tables.
Tiffany Kenney, executive director of the Central Business Improvement District, said Johnson has been harassing the BID and her for more than a year and over the past week-and-a-half was actively harassing and threatening businesses up and down State Street and on Capitol Square.
"I'm so bummed. This is a huge setback," Kenney said of the violence.
Johnson remained Wednesday in the Dane County Jail. District Attorney Ismael Ozanne said at midday he hadn't yet received a referral for charges from police.
Johnson is on probation until 2022 after pleading guilty in 2017 to felony theft. State Department of Corrections spokesman John Beard said regardless of the outcome of any court appearance Johnson may have in the coming days, he would remain in jail on a probation hold until DOC completes an investigation and decides whether to release him.
More plywood
Some business owners over the last week had begun to remove protective plywood from windows to make their businesses more inviting. But Kenney said Wednesday that at least five businesses have made requests to have their windows covered back up with plywood after the sheets were removed over the last 10 days.
Many of those removed are adorned with artwork and destined for an exhibit so Kenney has ordered $2,500 in plywood to accommodate requests. Her executive board is also encouraging business owners not to remove plywood for the time being.
"We can't, in good faith, encourage any more board removal. It's just not feeling safe," Kenney said. "The impact of what's happening on State Street is going to affect the whole Downtown."
A number of business owners who spoke to a reporter were unwilling to be named or have their businesses identified for fear they or their businesses would face retribution from protesters. They said the government needs to do more to ensure State Street is safe and protect their businesses, including calling in the National Guard if needed.
Moving ahead
On Monday, a coalition of State Street businesses pleaded with the city to improve safety, offer subsidies to attract new businesses and to temporarily convert the street into a pedestrian mall. A letter with 19 requests asked for more security cameras, the removal of rocks from planters and to replace the glass at the now boarded-up visitor center adjacent to Lisa Link Peace Park. There were also requests for refunds on taxes and permit and license fees due to closures from COVID-19 followed by rioting and looting during protests.
Khen Sinarack "Bey" Macviley has owned Rising Sons Thai Restaurant, 617 State St., since 2006, but began with a grocery store on South Park Street in 2000. The past few months have challenged her business, and she's hoping she can stay afloat amid the coronavirus pandemic and violence.
"I am hoping for peace. I don't like violence. That's all I can say. I just hope everybody comes together and makes peace of everything, Macviley said. "We already have a natural disaster, we don't need this at all. We all need to come together and make it work."
State Journal reporters Anna Walters and Ed Treleven contributed to this report.
Photos: See damage from Tuesday's protests near the state Capitol
"I'm so bummed. This is a huge setback."

Tiffany Kenney, executive director of the Central Business Improvement District