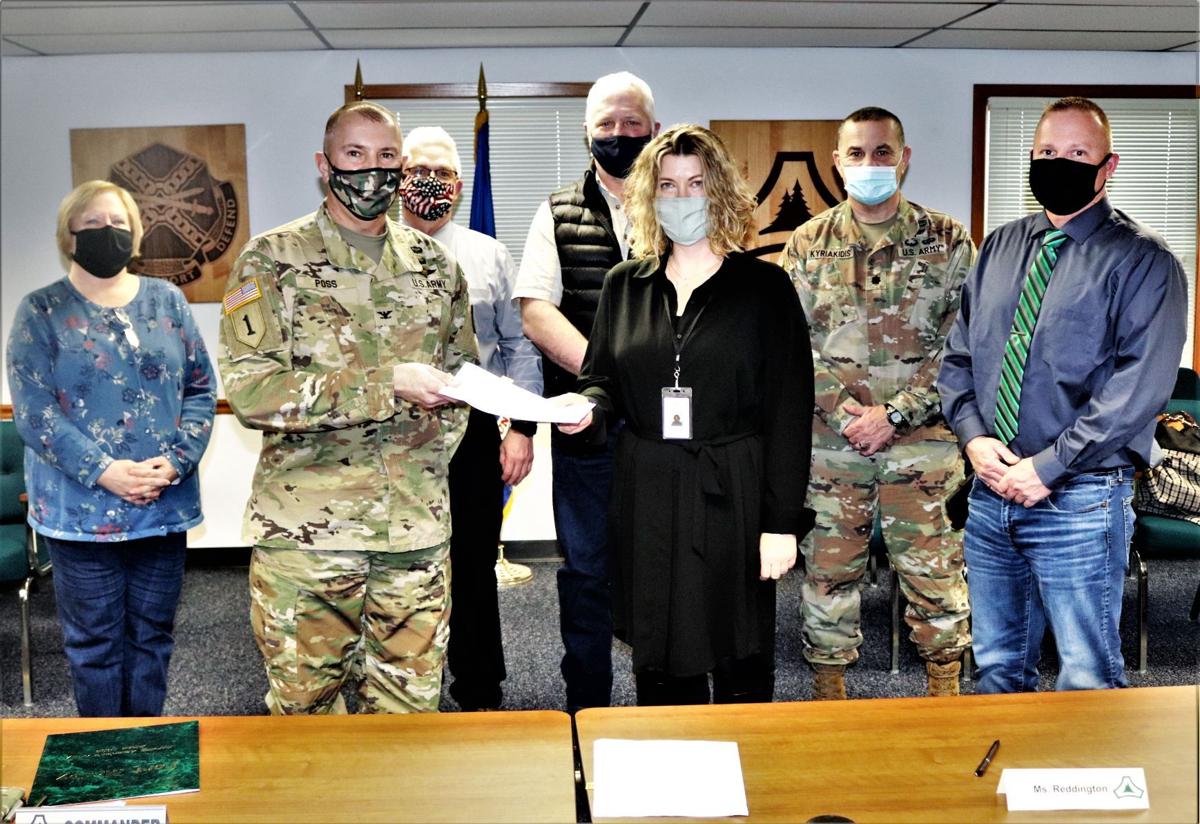 Fort McCoy and Vernon County formally signed an intergovernmental service agreement, or IGSA, March 15 in an official signing ceremony at the headquarters for U.S. Army Garrison Fort McCoy.
The IGSA enables the county to provide roadway line striping services for Fort McCoy for a specified rate versus the installation hiring a contractor to do the work, providing an annual cost savings of approximately $166,419 for the next 10 years.
The IGSA was formalized with the signatures of Vernon County Administrator Cari Reddington and Fort McCoy Garrison Commander Col. Michael Poss and was effective as of April 1.
Also present at the ceremony were Vernon County Highway Commissioner Phil Hewitt, Fort McCoy Deputy to the Garrison Commander Brad Stewart, Fort McCoy Directorate of Public Works Operations and Maintenance Division Chief Nathan Sobojinski, Fort McCoy Resource Management Officer Maureen Richardson, Fort McCoy Staff Judge Advocate Lt. Col. Savas Kyriakidis and Joel Smith with the Fort McCoy Resource Management Office.
Annual road maintenance, like line striping, is critical to the safety and mission readiness of the total force so Fort McCoy can provide a training environment necessary for mission success, Sobojinski said.
The Fort McCoy cantonment area and range road network see heavy use from April through October.
Vernon County's current capabilities fulfill the roadway striping needs at Fort McCoy well, Sobojinski said. The county already has equipment and personnel in place to provide the services. Additionally, their support ability is proven as they also provide the same services to Wisconsin's Monroe County, where Fort McCoy is located.
"It's kind of a historical day," Poss said. "This will be great for the installation."
Reddington said Vernon County will also benefit from the agreement.
"This is a great opportunity, and we are excited to be a part of it," she said.
The Army's strategy for engaging in an IGSA is that of an institutionalized mindset that relies on public-public partnerships to ensure mission readiness in an era of reduced resources. This agreement follows that strategy, Richardson said.
"This is only the second support agreement we have entered into," said Richardson, who is also chief of the Fort McCoy IGSA Program. "We find there are mutual benefits for both organizations in this."
The first intergovernmental service agreement the installation signed was in December 2019 with Monroe County. According to the Office of the Army Deputy Chief of Staff, G-9, the service's lead organization for the Army Community Partnership Program, the goal of the program is to transform Army installation services through a variety of partnership possibilities.
"Partnership agreements with state and local municipalities form the basis of efficient and less-expensive service delivery that can be beneficial to both organizations without the complexities of traditional contracting practices," Richardson said.
"The program puts another tool in the tool kit to allow Department of Defense installations to operate at reduced costs."
All IGSAs for Fort McCoy are coordinated through Fort McCoy's Resource Management Office. Learn more about Fort McCoy online at https://home.army.mil/mccoy, on Facebook by searching "ftmccoy," and on Twitter by searching "usagmccoy."