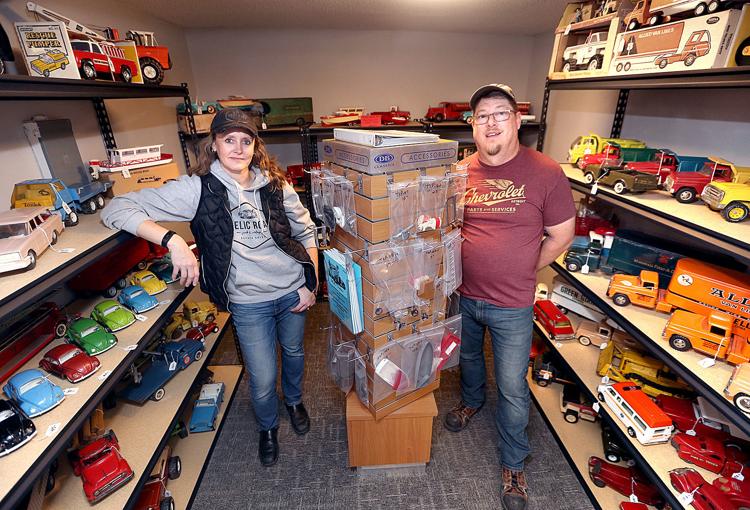 ONALASKA — They own two businesses that deal with things from the past. But Rick and Kari Christenson are looking to the future.
That's why, with nearly three times as much space as they had before, Rick and Kari Christenson have moved Gasoline Alley Toys & Antiques, and Relic Road Junk & Vintage, to N5539 Penney Lane in the town of Onalaska.
The businesses opened Dec. 9 in the former Breidenbach Family and Sports Chiropractic building, which the Christensons bought in September and remodeled. Breidenbach's Onalaska clinic recently moved north, to a new building at N5560 County Road ZM.
The Christensons will hold a grand opening celebration at their new Penney Lane location — which is on the east side of Hwy. 35, one block south of the County Highway OT stoplights — during an estate sale that Relic Road is holding from 10 a.m. to 2 p.m. on Jan. 18-19 in The Garage part of their building.
"There will be sweets, coffee and warm cider as well as drawings for gift certificates and special deals," Kari said.
Gasoline Alley, whose roots go back to 1998, mainly buys and sells such things as vintage toys, coin-operated items, signs, advertising items, breweriana and petroliana (such as old gasoline pumps and other fuel-related items), and also sells reproduction parts and decals for toy restoration.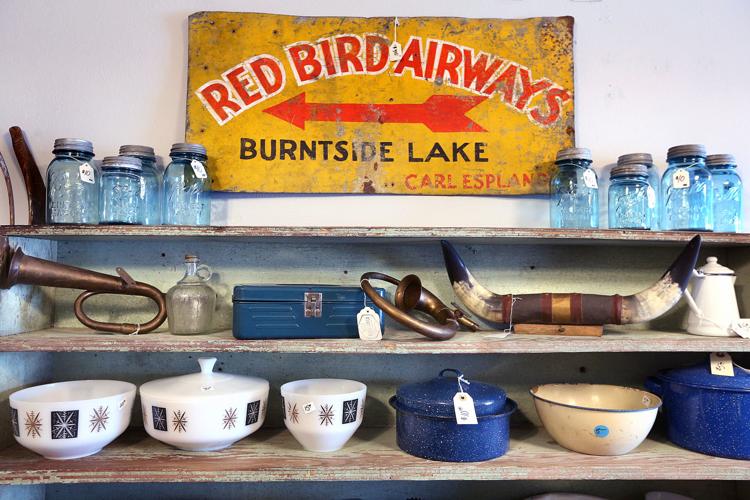 Relic Road, which Kari started in 2018, mainly holds estate sales in The Garage or at the owner's residence, and offers clean-out services. It also will arrange auctions, if that's what the owner wants. And it buys and sells vintage items.
Both businesses previously operated at 110 Third Ave. S. in downtown Onalaska, a building that the Christensons still own, but which is for sale or lease. Rick had moved Gasoline Alley to that building in 2016.
Rick had started his then-new Gasoline Alley retail division in 2015 at 304 Main St., also in downtown Onalaska, but quickly outgrew that small storefront.
Rick had started Rick's Toybox in 1998 as a part-time, home-based online business that bought and sold vintage (1970s and older) toys and coin-operated items such as slot machines and peanut and gumball machines.
In the summer of 2001, the Christensons sold their Holmen home and bought a new home in Onalaska. That November, Rick's job in the human resources department at Trane in La Crosse, where he had worked for nearly five years, was eliminated.
That led him to turn Rick's Toybox into a full-time online business.
Christenson began making reproduction parts and decals for toys, which is what mainly grew the business. He still makes most of his reproduction decals. Most of the reproduction parts he sells are made for him by other companies, to his specifications.
Rick said he opened the Gasoline Alley retail store, which also houses its online business, because the latter had outgrown the couple's home.
With more space in the retail store's second location, Rick said, he expanded the kinds of vintage and antique items that he buys and sells, to include such things as old gasoline pumps, pedal cars and tractors, signs, and even full-size classic cars and trucks.
Today, merchandise inside the Christensons' store ranges from Christmas ornaments priced at 50 cents, to $2,000 for a 1956 Tonka construction toy set.
With the move to the new, much larger location, many items that had been in storage now are displayed for sale.
"Most of the people who come into the store are doing general antiquing," Kari said. Men and women tend to gravitate to different parts of the store, based on the kinds of vintage and antique items that are in each room, she added.
Gasoline Alley has two full-time employees, and a part-time employee works for both businesses. Relic Road has another 10 part-time employees, who help with holding estate sales and clean-out services.
Relic Road helps seniors downsize and assists grieving families as they liquidate estates.
"It really started because I had a friend who moved her mother-in-law into assisted living in Rochester," Kari said. "And they were like, 'I don't know what to do with all this stuff.' And I said 'I'll help you. I like doing that kind of stuff.' "
She started Relic Road in July 2018, and in November 2018 left her job at Gundersen Health System to work full time at Relic Road. During the last five of her 15 years at Gundersen, she had been administrative director for the health system's Center for Violence Prevention and Intervention, which deals with domestic violence and child abuse.
"It was a way to help positively that felt good," Kari said of starting Relic Road. "It got me more exercise. It got me out from behind a desk. And it aligned with my husband's business and things that we like to do."
Kari said she enjoys helping families sort through their history, while making sure that things such as family photos, insurance policies and other important documents are saved.
Be the first to know
Get local news delivered to your inbox!