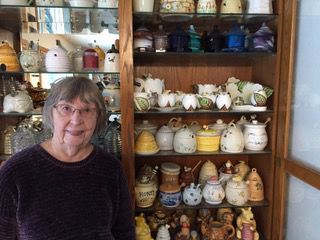 Judy Hoffman will be featured speaker Jan. 8 for the Holmen Area Historical Society's first meeting of 2000.
The Holmen Area Historical Society has announced its programs for the year.
Meetings are the first Wednesday of each month at 7 p.m., unless otherwise noted.
Meetings are held at Holmen Village Hall, 421 S. Main St.
Jan. 8: "Honey Pot Collection." Judy Hoffman has been collecting honey pots as long as her husband, Robert, has been beekeeping, which has been more than 50 years. She will share some of her beautiful and varied honey vessels along with their connected stories.
Feb. 5: "Enduring Families Theater Project." Producer Denise Christy-Moss and her team will explore the local history of African-Americans in our area. The goals of this project are to "build a more cohesive multicultural community through an inclusive history, to provide venues for community discussions and to create opportunities for direct interactions between diverse peoples."
March 4: "Women's Suffrage, 100th Anniversary." To mark both Women's History Month and the passage of the 19th Amendment giving American women the right to vote, Cyndy Schaper and friends will appear as suffragettes from the first part of the 20th century.
April 1: "Breaking Barriers in History." We will be showcasing some of the top National History Day projects from Holmen Middle School. These young historians never fail to impress us with their knowledge and their research.
You have free articles remaining.
May 6: "Maria the Midwife: Stories of Norwegian Midwives in the Midwest." Historian Glenn Borreson will present stories and photos of midwives who emigrated from Norway to rural Wisconsin, where they were trusted members of their communities.
June 3, 6 p.m.: Movie Night: "Kitchen Stories (2003)." This film, in Norwegian and Swedish with English subtitles, is the story of a Swedish efficiency expert sent to improve the cooking methods of Norwegian farmers. This screening is sponsored by the La Crosse County Library, so the meeting will be at the Holmen Public Library Meeting Room instead of the Holmen Village Hall.
July 1: "Story Circle: Something You Probably Don't Know about Me." Several months before she died, one of the group's founders, Pauline Van Dunk, hosted a lutefisk dinner. Always building community and connections, she asked participants to go around the table and share something we didn't think others knew about us. It was a revelation! So this month's annual story circle is in honor of Pauline. Come prepared to share your story and traditional root beer floats.
Aug. 5: Time to be announced: "Historic Basketball Game at Holmen High School." The La Crosse Does, a Granny Basketball team, playing with 1923 rules/uniforms, will challenge a team composed of Holmen High School's FFA girls. We invite HHS alumni and community to join us for this fun exhibition game. FFA will provide concessions.
Sept. 2 (Tentative): "Holmen Creamery Milk Truck." Dan McHugh still owns his father's milk truck, and it is filled with artifacts and photographs of the historic Holmen Creamery. Dan will share these as well as stories about one of Holmen's important businesses.
Oct. 7: "The History of a Community Newspaper: The Holmen Courier." Gretchen and Dave Skoloda will speak about the role of a community newspaper from their unique vantage point as owners of the former Holmen Courier from 1991 to 2003.
Nov. 4: "The WWI Diary of William Niles." In November, we recognize the service of our veterans. Nancy Proctor, former Holmen village president, will share excerpts from her father's WWI diary documenting his service with the U. S. Navy. She will also talk about her frustrating quest for an official flag at his gravesite.
Dec. 2, 6 p.m.: "Holiday Potluck." Join us for our celebration of the holiday season and Holmen history at our annual potluck and sing-a-long, led by Barb and Rich Anderson. Bring a favorite family dish to share, as well as an ornament connected to your family history.